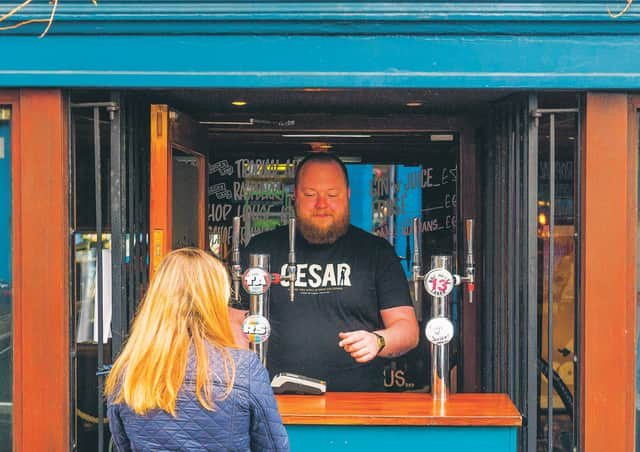 The Finnieston on Argyle Street reopens for takeaway
An ambitious plan to revive Scotland's beleaguered economy must be delivered this week to avoid a "jobs bloodbath" after months of coronavirus lockdown, leading business chiefs have warned.
Nicola Sturgeon is expected to give the green light for Scotland to move into phase two of lockdown exit on Thursday at the latest three-weekly review of restrictions.
It is likely to lead to significant swathes of economic activity restarting including the reopening smaller shops with an 80-square-metre floor space restriction in place. Outdoor markets could also return, according to the Scottish Government's route map out of lockdown, with pubs and restaurants also allowed to reopen outdoors with physical distancing.
It comes after it emerged last week that the UK economy shrunk had by 20 per cent in April as a result of lockdown.
Dr Liz Cameron, chief executive of Scottish Chambers of Commerce, said: "We need to see an accelerated return to business, particularly in Scotland, as well as more support from all levels of government to avoid the worst of what is starting to look like a jobs bloodbath. We urge the Scottish Government to show confidence in the ability of business to operate safely later this week."
She added: "We need concrete answers on timings across wider sectors to prevent the spread of further job losses.
"A move to reduce the 2m distancing requirement to 1m according to WHO guidance could make all the difference to business survival."
The shift to phase 2 could also see indoor non-office related work return, including laboratories and warehouses, as well as research facilities.
The Scottish Government's Advisory Group on Economic Recovery, led by former Tesco bank chief executive Benny Higgins is also to expected to report imminently, setting out a blueprint to stimulate a quickfire return to growth.
Tracy Black, CBI Director of Scotland, said: "An ambitious recovery plan has a crucial part to play in getting Scotland back up on its feet. This means rightly continuing to put the nation's health first, but also pressing ahead with ways to build back better."
Shops have already opened in Northern Ireland and are about to do so in England, prompting fears that Scotland's recovery could be left lagging behind.
Ewan MacDonald-Russell, head of policy at the Scottish Retail Consortium, said: "It's vital this week there is a plan with an indicative timetable to allow Scottish shopkeepers to return to trading. Returning life to our high streets and town centres can only begin once a date is set – something given to tourism businesses but not to shops.
"However, even once shops can open, customers will still need encouragement to return to the high street and resume spending."
A reduction in parking charges and of short-term economic stimuli, such as income tax or VAT cuts, are among the measures being called for by the SRC.
Smaller firms have been frustrated by a lack of urgency and the quality of communications by the bodies charged with providing practical guidance, according to Andrew McRae, Scotland policy chair with the Federation of Small Businesses.
"Even if they manage to make adjustments… the job of enticing customers back will need to begin," he said. "That's why we've got to see the Scottish Government and other influential parties encourage people to use their local businesses."
He also called on local and national government to support private nurseries to avoid the "perverse situation" of losing childcare provision just as more capacity is needed.