Cross-dressers at Rocky Horror Picture Show protected by Hate Crime Bill
Men who attend a staging of the Rocky Horror Picture Show, dressed in lingerie and stockings, would be protected under the Scottish Government's new Hate Crime Bill, while women who were abused or threatened for wearing similar clothing in public would not be, MSPs have been told.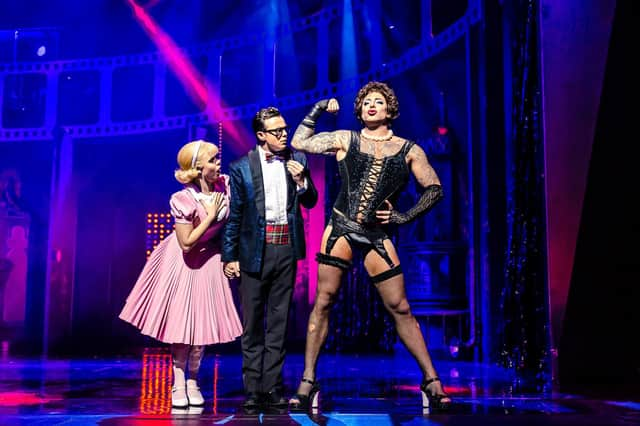 According to the Scottish Government, men who cross-dress will receive the same protection in the legislation as transgender people, despite not having a transgender identity.
However, as sex as a protected characteristic is not included in the Bill, one of the witnesses to yesterday's justice committee, said the decision to include cross-dressers was "bizarre and sexist".
The issue was raised after Scottish Conservative MSP Liam Kerr asked whether the definition of transgender identity was clear in the Bill, as he had received a "slightly circular answer" from justice secretary Humza Yousaf.
Giving evidence to the committee on behalf of the feminist organisation, For Women Scotland, Susan Smith said she was concerned the definition included men who were cross-dressers.
She said a Freedom of Information response had shown the definition came from the Equality Network in emails to the Scottish Government.
An email from Tim Hopkins, director of the Equality Network that campaigns on LGBT+ issues, said: "A man who is not a trans woman, but wears a dress for a drag performance, or a trip to the Rocky Horror Picture Show, or because he feels an emotional need to cross-dress occasionally is at high risk of transphobic hate crime and it is very likely that a perpetrator could later claim that they have no issue with 'trans women who are really transitioning' and only had a problem with men dressing up as women without transitioning, so when they used the term 'tranny' in the attack, they were only referring to transvestism/cross-dressing.
"The aggravation would not then apply if transvestism/cross-dressing is removed from the protection, because the prejudice was based on cross-dressing, not on gender identity."
Ms Smith said: "There are several points ... one is this is evidently there to protect men because it's hard to think of any circumstance where a woman would be considered a cross-dresser.
"But it's also setting up a scenario where a man and a woman wearing the same costume going to the Rocky Horror Picture Show and the man is a victim of a hate crime, but the woman may potentially find herself, when the case goes to court, being asked 'what were you wearing?' There's a bizarre and frankly sexist basis to that."
She added: "And why are you protecting one set of people for what is essentially sartorial choice and not others? There's plenty of examples of people being attacked for what they're wearing – goths, people with facial tattoos or body piercings, wrong football strips, wrong school uniform. So why is one dress sense protected and not another?"
Ms Smith also suggested that at the other extreme, cross-dressing "can be a paraphilia". She said "so you get this bizarre situation that something being done for arousal is protected under hate crime [legislation]".
However, in another email Mr Hopkins said cross-dressers "fall under the wider transgender umbrella" and said "transgender identities of all sorts" were "under attack".
A message from the Editor:Thank you for reading this article. We're more reliant on your support than ever as the shift in consumer habits brought about by Coronavirus impacts our advertisers.
If you haven't already, please consider supporting our trusted, fact-checked journalism by taking out a digital subscription.
Comments
Want to join the conversation? Please or to comment on this article.