Credit Suisse: Banking crisis fears ramp up after Credit Suisse £45 billion emergency loan
Fears over a banking crisis remained at the fore on Thursday after Credit Suisse said it would borrow up to 50 billion Swiss francs (£45 billion) from Switzerland's central bank to bolster its finances, sparking hefty falls in Asian trading.
The Hang Seng Index in China tumbled nearly 2 per cent and Japan's Nikkei 225 was almost 1 per cent lower after Credit Suisse announced the mammoth loan to boost its liquidity and calm investors a day after the bank's share price plummeted.
Shares in Credit Suisse lost more than a quarter of their value at one stage on Wednesday, hitting a record low after the bank's biggest shareholder — the Saudi National Bank — said it would not put more money into the lender, and after the Swiss bank said it found "weakness" in its financial reporting.
Worries over contagion across the sector ramped up, with stock markets tumbling in the UK and Europe and in the US as Credit Suisse's woes came shortly after the Silicon Valley Bank collapse in America.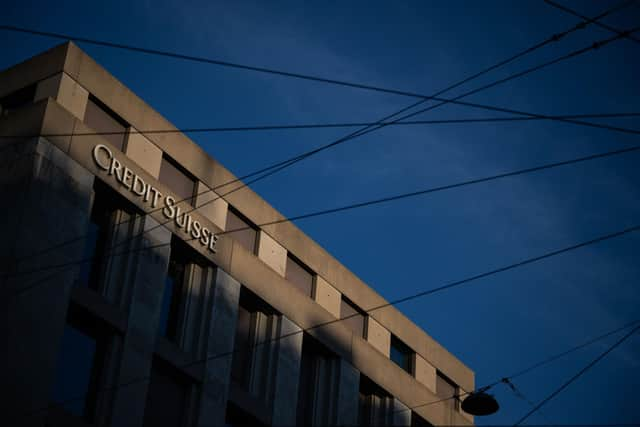 London's FTSE 100 Index closed down 3.8 per cent on Wednesday – its worst one-day performance since the start of the Covid-19 pandemic, while The S&P 500 sank as much as 2.1 per cent before ending the day with a loss of 0.7 per cent.
The Bank of England is said to have been in emergency talks with its global central banking counterparts last night as the crisis deepened, and was reportedly in touch with both Credit Suisse and the Swiss National Bank regarding the emergency loan.
But markets were seen steadying on Thursday amid hopes that the lifeline to Credit Suisse will halt the spread.
Susannah Streeter, head of money and markets at Hargreaves Lansdown, said the troubles at Credit Suisse highlight the "lightning speed of the global fall-out of Silicon Valley Bank's collapse, which has shaken the banking sector, and prompted investors spotting weaknesses in other institutions to race for the exit.
"The £45 billion rescue wad is staunching worries about a bigger run on Credit Suisse and the repercussions for other institutions around the world exposed to its operations.
"For now, the move has restored a little stability to global markets, with the S&P 500 regaining ground, once it appeared the Swiss National Bank was standing by to help. Nerves are still frayed though and that has been evident during trade in Asia."
Traders will be closely watching the latest interest rate decision by the European Central Bank on Thursday amid expectations it will temper any hike due to the market turmoil.
Ms Streeter said: "As investors await that decision, trading is expected to stay volatile.
"If policymakers decide to ease off another big monetary policy squeeze, the initial market reaction is likely to be one of relief, but worries are then likely to bubble back up about the insidious effect of inflation and whether the price spiral risks getting out of control again."
Silicon Valley Bank - which specialised in lending to technology companies - was shut down on Friday by US regulators in what was the largest failure of a US bank since 2008.
Comments
 0 comments
Want to join the conversation? Please or to comment on this article.