Covid inquiry UK: Working with Boris Johnson's 'useless' team like 'taming wild animals', says Simon Case and Lord Mark Sedwill
Working with Boris Johnson's "brutal and useless" team was like "taming wild animals", the two most senior civil servants who worked with the former prime minister have said.
Cabinet Secretary Simon Case said Mr Johnson and his inner circle were "basically feral", messages shown to the Covid inquiry on Wednesday revealed.
The exchange was the latest damning assessment of Mr Johnson's administration that Mr Case made with his predecessor as the head of the Civil Service, Lord Mark Sedwill.
Lord Sedwill complained Mr Johnson's administration was "brutal and useless", according to an August 2020 extract from the diary of former chief scientific adviser Sir Patrick Vallance.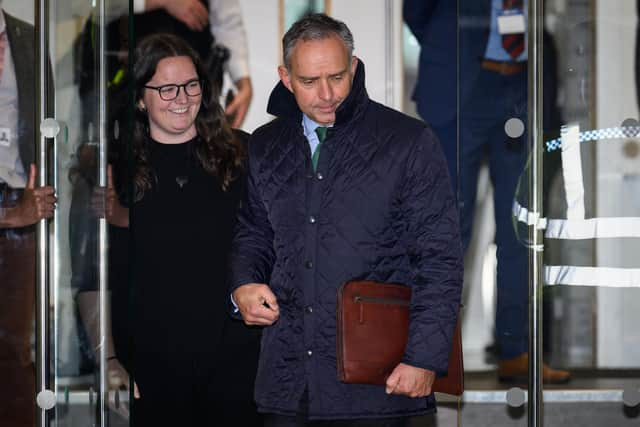 The peer said he does not remember saying those words, but added: "I can't actually recall what might have prompted it but … I don't doubt Sir Patrick's memory. It must have been a moment of acute frustration with something."
Mr Case, days before joining No 10 in May 2020, shared his concerns with the then-cabinet secretary. "Honestly, Mark, I don't want to go near these people," he said. "If as part of all this there are some guarantees about behaviour, I will give it a go for a very short period."
Lord Sedwill then gave him some advice about how to handle Mr Johnson's former top adviser Dominic Cummings "so he can't run interference".
Later, in June 2020, Mr Case wrote to Lord Sedwill: "It is like taming wild animals. Nothing in my past experience has prepared me for this madness. The PM and the people he chooses to surround himself with are basically feral."
Lord Sedwill replied: "I have the bite marks."
Lord Mark Sedwill separately apologised for his "heartless" suggestion that chickenpox-style parties could have been held for coronavirus early in the pandemic.
The ex-national security adviser admitted making the remark, but insisted he was only giving an analogy to shielding the most vulnerable as others developed immunity.
He said sorry to bereaved families at the Covid inquiry for the "distress", but stressed he never intended for the exchanges to be made public, after they were revealed by Mr Cummings.
Lord Sedwill told how leaks and "distortions" spread by Mr Johnson's allies helped force him out in September 2020.
The former national security adviser's chickenpox parties suggestion was first made public by Mr Cummings, who was Mr Johnson's chief aide, in May 2021.
And Mr Cummings last week told the inquiry Lord Sedwill told Mr Johnson on March 12, 2020 that he should go on television and "explain that this is like the old days with chickenpox and people are going to have chickenpox parties".
Addressing families on Wednesday, Lord Sedwill told the inquiry: "These were private exchanges and I certainly had not expected for this to become public."
Comments
 0 comments
Want to join the conversation? Please or to comment on this article.