In total, £5,478,126 was spent by Edinburgh City Council in relation to seeking external legal advice on a range of issues over the past five years, with the majority of the cost coming straight from the public purse.
Legal advice from expensive external lawyers – a common requirement for councils when defending themselves or pursuing companies or individuals in court – has been sought by the council on several high-profile issues, including the Mortonhall baby ashes inquiry and the Edinburgh Tram Inquiry.
Defending the council's actions during the the Mortonhall inquiry after the remains of at least 250 dead babies were buried in secret at Mortonhall Crematorium in Edinburgh over four decades cost the council £89,075.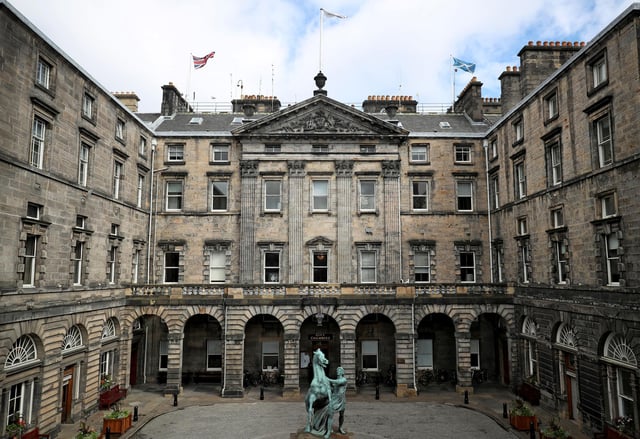 Edinburgh City Council has spent millions on external legal advice.
Reacting to the total cost, Scottish Liberal Democrat candidate Alex Cole-Hamilton said the council must be "prudent with taxpayers' cash".
The Edinburgh Western candidate said: "Everyone knows that the tram inquiry had lawyers rubbing their hands with glee, but these figures show that there have been a number of occasions in which the legal bills have added up too.
"There will obviously be occasions when it is appropriate for the council to seek specialist external counsel, but it doesn't display a lot of faith in the local authorities' own legal department if so often they have to receive outside advice."
The figure came to light following a year-long transparency battle with the council, with the full extent of the legal bill only becoming known after intervention from the Scottish Information Commissioner.
Ongoing legal action was not included in the figure, meaning the total legal advice bill is likely much higher, with a Freedom of Information request in 2020 putting the total bill at nearly £12m.
The council was set to foot a bill of nearly £1m for legal advice linked to the collapse of a wall at Oxgangs Primary School, which led to the temporary closure of 17 schools due to poor construction quality.
However, a settlement in 2018 with the contractor led to no cost for the public purse.
A further £844,855 was spent by the council on legal advice around debt recovery with legal fees around cycle routes and HMO licences costing the council £33,286 and £44,926 respectively.
Conservative group chair, councillor Jason Rust, said the "huge sums" should not be "allowed to unknowingly spiral".
He said: "While it is accepted that the council will require external legal advice at times and the inquiry work for example is absolutely vital in getting to the truth for victims and in rebuilding confidence in the council, we are clearly talking about huge sums of money overall.
"It is therefore important that costs are kept under control, transparently reported and not allowed to unknowingly spiral.
"While I would consider that we ought to apply all available legal methods to recover debt, one would have thought that HMO advice and some other matters could have been largely handled inhouse and the advice on cycle routes is of interest given the way the council has been pressing on with Spaces for People.
"I would hope that wherever possible, fees are recovered from other parties and that the fees are not incurred as a result of the council's stance in the first place."
Responding, a council spokesperson said: "The council benefits from the expertise of its award-winning in-house legal team and from that of external solicitors and advocates where appropriate.
"External advisors are instructed for a variety of reasons, including where knowledge of a specialist area of law is sought, where more capacity is required or for specific large-scale projects.
"This would include the Scottish Child Abuse Inquiry, the tram extension and building of new schools."
A message from the Editor:
Thank you for reading this article. We're more reliant on your support than ever as the shift in consumer habits brought about by coronavirus impacts our advertisers.
If you haven't already, please consider supporting our trusted, fact-checked journalism by taking out a digital subscription.