Mossmorran: Pledge of less disruption from flaring to local communities
Bosses at Fife Ethylene Plant have promised less disruption to the local community with the installation of a new enclosed ground flare.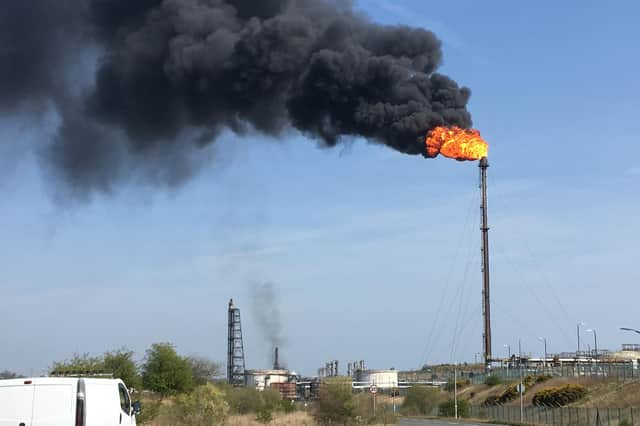 The Exxon Mobil plant at Mossmorran has been the subject of criticism by local residents, councillors, MPs and public bodies such as SEPA for its unplanned and highly disruptive flaring - most recently in October.
However, the company says it is taking action to reduce disruption in the local community.
It is investing £140 million in reducing flaring, noise and vibrations from next year with measures such as a new flare tip.
American combustion products firm Zeeco Inc has been awarded a contract to design and build a new 'enclosed ground flare' which can deal with longer-lasting flaring issues without the high level of light, noise and vibratory disruption associated with current equipment.
It is expected to contain up to 98% of the plant's flaring activity, particularly in situations where long periods of flaring are necessary.
Martin Burrell, manager of the plant, said he hoped the new flare would be "the biggest folly" the company had invested in, and would not need to call on it often.
Mr Burrell told Fife Council's Cowdenbeath area committee on Wednesday: "What we're putting it in for is to make it clear that where we do have periods of extended flaring that we can do it with a minimum impact on the community."
Kylie Bishop, site environmental engineer, added that the new flare would be on site by 2022 and would be integrated into the plant's systems by the end of that year.
"This is significantly different technology to that currently used in the elevated and ground flares on the facility.
"It will be an enclosed ground flare so you cannot see the flame at all, it significantly reduces the visibility...light emissions and noise because of the way the burners are lined up."
The new flare is one of several changes made in response to community criticisms of the plant's operation.
Stuart Neill, Exxon Mobil's external affairs manager, added that controversial pond-dipping school trips involving young schoolchildren were no longer taking place.
The firm had been criticised for the trips to the on-site nature pond, with the environmental messaging presented seen as conflicting with the plant's emissions.
Mr Neill said: "We decided some time back we were going to refocus our educational efforts to a slightly older age group to focus on more advanced STEM subjects."
Exxon Mobil also committed to continuing to meet with members of the public to discuss their concerns and said they had long-term plans for the plant.
James Glen, chair of the Mossmorran Action Group, said: "Exxon has absolutely no plans to wind down production or transition to less environmentally damaging operations.
"This will come as a bitter blow to communities who have hoped that an end was in sight to the risk and harms to their health and well-being which Mossmorran has been inflicting on them since 1985."
Mr Glen added: "We're not welcoming the enclosed ground flares but we're not dismissing them out of hand either.
"Anything that the Mossmorran operators do to reduce flaring or to mitigate the noise, light and air pollution it produces is welcome, but these measures should have been in place years ago."
Thank you for reading this article on our free-to-read website. We're more reliant on your support than ever as the shift in consumer habits brought about by Coronavirus impacts our advertisers.
Please consider purchasing a subscription to our print newspaper to help fund our trusted, fact-checked journalism.