Alison Thewliss has warned infant formula has become so expensive amid the cost-of-living crisis that families are forced to steal it as she accused the UK Government of ignoring the issue.
The former SNP Westminster Deputy leader also claimed "Healthy Start", the vouchers supposed to provide support, were no longer keeping price with the formula. She was speaking as baby NGO First Steps Nutrition published a report revealing the cheapest brand of formula has risen in cost by 45 per cent in the past two years.
Ms Thewliss told The Scotsman: "I chair the all party group on infant feeding and inequalities, and for many years we've been looking at the cost of infant formula, and the challenges that presents to families. It is so stark and that has got to do with the UK leaving the price up to the market. That is now unaffordable for so many families and makes it difficult for folk to get by.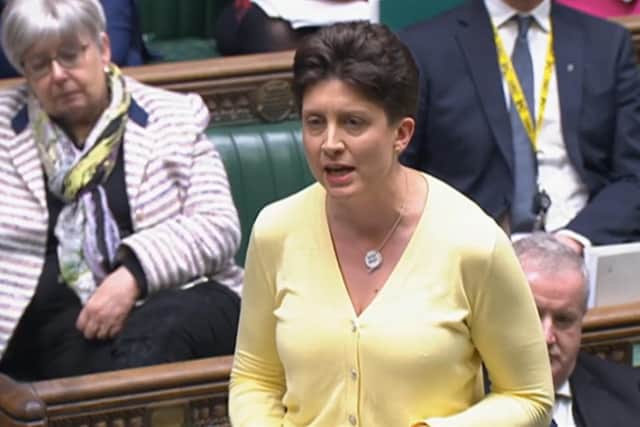 "Various things highlight that. People are being forced to shoplift, people are taking the risk of watering down the formula too far. Those things are all far too worrying, and the UK Government has not been anywhere on this. "They are not engaging at all on this as an issue, and I hope this will end up on Rishi [Sunak's] agenda".
The push follows reports desperate parents are buying open tubs online or the product second-hand, with some selling unopened containers within their use by dates.
The Glasgow Central MP claimed there was a "slight difference" between the UK and Scottish government approaches, but insisted only Westminster had the ability to make it affordable.
"Healthy Start in England is not keeping pace with formula, so you now can't buy them in the rest of the UK," she said. "In Scotland we have Better Start and the Scottish Child Payment, which makes a big difference and helps families pay the increase in cost.
"The issue with price is, this is something only the UK Government could address, we are tackling the other side of this."
Ms Thewliss suggested the lack of UK Government action was down to its focus being elsewhere.
She said: "I just think this not been on the Government's agenda. I try my best to raise these things, they are seeing it in their inbox, but they are not recognising it's an issue of critical importance – children's nutrition and children's development. So what you are seeing is families who are very, very desperate stealing things from shops, or taking the risk of getting half tins of people off Facebook. That's not how babies should be fed."
A UK Government spokesperson said: "We recognise the impact rising prices are having on families, which is why we are providing significant support worth on average £3,300 per household, including holding down energy bills, uplifting benefits and delivering direct cash payments.
"In April 2021, the value of Healthy Start rose from £3.10 to £4.25 per week, providing additional support to eligible pregnant women and families with children aged under four and over one to make healthy food choices.
"Those eligible families with children aged under one can receive £8.50 in total"