Keep up-to-date with the key events happening on the global Covid-19 response.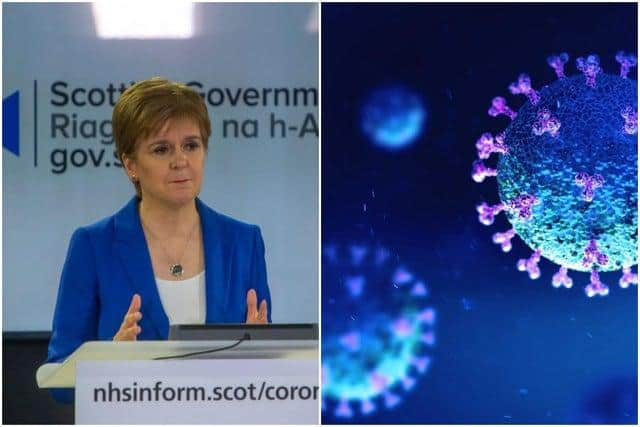 Coronavirus in Scotland LIVE: Latest updates on Scottish Covid-19 cases
Show new updates
Surgeons face 'impossibly difficult question' over cancer operations during Covid-19
Cancer surgeons are facing "an impossibly difficult question" of whether to operate during the coronavirus outbreak, the head of a professional organisation has said.
Royal College of Surgeons of Edinburgh (RCSEd) president Professor Michael Griffin is leading calls for more "Covid-free hubs" to be available in the UK so life-saving procedures can go ahead.
The RCSEd, which represents 15,000 members UK-wide, conducted a survey of its fellows and found a third of those who carry out cancer operations have completely stopped them.
It comes as the head of NHS England, Sir Simon Stevens, is due to launch an advertising campaign urging people who have non-Covid-related health problems to seek help from the NHS. The Scottish Government launched a similar scheme - the NHS is Open - on Friday morning.
Met Police arresting 100 people a day for domestic violence during lockdown
Metropolitan Police officers are arresting an average of 100 people a day for domestic violence offences during the Covid-19 lockdown, the force has revealed.
Commander Sue Williams said charges and cautions were up 24% from March 9, when people with coronavirus symptoms were asked to self-isolate, compared to last year.
She said domestic incidents, which can include family rows not recorded as crimes, were up 3% year on year and 9% between March 9 and April 19, although offences were up just 2% in the Covid-19 period.
Sturgeon announces that new PPE consignment has arrived in Scotland
Speaking on the key issue of personal protective equipment (PPE), Nicola Sturgeon announced that a new consignment of supplies had arrived in Scotland.
A plane carrying equipment landed at Prestwick Airport on Friday morning, she said, including 100,000 testing kits as well 10 million face masks.
She also told how Scottish businesses were changing their working patterns to produce PPE and other necessary supplies.
More than 1,600 businesses and individuals have answered a call for assistance from the Scottish Government, Ms Sturgeon said - highlighting the work of a company in Grangemouth which has produced 20,000 litres of hand sanitiser which will be delivered to frontline services from next week.
First Minister says more than 250,000 have read Government paper
Nicola Sturgeon said more than 250,000 had now viewed the paper the Scottish Government published on Thursday, setting out how lockdown measures could be eased in the future.
She described the paper as an "attempt to have a grown up conversation with the wider public" on the issue.
But with the risk that easing measures could see coronavirus surge again, she said any moves forward would need to be "baby steps".
Belladrum Tartan Heart Festival cancelled due to coronavirus
Belladrum Tartan Heart Festival 2020 has been cancelled due to the ongoing COVID-19 Pandemic.
"We had been progressing with plans to deliver our 17th outing but as the pandemic plays out across the UK, it has now become clear that delivering the event in 2020 simply isn't going to be possible," said the organisers.
"The health and safety of our Belladrum Family, staff, suppliers and local community are our number one priority. We are wholly aware of the role Belladrum has to play in the much bigger picture of the COVID-19 pandemic and its effect on our local community, emergency services and country. Whilst we are absolutely devastated to not be able to go ahead this year, we have to look forward to safer times in 2021.
"We will be offering ALL 2020 ticket holders the option to transfer your tickets to the 2021 event. Please be rest assured that if you cannot make the 2021 festival, you will be offered a full refund for all tickets purchased."
Sturgeon says lockdown having a 'positive impact'
Nicola Sturgeon says the sacrifices with lockdown are "having a positive impact" and that "it is vital that we stick with it".
Nicola Sturgeon daily news briefing LIVE
First Minister says the lower figures for hospital admissions and numbers of patients in intensive care are giving "real and growing cause for optimism".
Sturgeon news briefing LIVE:
First Minister Nicola confirms 9,697 people have tested positive for coronavirus in Scotland, up 288 on yesterday.
A further 64 patients have died in hospital, taking the total under that measurement to 1,184 in Scotland.
1,710 patients are in hospital with suspected or confirmed Covid-19, down 38, with 141 being treated in intensive care, a decrease of seven.
Sturgeon Live:
First Minister tells news briefing that 64 new deaths have been confirmed by tests in Scotland since yesterday.
Scottish Poetry Library to launch #PoemsForCarers
On Thursday 30 April, the Scottish Poetry Library launches#PoemsForCarers.
#PoemsForCarers is a campaign whose goal is to empower the public to use poetry to thank NHS staff and carers.
People who want to thank the NHS using poetry either film themselves reading a poem using their phone or take a picture of a poem and then attach them to a tweet, Facebook post or Instagram post, remembering to use the #PoemsForCarers hashtag