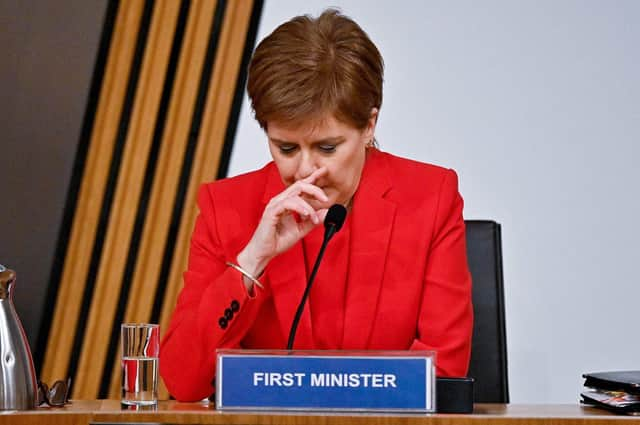 In an investigation in which the question of who exactly is on trial is fiercely contested by opposing political tribes, it reminded the committee – and those watching at home – of its dreadful psychological toll.
A great deal of her evidence demonstrated a trained lawyer's grasp of microdetail, dominating swathes of the evidence session with robust and dogged rebuttals of the allegation against her and her government.
What stood out, however, was not the reason underpinning Ms Sturgeon's answers, but the passion with which she foregrounded them.
The name plate before her in Holyrood's Robert Burns committee room stated, in capital letters, FIRST MINISTER, yet she appeared in other capacities – as a former friend of Alex Salmond and the leader of a party that is being torn apart by the terminal breakdown of that relationship.
She spoke with candour and empathy about that disintegration and its repercussions. During a striking opening statement, she tried to keep her emotions in check when talking about her ties with the man she once regarded as a "bestie", and the impact on the women who made complaints against him. Sometimes, she said, taking a deep breath, the human elements of this situation are lost.
Ms Sturgeon is among those who have paid a personal price and made as much clear. She said Mr Salmond was not just someone she regarded as a "close political colleague" for three decades, but someone she revered – for a time, at least.
Now, though, she expressed optimism there may soon be a time when she did not think about him. Having known the allegations against Mr Salmond could have become public, she said, had "absolutely horrified her" and the prospect of having to comment on them left her "physically sick".
Ms Sturgeon made clear her emotional response was not designed to elicit sympathy. These "deeply personal" issues had a profound impact on her, and she told the committee that if at times she had appeared "cagey" when addressing them, this was why.
Few will doubt the mental toll the allegations have had on her, though not everyone will accept her interpretation of their consequences, and could just as easily assess the emotive strands of her testimony as a contrivance.
Her body language ran the full gamut, spanning open-handed gestures to accompany explanations, to folding her arms when being questioned on legal issues around the government's complaints policy.
Where her tone hardened was around some of the more controversial allegations. Sometimes, she reached for her reading glasses and consulted a sheaf of files to deconstruct them.
At one point, she became visibly angry when Jackie Baillie put it to her that whoever leaked details of the Salmond investigation to the Daily Record did so to spike another story concerning her. Such claims, Ms Sturgeon said, formed part of the same non-existent conspiracy weaved by Mr Salmond.
With key areas of the inquiry's remit yet to be explored in detail, the remainder of the day's evidence is sure to be just as impassioned. The stakes – and emotions – could not be higher.
A message from the editor:
Thank you for reading this article. We're more reliant on your support than ever as the shift in consumer habits brought about by coronavirus impacts our advertisers. If you haven't already, please consider supporting our trusted, fact-checked journalism by taking out a digital subscription.