Colleges Scotland Employers' Association has finally ratified a deal originally negotiated with the Educational Institute for Scotland's Further Education Lecturers' Association (EIS-FELA) in early March, after weeks of refusing to sign.
As a result planned strike action for Thursday has been called off and the industrial dispute will officially end when the two sides formally sign off the agreement.
The dispute stems from the substitution of college lecturer posts – which are subject to national pay and conditions – with support staff positions.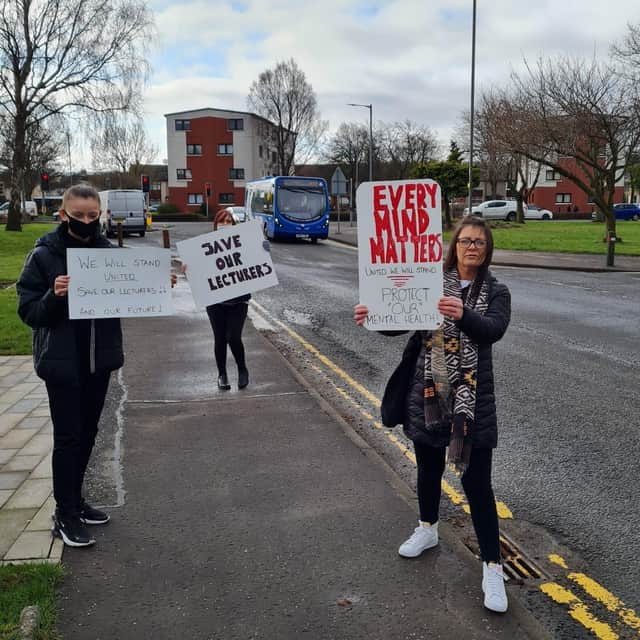 The change reportedly began in Fife College when retiring lecturers were replaced by instructor-assessors, but escalated at Forth Valley College where more than 20 lecturers were offered redundancy or a move to an instructor-assessor role at lower pay, which sparked local industrial action.
As a result, there was a move to have a national enshrined definition of the "unique aspects" of the lecturer role, and it was this which was voted down by college principals, despite agreement being reached by the negotiating teams from both sides.
According to EIS-FELA, the principals then sent their negotiators back to attempt to renegotiate the agreement, offering a form of wording that had already been rejected, leaving the union convinced that principals were seeking to undermine the role of professionally qualified lecturers who have specific pedagogical skills.
The strike action began on March 25 and lecturers were also being balloted on Action Short of Strike, which could have seen graduations disrupted.
However, the national definition of the lecturer role has now been accepted by college principals.
A spokesperson for the Colleges Scotland Employers' Association, said: "The Colleges Scotland Employers' Association has unanimously ratified a resolution to the dispute as agreed with the EIS-FELA last week. We welcome the EIS-FELA's acceptance of the resolution and their commitment to end strike action.
"This is great news for students and their lecturers."
EIS-FELA said that a meeting of the National Joint Negotiating Committee would be convened as soon as possible to formally sign off the agreement and the programme of strike action was now suspended, with formal cancellation expected after the sign off.
However, the union said the local dispute at Forth Valley College "remains in place".
"The commitment and resolve of EIS-FELA members in taking strike action over the last weeks has been clear to see," the union said.
"There can be no doubt that the collective strength of the EIS-FELA membership was pivotal in reaching a resolution to this dispute and members are thanked for their support throughout the campaign."
NUS Scotland president Matt Crilly, who backed the strikes, welcomed the resolution.
He said: "This agreement is a relief to thousands of students and staff alike and safeguards the quality of our education in Scotland colleges.
"Focus now needs to turn to ensuring as many students as possible are able to qualify on time this year."
The Scottish Greens also welcomed the announcement. Party education spokesperson Ross Greer said: "This is a another huge victory for college lecturers, who have consistently demonstrated the value of trade unions and collective action in defence of their jobs."
A message from the Editor:Thank you for reading this article. We're more reliant on your support than ever as the shift in consumer habits brought about by Coronavirus impacts our advertisers.
If you haven't already, please consider supporting our trusted, fact-checked journalism by taking out a digital subscription.