Coalition with the SNP would require 'very difficult conversations', says Patrick Harvie
Patrick Harvie takes umbrage at the suggestion he can now be labelled a veteran of Scottish politics, but as an MSP since 2003 and co-leader of the Scottish Greens for more than a decade, it's a description that fits.
The 2021 election is Mr Harvie's fifth following his election in the 'Rainbow Parliament' and it is the first since that election where his party looks set to increase its representation potentially into double figures.
With the polls suggesting the Scottish Greens could return as much as 11 per cent of the vote – returning as many as 11 or 12 MSPs – the party could be set to hold the balance of power in Holyrood should the SNP fall short of an overall majority.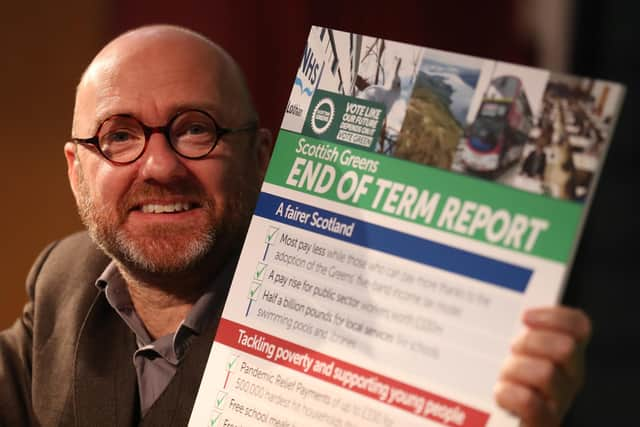 The potential of the Greens entering into a formal coalition agreement has been mooted by some, though Mr Harvie rejects the suggestion of any formal talks ahead of polling day, labelling them "disrespectful" to the electorate.
But following a manic year in Scottish politics, it is not unreasonable to consider the Greens as potential 'kingmakers' of a future SNP minority government – a position they held on budget deals, no-confidence votes and on key legislation several times in the last parliamentary session.
It is language Mr Harvie rejects, however, wishing to focus instead on the "pluralistic" nature of Holyrood.
"I think it is really really bad for government ministers to know that the votes are in the bag before they turn up for work in the morning," the Green co-leader says.
"That was the case in the coalition days in the first two sessions of Holyrood and it was the case as well when the SNP had a single party majority. Ministers in that position get lazy.
"It's far better if you have a parliament where every political party knows it can make a difference, make an impact by putting up good positive constructive ideas and just trying to knock down what everybody else is doing isn't seen as what amounts to a political win.
"The Tories, in particular, have learned that the Trumpian conspiracy mood that they were trying to generate in the last six months didn't get them anywhere, it didn't achieve anything. All it gets is their own existing supporters angrier and that is not good."
Mr Harvie also rejected any suggestion that his party had been propping up failure during the past five years when saving the likes of education secretary John Swinney from a defeat in a no-confidence vote over the exam results scandal, claiming instead the Greens had "been on his case" and instead of "changing the name on the minister's door" had prioritised making a difference.
The prospects of an SNP/Green coalition government are not being ruled out by the Scottish Greens, however, with Mr Harvie stating that while it would be a "very difficult conversation" with Nicola Sturgeon's party, "most of our members would be willing for us to have the conversation".
Asked about potential red lines in any coalition discussion, the co-leader said key issues on poverty and climate change would have to be considered.
He said: "Very clearly, Greens would not be part of an administration that was unconcerned about closing the inequality gap in our society, an administration that simply blithely said free market capitalism, let it rip.
"The climate and nature emergencies offer an historic and unprecedented challenge to us all. The scale of change that is coming, but also historic unprecedented opportunities for the creation of new, sustainable industries that will create prosperity without trashing the living world without us.
"There needs to be a recognition, I think, whatever the parliamentary arithmetic is and whatever relationship Green MSPs have to the government in the next session, there needs to be a recognition that Scotland has been missing those targets."
The 2021 election, however, has been dominated by the return to frontline politics of former first minister Alex Salmond with Alba rather than the climate emergency.
Both sides of the constitutional debate have accused the Greens of either being too focused on or not serious enough about independence, but Mr Harvie is clear that independence and tackling climate change are inextricably linked.
"It is not 'do you like the union flag or the saltire?' – it is not that kind of identity politics," Mr Harvie said. "It's what kind of country do we want to be and how do we become that.
"As we emerge from the pandemic and as we look back at those two referendums where people in Scotland voted for both unions, we really need to look at the changes that are coming, the changes that are necessary both to recover from Covid and to address the climate and nature emergencies and ask ourselves 'are we best placed to do that as an independent member of the European Union or as part of Boris' Brexit Britain?'.
"I don't think Boris Johnson gets to decide that, I don't think that Douglas Ross gets to decide that.
"I don't think anyone gets to tell the people of Scotland that they're not allowed to decide it themselves.
"But fundamentally I struggle to see how addressing the climate emergency without the ability to regulate the energy industry, how addressing the nature emergency without the ability to have our own approach to international trade, for example, I fail to see how having a fairer and more equal society without having the full range of economic powers is achievable."
Asked whether he would work with Mr Salmond's Alba party as part of an independence 'super-majority', the Green co-leader said he would deal with "policy as policy", but the two men did not have much time for each other.
Referencing both Mr Salmond and All for Unity's George Galloway, Mr Harvie said "some people need to know when to leave the stage".
He said: "I regret that he [Salmond] thinks his ego is more important than the rest of the issues in politics.
"I regret that he is also platforming folk who have attacked LGBT organisations, smeared them unjustly, anti-abortionists at his party launch, somebody who was disciplined for anti-Semitism within the SNP.
"I really hope and actually I believe that most people in Scotland will see this as the ego trip that it is.
"There are a few people in this election that were once regarded as big beasts, a horrible phrase of this macho culture of politics, but still regard themselves in that way even though everybody else has moved on."
A message from the Editor:
Thank you for reading this article. We're more reliant on your support than ever as the shift in consumer habits brought about by coronavirus impacts our advertisers.
If you haven't already, please consider supporting our trusted, fact-checked journalism by taking out a digital subscription.
Comments
 0 comments
Want to join the conversation? Please or to comment on this article.