Climate change Scotland: Watchdog 'disappointed' after Scottish Government ministers delay draft climate change plan
Mairi McAllan, Scotland's net zero secretary, said more time was needed
The UK's climate watchdog has criticised the Scottish Government after it confirmed a delay to its draft climate change plan.
Mairi McAllan, Scotland's net zero secretary, said the deadline would no longer be met in part due to the UK Government "reneging on its own commitments".
Chris Stark, head of the UK's Climate Change Committee, said the move was "very disappointing". He also questioned why announcements by Prime Minister Rishi Sunak would require a delay by the Scottish Government.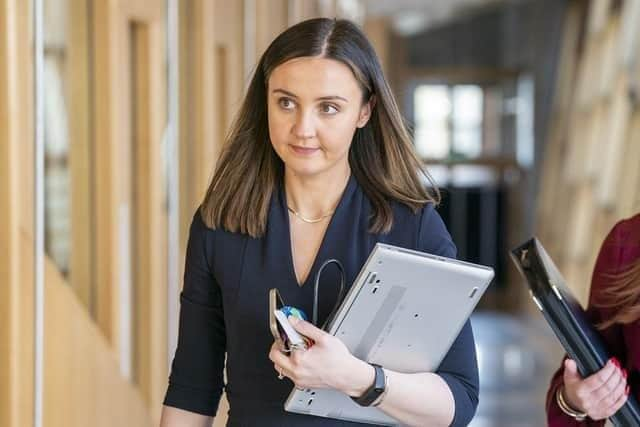 Mr Stark said: "We are disappointed to see the delay of the draft climate change plan that was promised in November. We made a decision to delay our annual progress report to the Scottish Parliament in order to review this, but will now have nothing to review.
"The Scottish Government is off track for the 2030 goal. They've missed seven of the last 11 annual targets and have now delayed this crucial plan. Greater urgency is needed to update the climate change plan of 2020 if Scotland is to deliver on its climate targets."
The plan had been due to be published in initial draft form this month, but Ms McAllan said additional time was needed. Legislation requires it to be finalised by March 23, 2025, with Holyrood having 120 days to scrutinise a draft plan before this.
Ms McAllan said: "Scotland has some of the world's most ambitious climate change targets for emission reductions and we are already halfway to net zero. However, we have always been clear that the hardest part lies ahead.
"Regrettably, the UK Government's recent actions have only made that job harder still, not least when it comes to our homes and transport. While we are working to make our homes greener and easier to heat and reduce our reliance on petrol and diesel cars, the UK Government is reneging on its own commitments, creating huge uncertainty for businesses and households.
"A fair and just transition will bring enormous benefits – a greener environment, cleaner air, new sources of economic vitality, greater energy security and healthier lives. That is why it is important that we take the time that is needed to get this plan right.
"We will continue to work with stakeholders to produce a plan that is fair and just for everyone, and addresses the difficulties presented by the UK Government's policy reversals. While it is regrettably not possible to do this by our own November deadline, we will progress in line with our statutory commitments."
The Scottish Government said UK ministers had backtracked on a commitment to end the sale of new petrol and diesel cars and vans by 2030, while also significantly delaying and weakening their planned phasing out of fossil fuel boilers and higher energy efficiency standards.
First Minister Humza Yousaf has also criticised plans to push ahead with new oil and gas licenses in the North Sea.
"We have an existential climate crisis right here, that the entire world is facing," he told journalists on Monday. "We absolutely support the oil and gas industry, we support the jobs. We want to accelerate as quickly as we possibly can to that just transition.
"What the UK Government has announced over the past few weeks and months will only slow down that just transition, which won't help the UK and certainly won't help the planet."
The UK Government announced plans to mandate oil and gas licensing in the North Sea as part of the King's Speech.
Jamie Livingstone, head of Oxfam Scotland, said: "The UK Government's dangerous fixation with fossil fuels is completely at odds with both climate science and common sense and sends the wrong signal just weeks before the King is set to deliver the opening address at the UN climate summit COP28.
"News that the Scottish Government is now delaying its climate change plan is also deeply troubling. Instead of kicking the climate can ever further down the road, we need to see our political leaders, both in Westminster and the Scottish Parliament, focus on how to quickly and fairly decarbonise our economy: funded by making the biggest and richest polluters pay for their damage while protecting the pockets of the poorest households.
"Every fraction of a degree of warming makes a difference, and every delay in cleaning up our act costs lives."
Comments
 0 comments
Want to join the conversation? Please or to comment on this article.