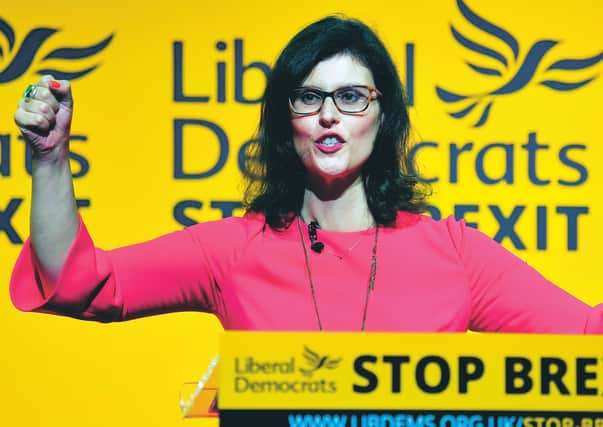 Scottish voters swinging behind independence in protest at Boris Johnson's premiership should ditch the "isolationist" SNP at the next Scottish election and strike a blow against the rising tide of populism by backing the Liberal Democrats, leadership candidate Layla Moran has said.
Moran said Johnson's Tories were to blame for record support for Scottish independence, and urged voters in Scotland not to "throw the Union out with the bath water".
Tipped to succeed Jo Swinson as Lib Dem leader, the Oxford West and Abingdon MP since 2017 said the Lib Dems had to break with the past and rebuild trust after the coalition, and a disastrous election campaign where the party called for Brexit to be revoked without a referendum.
Moran was backed today by Wendy Chamberlain, the only Lib Dem MP to win a seat in Scotland in 2019.
The daughter of a diplomat, Moran grew up around the world including in Belgium, Greece, Ethiopia, Jamaica and Jordan, and said her internationalism is at odds with Scottish independence. Under her leadership, the Lib Dems would continue to argue for Scotland to stay in a federal UK, but Moran said she understands the "general sense of disenfranchisement with Westminster".
"I share all of that," the former teacher said. "I voted to move the Houses of Parliament out of Westminster. I think generally the UK government is too London-centric, and I sympathise with people in the far north who say that the Scottish Government is too Edinburgh-centric."
But she added: "We believe in the [UK] family of nations… The reason why we care about it is because we care about working together with people, and that's consistent between our position of wanting to remain a United Kingdom with all of its strengths, and also why we wanted to stop Brexit."
Calling the SNP "isolationist", Moran said: "Everyone out there who is thinking about how much they dislike Boris Johnson – please, can I let them know that they have an ally in the Liberal Democrats. Boris Johnson is not England, and he is not this country… If you want to be rid of Boris Johnson, you don't have to throw the Union out with the bath water."
The Lib Dems should have "every reason to be optimistic about making gains" in next year's "hugely important" Scottish Parliament election, Moran said.
Facing Sir Ed Davey, who served in cabinet under David Cameron, she called for the party to "break with the past and move forward".
"We lost a lot of trust in the coalition. That happens to political parties when they say they're going to do one thing and they do another. There were so many policies that were counter to what people thought of us and our core values, and it really hurt us.
"Then you get revoke. We're a democratic party that believes in bottom-up politics, and it was a top-down policy… It jarred…"
Moran added: "Charles Kennedy was the very first leader of the Lib Dems I voted for, because of Iraq and the principled stance that he took. But he was also just so personable and charismatic and kind. I think it's time that we put that face on the party again."