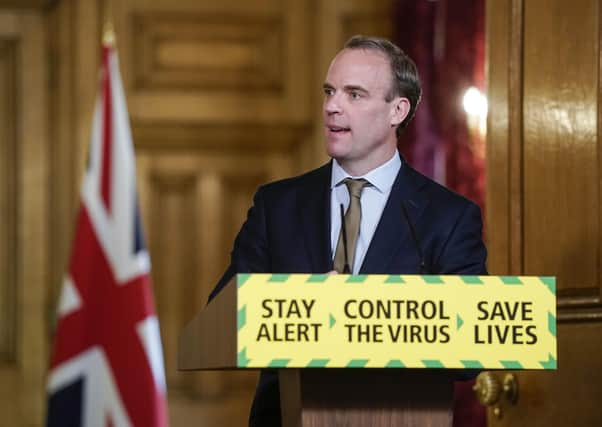 Foreign Secretary Dominic Raab said the extradition treaty was being suspended "immediately and indefinitely" because of concerns the security legislation imposed on Hong Kong could allow peaceful dissidents to be transferred to mainland China.
An arms embargo with mainland China that has been in place since 1989 will also be extended to Hong Kong.
China has warned Britain will "bear the consequences" of suspending its extradition treaty with Hong Kong as US Secretary of State Mike Pompeo prepares to meet the Prime Minister.
A spokesman for the Chinese Embassy in London said in a statement Beijing had expressed its concerns over the UK interfering in Hong Kong matters "which are internal affairs of China".
The move follows tensions over Beijing's crackdown on protests in the former British colony, as well as worsening relations over the treatment of the minority Uighur Muslim population of western China, and the banning of Chinese telecoms giant Huawei from the UK 5G network due to spying fears.
Addressing MPs, Mr Raab said the new national security law in Hong Kong had "significantly changed key assumptions" about the operation of the extradition treaty.
Mr Raab's actions came after Prime Minister Boris Johnson promised a "tough" but "calibrated" response to Beijing.
The UK had already announced that holders of British National (Overseas) passports in Hong Kong will be given extended rights to come to the UK and be put on a path to citizenship.
Mr Raab said Home Secretary Priti Patel will set out further details this week.
The Foreign Secretary also told MPs that the Government has "grave concerns" about the "gross human rights abuses" against Uighurs in China's Xinjiang region.
Earlier, the Prime Minister had promised to strike a balance in his approach to Beijing, resisting pressure from China hawks to take a hardline stance.
"I'm not going to be pushed into a position of becoming a knee-jerk Sinophobe on every issue, somebody who is automatically anti-China," he said. "But we do have serious concerns."
Shadow foreign secretary Lisa Nandy suggested that the Government could take steps to bar Communist Party of China officials from the UK and called for a "new era" in terms of the UK's relationship with China.
Liberal Democrat MP Alistair Carmichael also called for sanctions on China over the treatment of Uighurs, calling the Chinese government's actions in Xinjiang a genocide.
The Chinese ambassador to the UK, Liu Xiaoming had already criticised the Government's approach, using a combative BBC interview on Sunday to denounce Britain for "dancing to the tune" of the US.
Mr Liu claimed Western countries were trying to foment a "new cold war" with China and rejected allegations of widespread abuses against the mainly-Muslim Uighur people, accusing "so-called Western intelligence" of making repeated "false allegations".
He suggested video footage, said to be from Xinjiang, showing men, kneeling and blindfolded waiting to be led on to trains by police officers was "fake".