China spying row: James Cleverly has no regrets about visit to China despite alleged Scottish spy arrest
Foreign secretary James Cleverly has said he has no regrets about his visit to China, after the arrest of a parliamentary researcher sparked concerns in Westminster.
Public confirmation of the arrest came only weeks after Mr Cleverly became the first foreign secretary in five years to visit China, amid efforts to develop more pragmatic ties with the country.
The arrest of the 28-year-old man in Edinburgh, who maintains he is completely innocent, under the Official Secrets Act has led some Tory backbench "hawks" to renew calls for Rishi Sunak to take a tougher line on Beijing.
The arrest has also sparked questions and debate about the influence and insights the major Asian power might hope to gain into parliamentarians.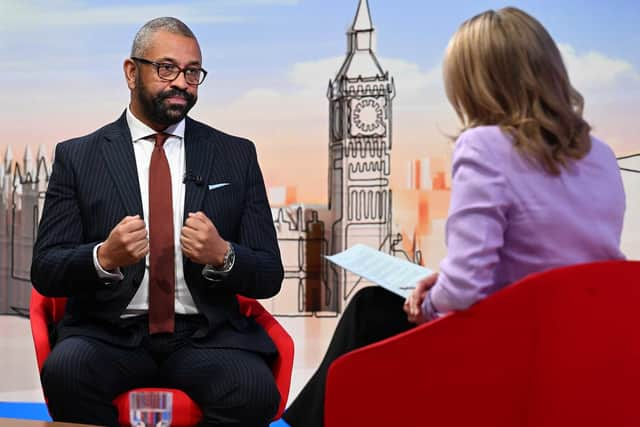 Reports at the weekend cited concerns in Whitehall about how the staffer was reportedly able to access the parliamentary estate using a visitor pass, in part due to his links with senior Tories including security minister Tom Tugendhat and foreign affairs committee chairwoman Alicia Kearns.
Mr Cleverly refused to be drawn on what he knew of the arrest before his visit to China, citing a long-standing convention of not discussing intelligence matters. He repeatedly refused to answer questions about whether he raised the case with his Chinese counterparts.
He and Prime Minister Rishi Sunak were pressed this week over whether the matter had been spoken about with Chinese officials during the trip.
Mr Cleverly told the BBC's Sunday With Laura Kuenssberg programme: "We do not comment on intelligence or security-related matters.
"The Prime Minister is absolutely right that both he and I raised with the Chinese authorities their actions, which are seeking to undermine or distort our democracy."
But Mr Cleverly insisted he did not regret the talks as he hit out at critics of the Government's position on China.
"There is incredibly important work to do," he said.
"And the advocates of somehow ignoring China, pretending it doesn't exist, not talking to China, not having an embassy in Beijing, and not having a Chinese embassy in the UK.
"Some people have said that we should disengage from China. That is not a credible option.
"When there is a difficult relationship – and this is a challenging and difficult relationship – it is more important rather than less important that you maintain those face-to-face communications."
Mr Cleverly's defence of the Government's position comes as it was revealed the parliamentary researcher at the heart of the row had attended a summit involving leading European politicians in the weeks before his arrest.
The senior parliamentary aide attended a London conference where he was a keynote speaker on China relations.
Sinan Selen – the deputy of Germany's equivalent of MI5 – spoke via Zoom as part of the conference, alongside a number of senior German politicians.
Former Conservative leader Iain Duncan Smith has said: "The Government needs to re-set UK policy urgently before it is too late."
Mark Sabah, UK and EU director of the Committee for Freedom in Hong Kong Foundation, last week told The Scotsman, said he was still sending WhatsApp messages potentially containing confidential information to the man arrested in March under the Official Secrets Act months later.
Comments
 0 comments
Want to join the conversation? Please or to comment on this article.