China spy balloons: UK can deal with spy balloons despite defence under-investment, says ex-diplomat
A former British ambassador to the US said people should "sleep easy in their beds" despite the threat of Chinese spy balloons because "an awful lot of that goes on everywhere".
Lord Darroch said the UK had "under-invested in defence" but that there was still capacity to deal with any surveillance inflatables sent to monitor activity in Britain.
He said such surveillance techniques had been "going on for years" and "we shouldn't be panicking about it".
The former national security adviser told Times Radio: "It's still, I think, unless we discover something new, it's still well-known technology.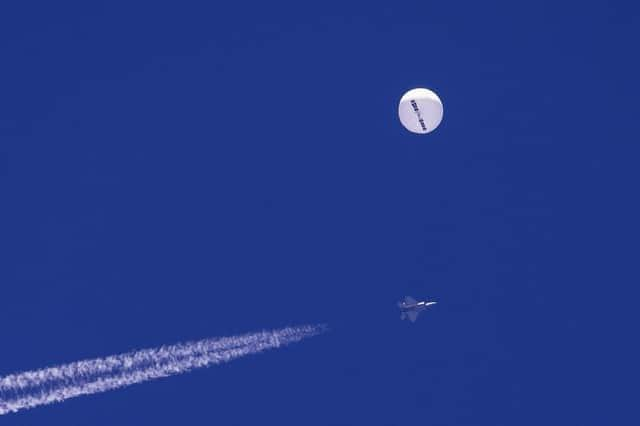 "It's still basically surveillance, still basically spying, and the reality is an awful lot of that goes on everywhere."
Prime Minister Rishi Sunak said he would "do whatever it takes to keep the country safe", telling reporters on Monday that there was "24/7 readiness to police our airspace".
"People should be reassured that we have all the capabilities in place to keep the country safe," Mr Sunak said.
His comments came after transport minister Richard Holden said it was "possible" Beijing had already targeted Britain with balloon spyware.
However, Lord Darroch questioned whether the UK had a "watertight capability" to deal with the balloons following Mr Sunak's remarks.
He said the UK had "under-invested in defence for the last couple of decades" and said there were "gaps around in the technology our armed forces have".
"So, we will have some capability; whether we have a watertight capability as the Prime Minister says, I'm not so sure," the former ambassador continued.
"But we have enough capability, I think, that people can certainly sleep easy in their beds."
PA news agency analysis has found that pilots reported at least six near-misses with objects which may have been balloons in UK airspace last year.
An air traffic controller told the UK Airprox Board (UKAB) on September 25 that a pilot in the cockpit of an Airbus A319 airliner was "distracted" by an object which was "either a balloon or a drone" passing along the side of the plane.
Lord Darroch said it was possible that China was able to get "much clearer" photographs using balloons than the Beijing espionage programme could by using satellite technology.
A former chief of air staff, meanwhile, said balloons could also give spies the chance to make audio recordings.
But Air Chief Marshal Sir Michael Graydon said more information was needed on what the balloons were able to report back "before we get our knickers too much in the twist".
He told LBC: "It's been sort of exercising my mind, what they are getting from a balloon that they can't get from other sources, it is not clear to me at all.
"I think possibly there's opportunity to listen in to certain things that they might not be able to do so easily."
Asked whether such balloons could be shot down if they enter UK airspace, Sir Michael said it was probably best to "let it drift out towards sea and then shoot it down there".
"But I go back to what I said to start with, it would be very useful to find out what's actually in them before we get too excited," he added.
Nato defence ministers, including Defence Secretary Ben Wallace, will meet in Brussels on Tuesday and Wednesday, with the subject of spy balloons on the agenda.
The debate about the potential surveillance gadgets comes after US fighter jets shot down an "unidentified object" over Lake Huron on Sunday, the fourth object to enter US or Canadian airspace in just over a week.
On February 4, the US military downed a suspected Chinese spy balloon off the Carolina coast after it travelled over sensitive military sites across North America.
Almost a week later, on Friday, they shot down an unknown "car-sized" object flying in US airspace off the coast of Alaska.
Canadian prime minister Justin Trudeau on Saturday ordered a US warplane to shoot down an unidentified object that was flying over northern Canada.
On Sunday, a further unidentified object was shot down with a missile by US fighter jets over Lake Huron.
US officials said they still know little about the three objects downed since Friday but the White House ruled out "extra-terrestrial activity" following wild speculation about their origins.