China spy balloons: Rishi Sunak promises 'whatever it takes' to keep UK safe
​The UK Government will do "whatever it takes" to keep the UK safe from the threat of spy balloons, Rishi Sunak has said.
The Prime Minister made the declaration after defence secretary Ben Wallace announced Britain would conduct a security review after a series of objects in western airspace was shot down by the US military, including a suspected Chinese spy balloon.
Mr Sunak said "national security matters" prevented him from commenting in more detail, but insisted the UK was in "constant touch" with allies.
US fighter jets shot down an "unidentified object" over Lake Huron on Sunday – the fourth object to enter US or Canadian airspace in just over a week.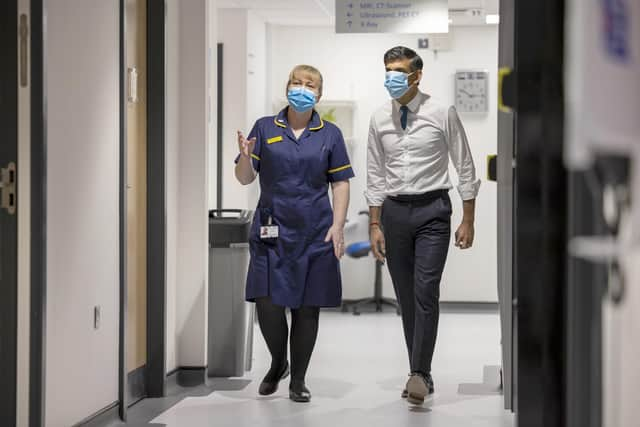 On February 4, the US military downed a suspected Chinese spy balloon off the Carolina coast after it travelled over sensitive military sites across North America.
Almost a week later on Friday, they shot down an unknown "car-sized" object flying in US airspace off the coast of Alaska.
Canadian Prime Minister Justin Trudeau said on Saturday he ordered a US warplane to shoot down an unidentified object that was flying high over northern Canada.
On Sunday, a further unidentified object was shot down with a missile by US fighter jets over Lake Huron.
"I want people to know that we will do whatever it takes to keep the country safe," Mr Sunak told broadcasters during a visit to Royton, Oldham.
"We have something called the quick reaction alert force, which involves Typhoon planes, which are kept on 24/7 readiness to police our airspace, which is incredibly important.
"I can't obviously comment in detail on national security matters, but we are in constant touch with our allies and, as I said, we will do whatever it takes to keep the country safe."
The Prime Minister declined to be drawn on the possibility of similar incidents in UK airspace.
"People should be reassured that we have all the capabilities in place to keep the country safe," he said.
Transport minister Richard Holden earlier suggested it was "possible" that Chinese spy balloons might already have been been used over the UK.
"It is also possible, and I would think likely, that there would be people from the Chinese government trying to act as a hostile state," he told Sky News.
Mr Holden said the UK had to be "robust" in how it dealt with Beijing, admitting the UK Government was "concerned about what's going on" in the US.
Downing Street said the UK was "well prepared" to deal with security threats to British airspace, with threats judged on a "case-by-case" basis.
The Prime Minister's official spokesman did not use Mr Holden's word "hostile" to describe China, but indicated the foreign policy designation of the country would be reviewed as part of the update to the integrated review of security, defence, development and foreign policy.
"China poses a systemic challenge to our values and interests," the spokesman said.
"It is a challenge that grows more acute as it moves to even greater authoritarianism.
"You will know we are updating the Integrated Review and it will take into account some of these evolving challenges we are seeing," the spokesman said.
Mr Wallace said on Sunday the UK and its allies would "review what these airspace intrusions mean for our security".
"This development is another sign of how the global threat picture is changing for the worse," the defence secretary said.
Tobias Ellwood, the Conservative chairman of the Commons Defence Select Committee, said China was "exploiting the West's weakness" with the potential spy balloons.
The former defence minister told Times Radio: "I think this is a testament as to where China is going. It is interpreting our wobbly international rules-based order to its own benefit."
The criticism of China came as Mr Sunak stood by the under pressure BBC chairman while an investigation takes place. A highly critical report by MPs into Richard Sharp's appointment has added to calls for the BBC executive to stand down.
Downing Street said Mr Sharp retained the support of the Prime Minister, after MPs found the chairman made "significant errors of judgment" by acting as a go-between for a loan guarantee for Boris Johnson.
Mr Sharp is facing calls to quit, with the cross-party committee highly critical he failed to declare to MPs his role in facilitating the arrangement when he was applying for the job of BBC chairman and said he should "consider the impact his omissions will have" on trust in the broadcaster.
They said his actions "constitute a breach of the standards expected of individuals" applying for prominent public appointments.
The Prime Minister said he would await the outcome of the inquiry ordered by the Commissioner for Public Appointments, even as Labour and SNP suggested Mr Sharp's position was untenable.
A meeting of the BBC board is reportedly taking place on Monday, with BBC News citing a source claiming no scheduled meetings were planned this month.
Mr Sharp did not arrange the loan, but admitted introducing his friend Sam Blyth, a cousin of Mr Johnson who wanted to help the then-prime minister with his financial troubles, to the Cabinet Office.
A spokesman for Mr Sharp has said he "regrets" not telling MPs about his involvement with Mr Blyth "and apologises".
The Prime Minister, on a visit in Oldham, was pressed by broadcasters on whether he had confidence in Mr Sharp. "This relates to a process that happened before I was Prime Minister, obviously," he said.
"It is currently being looked at by the independent office of public appointments and that process is ongoing so I can't speculate or pre-judge the outcome of that. But it is an independent process that is going to look at it and make sure that everything was followed correctly and all the rules and procedures were adhered to and obviously we will wait for that report."
His official spokesman, asked by reporters if Mr Sunak had confidence in the BBC chairman, said Downing Street was "confident" the appointment process was followed.
Comments
 0 comments
Want to join the conversation? Please or to comment on this article.