Former cabinet ministers Michael Gove and Grant Shapps took aim at the plan to cut income tax for people earning more than £150,000 at a time when millions of people are seeing their family finances squeezed.
Mr Kwarteng had been planning to insist at the Conservative conference in Birmingham that his party "stay the course" and back his plan for tax cuts but announced on Monday morning that it had been scrapped.
In a U-turn however, Mr Kwarteng tweeted this morning "It is clear that the abolition of the 45p tax rate has become a distraction from our overriding mission to tackle the challenges facing our country".
The Chancellor's mini-budget triggered turmoil in the City, was criticised by the International Monetary Fund and resulted in a £65 billion emergency intervention by the Bank of England to restore order.
Chancellor Kwasi Kwarteng said the abolition of the 45p tax rate had become a distraction as he announced the U-turn.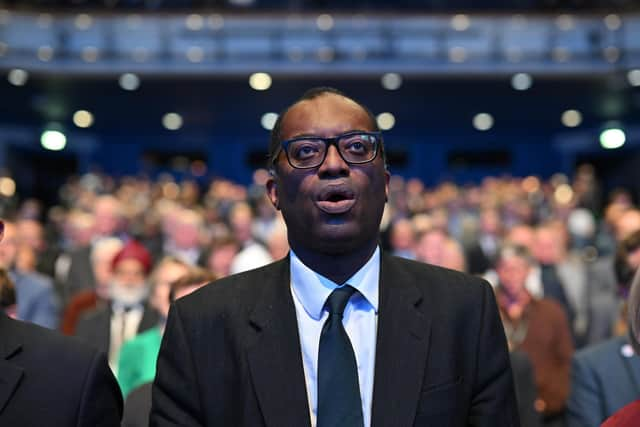 In a statement posted on his Twitter account, he said: "From supporting British business to lowering the tax burden for the lowest paid, our Growth Plan sets out a new approach to build a more prosperous economy.
"However, it is clear that the abolition of the 45p tax rate has become a distraction from our overriding mission to tackle the challenges facing our country.
"As a result, I'm announcing we are not proceeding with the abolition of the 45p tax rate. We get it, and we have listened. This will allow us to focus on delivering the major parts of our growth package.
"First, our Energy Price Guarantee, which will support households and businesses with their energy bills. Second, cutting taxes to put money back in the pockets of 30 million hard-working people and grow our economy. Third, driving supply side reforms – including accelerating major infrastructure projects – to get Britain moving."
Kwasi Kwarteng said the cut in the 45p rate had become a "huge distraction from what was a very strong plan" to boost growth.
The Chancellor told BBC Breakfast: "We just talked to people, we listened to people, I get it.
"We not only talked to people, we saw people's reactions, we were talking to constituents, we were talking to a whole range of stakeholders and we felt that the 45p issue, the 45p rate was drowning out a strong package of intervention on energy, a strong package of intervention on tax cuts for people generally and we decided not to proceed with getting rid of the 45p rate."
He added: "I have been in Parliament for 12 years, there have been lots of policies which, when government listens to people, they have decided to change their minds."
Asked if it had considered resigning, he said: "Not at all. What I am looking at is the growth plan and delivering what is a radical plan to drive growth in this country, to reduce taxes, to put more money that people earn in their pockets."
Pressed on whether the 45p abolition had been a mistake, he said: "What I admit was it was a massive distraction on what was a strong package."
First Minister Nicola Sturgeon tweeted: "UK gov u-turns on top tax rate abolition because it's a 'distraction'.
"Morally wrong and hugely costly for millions is a better description. Utter ineptitude.
"Perhaps those who slammed @scotgov for not immediately following suit should also be reflecting this morning…"
Conservative former Cabinet minister Grant Shapps said he was "pleased" to see the Chancellor acknowledge abolishing the 45p top rate of tax was the "wrong move".
Mr Shapps was speaking on air on BBC Breakfast when the Chancellor confirmed the U-turn, and on hearing the statement said: "Those are exactly the right words. I actually saw him last night. I encouraged him to say, 'look we understand, we get this, sometimes you just get things wrong'.
"This was a mini-budget which was done incredibly quickly… I'm very pleased to see him acknowledging that they understood it was the wrong move and fixing that problem."
Asked if the Chancellor's position is secure, Mr Shapps said: "I leave positions and things to the Prime Minister and the Chancellor to…"
Being interrupted and asked if Mr Kwarteng is going to be Chancellor at the end of the year, Mr Shapps said: "I want this Government to succeed, right, so I hope that this actually solves this problem and we can move on. That's what I want to see happen, and I think he's done the right thing this morning."
Asked about the U-turn on BBC Radio 4's Today programme, Alasdair Locke, chairman of the Motor Fuel Group and a Conservative Party donor, said: "I think it would be unfortunate to be blown off course by a sort of rather sensational media.
"The presentation was very poor, it's the right direction of travel however, and generally cutting taxes when you're facing an economic downturn if not a recession seems to me to be a pretty obvious thing to do rather than to raise taxes. The 40% to 45% rate is a bit of a distraction. It doesn't raise much money."
He said such a change would be "very minor" when compared with the overall package planned by the Government.
And he said the direction of travel of making an environment that is "good for business" is "entirely correct".
But he warned: "I think we should be, as a party and as a Government, we should be careful about having what we do dictated by short-termism, by media reaction, by market reaction, which is not necessarily rational."
Damian Green, a former deputy prime minister, warned that the Tories will lose the next election if "we end up painting ourselves as the party of the rich".
Tory ex-chancellor George Osborne said it was "touch and go whether the Chancellor can survive" the fallout, telling the Andrew Neil Show it would be "curtains" for Mr Kwarteng if his speech on Monday went badly.
Andrew Bowie, who was parliamentary private secretary to Theresa May when she was in No 10, agreed with Mr Gove that unfunded tax cuts are not Conservative.
Former minister Maria Caulfield said: "I can't support the 45p tax removal when nurses are struggling to pay their bills."
The Telegraph reported that a vote on the 45% measure would not be held until after the November 23 financial statement which will set out how the party aims to bring the public finances under control.