The comments come as the representative group for Scottish universities also attacked how institutions are forced to calculate socio-economic disadvantage and called for reform.
On Thursday, The Scotsman revealed no Scottish student who applied to Edinburgh University without what is known as a 'widening access flag' – either being from a more deprived area or an underperforming school in most cases – was awarded a place.
Critics said this meant a "historic promise" of a Scottish education had been broken, though Nicola Sturgeon defended the figures, saying it was "good news" there were more students from deprived backgrounds going to university, after it was raised at First Minister's Questions.
Lindsay Paterson, professor emeritus of education policy at Edinburgh University, one of Scotland's leading voices on the sector, said the cap on student numbers enforced by the Scottish Government resulted in a "reduction of opportunity".
The number of Scottish students accepted onto university courses is capped due to the finite budget available from the Government. This has resulted in universities becoming more reliant on income from foreign students, worth around £25,000 a year to be financially sustainable.
Prof Paterson said the figures from Edinburgh University "confirms in a very up-to-date way what has been shown by previous research".
He said: "The present combination of financial inducements to universities to recruit students from deprived areas in Scotland and a cap on the total number of students from Scotland inevitability means that the opportunities for students from less-deprived areas are reduced.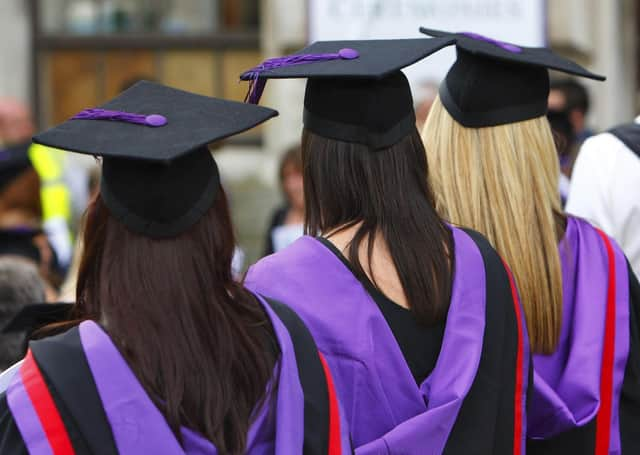 "That reduction of opportunity includes actually deprived students who happen to live in affluent areas. The problem is not the encouragement of wider access, but the cap on total numbers.
"Widening access to able students from whatever background is a Scottish tradition worth celebrating, but a cap on student numbers definitely is not."
Universities Scotland, which represents the country's higher education institutions, said the drive for wider access for those from the most deprived background was a "success story so far", with Scotland having the "most progressive admissions policies in the UK".
However, the group said there was a need for reform of how deprivation is calculated, calling for the use of data on free school meals or the Scottish Child Payment to better target who is given preferential treatment by universities.
A spokesperson for Universities Scotland said: "The Scottish Index of Multi-Deprivation (SIMD), the metric by which we are being judged, is a blunt instrument. It is good at giving a national perspective, but it relates to areas, not individuals, which is not helpful for university admissions.
"Since 2014 we have been calling for different measures to be utilised, such as free school meals data or the new Scottish Child Payment. This would help universities to be more focused in their access targets. It's essential these new measures cover adult entrants to higher education too if we want genuine economic growth and social mobility that breaks cycles of poverty.
"The fundamental issue at the heart of all discussions about university education in Scotland at the moment boils down to this essential fact – the costs of teaching Scottish students is not covered by the teaching grant provided to the sector by the Scottish Government."
Asked whether their numbers were similar to Edinburgh University, other top Scottish universities said they were working hard to open up university access.
Aberdeen University said around a third of all law undergraduates (62 per cent) came from the most affluent areas in Scotland, with 13 per cent from the 20 per cent most deprived areas and a further 15 per cent from the 20 to 40 per cent most deprived areas.
A spokesperson said: "Being open to all is at the heart our Aberdeen 2040 strategy and our aim is to create an outstanding and inclusive educational environment to ensure every student has the opportunity to reach their full potential while also working towards the Scottish Government's priorities for widening access."
Glasgow University said across four undergraduate law courses, 350 students were admitted in 2022/23, with just over 50 coming with what the institution calls a 'widening participation' offer, indicating a "substantial non-WP [widening participation] contingent".
A spokesperson said the university has around a third (32 per cent) of their Scottish undergraduate intake comes from the "poorest 40 per cent of households", with many programmes in place to help encouraging disadvantaged students into higher education.
They added: "The university's Widening Participation team is dedicated to ensuring local teenagers and adults, as well as others experiencing disadvantage from across the UK and beyond, who want to study for a degree, have the opportunity to do so, regardless of their background."
Want to hear more from The Scotsman's politics team? Check out the latest episode of our political podcast, The Steamie.