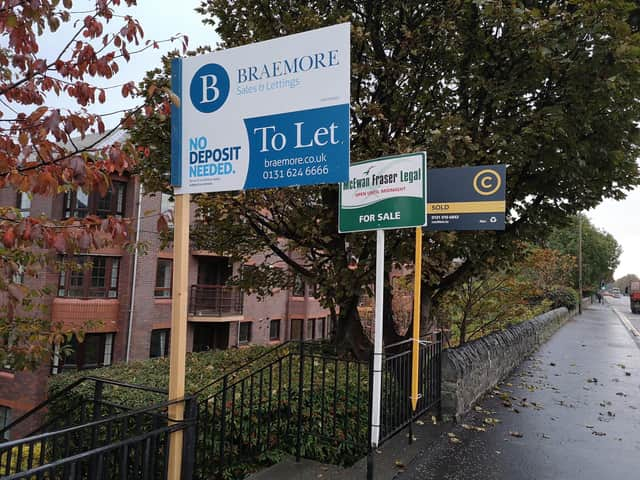 Rent has risen by around 45 per cent in the Lothian area since 2010, new statistics show
The report, which shows that rents continued to rise around 1.1 per cent above inflation year-on-year in Scotland, has led to renewed calls for effective rent control powers for local authorities.
Rents in Edinburgh and Glasgow for a two-bed property have skyrocketed by 45.9 and 40.9 per cent respectively since 2010, higher than the cumulative inflation rise of 21.5 per cent.
This had led to rents rising from an average of £665 and £564 for a two-bed property in Edinburgh and Glasgow to £969 and £794 respectively.
These rises are in stark contrast to other areas such as Ayrshire and Aberdeen and Aberdeenshire, which have seen rises of just 1 per cent over the past decade.
Scottish Labour's equalities spokesperson Pauline McNeill said the statistics showed action was required to stop sharp rent increases.
Ms McNeill's Fair Rents Bill, which aims to cap rent increases, was initially dropped due to a lack of time before the 2021 election.
However, this decision was reversed by Holyrood's local government committee with a call for evidence due to close on December 7.
She said: "These statistics have underlined the urgent need to protect tenants all across Scotland from unfair rent hikes.
"It is deeply disturbing that, in the midst of a pandemic, rent prices in several local authorities are continuing to rise well above the rate of inflation.
"The incredibly steep rise in rent charges for one-bedroom properties, particularly in the Lothians, is a serious cause for concern, as is the dramatic rise in rental charges In the Greater Glasgow area. We cannot have working people unable to afford to live in our two largest cities."
The call for more protection for tenants was echoed by the Scottish Greens, who claimed "fundamental flaws" in existing powers left councils powerless to intervene.
In a research paper released on Tuesday, Lothians MSP Andy Wightman said the requirement to collate sufficient evidence to show the need for a Rent Pressure Zone (RPZ) – where a council can impose controls on rent rises and maximum rents – was too severe with the legislation never used to create one.
The paper showed just four councils had commissioned their own research or started working on an RPZ since their introduction in 2016, but none have been established.
He said: "Rents have outstripped inflation over the past decade. Councils have been unable to act to protect private tenants, even during a global pandemic.
"Clearly, giving councils the power to establish a RPZ without having to seek permission from ministers would be a start, but Scotland needs a comprehensive system of rent control in order to protect private tenants from eye-watering rent rises."
Housing minister Kevin Stewart said the Scottish Government had supported tenants throughout the pandemic.
He said: "We are aware of the economic impact the pandemic is having on many households, which is why we are providing financial support and have strengthened safeguards for private tenants through this crisis.
"We continue to urge the UK Government to cover the average cost of rents through local housing allowance, and to lift the benefit cap to ensure people are supported to stay in their homes."
A message from the Editor:
Thank you for reading this article. We're more reliant on your support than ever as the shift in consumer habits brought about by coronavirus impacts our advertisers.
If you haven't already, please consider supporting our trusted, fact-checked journalism by taking out a digital subscription.