Bute House Agreement: No vote on continuation of coalition deal with Scottish Greens for SNP members as new HPMAs proposal on agenda
It follows calls from critics of Humza Yousaf for SNP members to have their say on the Bute House Agreement
SNP members will not be offered a vote on whether they believe the power-sharing agreement struck with the Scottish Greens should continue.
A provisional agenda for the SNP's annual conference, set to be held in Aberdeen next month, does not include a resolution on the Bute House Agreement despite increased opposition to the partnership in recent months.
However, some policies at the heart of the agreement, such as the controversial plans for highly-protected marine areas (HPMAs) which were scrapped by the Government following a backlash from island and rural communities, will be voted on.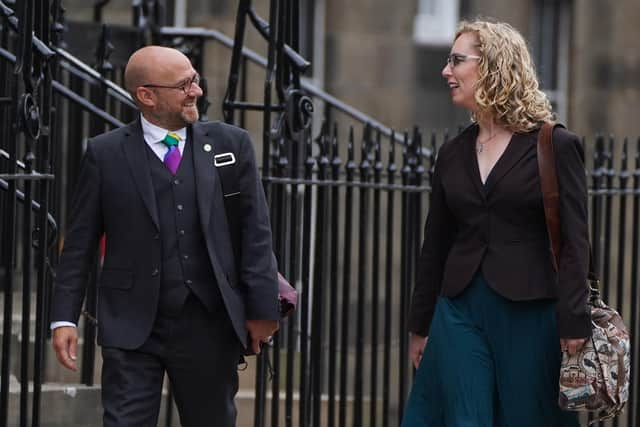 The power-sharing agreement resulted in Scottish Green co-leaders Patrick Harvie and Lorna Slater taking up ministerial posts in the Government in exchange for support of a broad legislative programme that ultimately formed the Bute House Agreement.
The pact has come under intense scrutiny following controversial policies such as Scotland's deposit return scheme, gender recognition reform and HPMAs.
Critics of Humza Yousaf's leadership, such as defeated leadership contender Kate Forbes, fierce opponent of Nicola Sturgeon, Joanna Cherry MP, and veteran former minister Fergus Ewing, have called on the SNP leader to allow a vote on the coalition deal.
The agreement was backed overwhelmingly by party members in 2021, but opponents highlight the deal as one central reason for the SNP's struggles in the polls following Ms Sturgeon's resignation.
In August, Ms Cherry labelled the Greens a "totalitarian party" who had "behaved in a disgraceful way". She said: "I think it's something we should discuss as a party and I think there's an appetite to discuss it.
"The bigger question would be 'why are we afraid of debate, why are we afraid of reviewing an arrangement which could perhaps be terminated or made better?'"
Mr Ewing has labelled policies driven by the Bute House Agreement as "extremist" and, alongside Ms Forbes, has also called for a vote on the future of the deal. However, there is no mention of the deal in the provisional agenda for SNP conference and any proposed emergency motion is likely to be rejected due to internal rules.
Despite this, the members will likely have the chance to vote on HPMAs themselves after a conference motion was brought forward by the Peterhead branch of the SNP.
Initial proposals for HPMAs planned to introduce strict restrictions on fishing across 10 per cent of Scotland's waters, effectively introducing 'no catch' zones to protect the marine environment.
In the motion, SNP members are urged to commend the Government for suspending the implementation of HPMAs, and state that any new proposal must have "consensus among key stakeholders".
It adds that any HPMAs should come about following the devolution of powers to impose them and to regulate fisheries to local councils – a major departure from the initial plans.
Sources within Government say the plans will likely return with less of a focus on so-called 'no take zones', and will ensure no community is forced to accept them.
Comments
 0 comments
Want to join the conversation? Please or to comment on this article.