Business leaders hope new group will reset 'adversarial' relationship with Scottish Government
First Minister Humza Yousaf wants to improve engagement with industry figures
The "new deal for business" group, promised by Humza Yousaf after he became First Minister, will meet for the first time on Wednesday. It follows long-standing concerns about the Scottish Government's engagement with the business sector.
Mr Yousaf has pledged to "reset" this relationship and previously delayed the controversial deposit return scheme and took alcohol advertising plans "back to the drawing board" after criticism from industry leaders.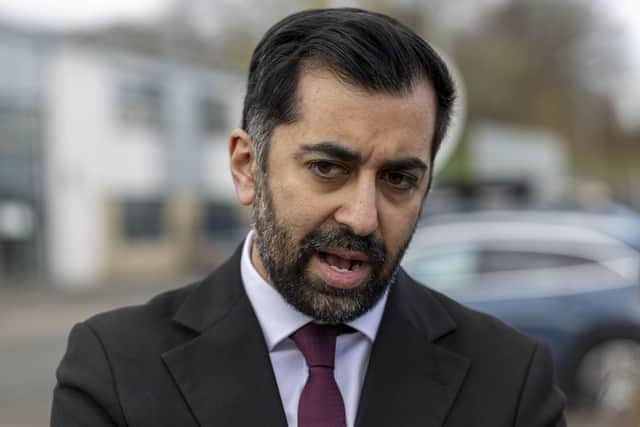 Ewan MacDonald-Russell, deputy head of the Scottish Retail Consortium, which will be part of the new group, said there had been a "pretty bruising series of exchanges between industry and government over the last three or four months".
He told The Scotsman: "I think the deposit return scheme and the alcohol marketing consultation are the clearest examples of that, where policies have come through, but have been very, very difficult for business. For a while, certainly, it became quite adversarial. I really hope we can get past that."
He said business figures "don't want to have a war through the media about public policy", adding: "We're not always going to agree, but I think the process got a bit out of kilter and I think that's partly [that] Government has probably lost some of the good habits it used to have before the pandemic.
"I think it's also – businesses are really under the cosh at the moment. The combination of Covid and then the cost crisis has left a lot of them really, really struggling day-to-day to trade, and then the Government comes along and goes, 'oh, we're just going to make it much harder for you'.
"It's a bit like running up a mountain and then they chuck a load of rocks in your backpack. It doesn't help."
Ryan Crighton, policy director at the Aberdeen and Grampian Chamber of Commerce, told the BBC's Good Morning Scotland programme: "So far this year, the Government has found itself at loggerheads with distillers, brewers, the private rented sector, the fishing industry, and the oil and gas industry, and it's only May. And the reason behind each of these has been a policy proposal or a decision, so clearly things have not been working."
Dr Poonam Malik, head of investments at the University of Strathclyde, will co-chair the new group alongside wellbeing economy secretary Neil Gray. It will focus on four key areas: economic conditions and performance; ensuring the best environment to do business; and a transition to a wellbeing economy.
The Scottish Conservatives said the SNP must reduce the tax burden facing businesses in Scotland if it is serious about a "reset".
Mr Gray said: "I look forward to working with Dr Malik and other members of the new deal group to deepen our relationship with business, not only by engaging and communicating, but actively working together to achieve common goals and align Scottish Government policy with business.
"In the Scottish Government's policy prospectus, the First Minister pledged to help business and trade to thrive and maximise the opportunity of the green economy, with fairness at its heart. Only by working closely with business can we hope to achieve an economy which prospers while caring for people and planet. This is our vision for a wellbeing economy."
Comments
 0 comments
Want to join the conversation? Please or to comment on this article.