While many of the Westminster Budget announcements do not generally apply to Scotland – with key areas such as health and education devolved to Holyrood – this year's package will have more significance.
The coronavirus crisis has forced the UK Government to inject cash into industries UK-wide in a bid to protect the economy.
Perhaps one of the most significant announcements will be a further extension to the furlough scheme, which at this stage, seems inevitable.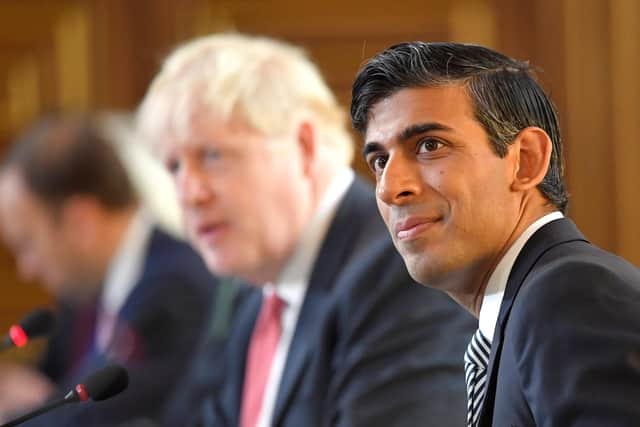 Hundreds of thousands of Scots are on the UK Government's jobs retention scheme, which has paid 80 per cent of some employees' salary up to £2,500 a month for hours not worked throughout the coronavirus crisis.
The latest figures, for the end of December, showed that 282,800 Scots were still on the scheme, up from 195,200 at the end of October.
A reduction in hospitality VAT from 20 per cent to 5 per cent looks set to be extended again, possibly for up to three months beyond the current March 31 cut-off, which would benefit Scots businesses.
Uncertainty over when the hospitality and tourism sector is likely to be able to start operating again north of the border has left business owners facing months of financial turmoil.
While this measure is not likely to save struggling bars, restaurants or hotels, the move will be a relief. Hospitality businesses have called for the VAT rate to apply to more products – possibly even alcohol, although it seems unlikely that government will be seen to offer relief on alcohol sales, amid fears that increased alcohol consumption is directly linked to less social distancing.
Trade bodies are united in calling for a cut on beer duty, while the Scotch Whisky Association has called for a cut to excise duty.
The organisation has claimed that a reduction of the tax burden on whisky, which sees £3 in every £4 spent on the average-priced bottle of Scotch Whisky go directly to HM Treasury in taxes, would drive government revenues and boost the hospitality industry.
Meanwhile, in a joint letter to the Chancellor, UK Hospitality, the British Beer and Pub Association and the British Institute of Innkeeping have told Mr Sunak nearly two-thirds do not have enough cash to survive until the end of May, that businesses have been spending, on average, £10,000 per month to remain closed and that trading restrictions will leave many unable to break even until restrictions are lifted.
Universal Credit was given an extension to the £20-a-week boost by the Chancellor last month.
However, that is set to run out in April. Pressure from across the political spectrum means it is likely this increase will continue, benefiting those who claim the benefit across the UK.
For Scots looking to get onto the property ladder, expectations Mr Sunak will launch a new scheme that will make it easier to get a 95 per cent mortgage will be welcome news.
Common before the financial crash of the late 2000s, mortgages worth up to 95 per cent of the value of a home allowed people to buy their first homes without having to save too big a deposit, although the practice disappeared following the crash, with many banks requiring much larger deposits to buy a home.
Mr Sunak is also expected to extend the current stamp duty holiday south of the border.
However, the Scottish equivalent – a reduction on the Land and Buildings Transaction Tax (LBTT) brought in last year – is to run out at the end of this month.
Holyrood finance minister Kate Forbes has said the raising of the nil LBTT threshold from £145,000 to £250,000, which was introduced last July, would not be extended.
Trailed by the Treasury with some fanfare, green industries in the north-east of Scotland are set to benefit from the Budget.
Mr Sunak has committed £27 million for the Aberdeen Energy Transition Zone, a first step in delivering on the Government's promise for a sector deal for the oil and gas industry, in a bid to "transform" north-east Scotland into a globally competitive hub for cleaner energies such as offshore wind and hydrogen.
Meanwhile, sectors such as infrastructure, aerospace, digital and tourism in certain areas of Scotland have seen £25.8m of earmarked funding accelerated to be delivered over ten rather than 15 years.
The Ayrshire, Argyll and Bute, and Falkirk Growth Deals are to be "reprofiled" as they are delivered collaboratively with the Scottish Government through regional partnerships led by local authorities. 
A further £5m in funding will go towards the Global Underwater Hub in Aberdeen.
However, while many of these measures will come as welcome relief amid an unprecedented financial situation for many individuals and businesses, it is expected Mr Sunak may freeze any planned rise to the tax-free personal allowance.
Currently £12,500, reports have claimed the Chancellor is considering three years of freezes to help pay for the coronavirus measures, in a move which could save the Treasury £6bn.
The third sector is lobbying to ensure that Social Investment Tax Relief (SITR) is saved in the Budget, with some fearing that it may be quietly scrapped.
Launched in 2014, the initiative has raised nearly £2.7m across 16 organisations.
Scotland is one of the areas which has used the initiative most, with the majority of the recipients of the benefit being based in isolated communities or areas of deprivation north of the border, or in the Midlands and South West of England.
The scheme allows investors in charitable businesses tax relief on shares they buy or money they lend the enterprise.
Melanie Mills, senior director of social sector engagement at investment firm Big Society Capital, has warned the country is in danger of "sleepwalking into the Government quietly getting rid of SITR in the Budget, pointing out that many organisations which have used the relief deliver critical services during the pandemic.
A message from the Editor:
Thank you for reading this article. We're more reliant on your support than ever as the shift in consumer habits brought about by Coronavirus impacts our advertisers.
If you haven't already, please consider supporting our trusted, fact-checked journalism by taking out a digital subscription.