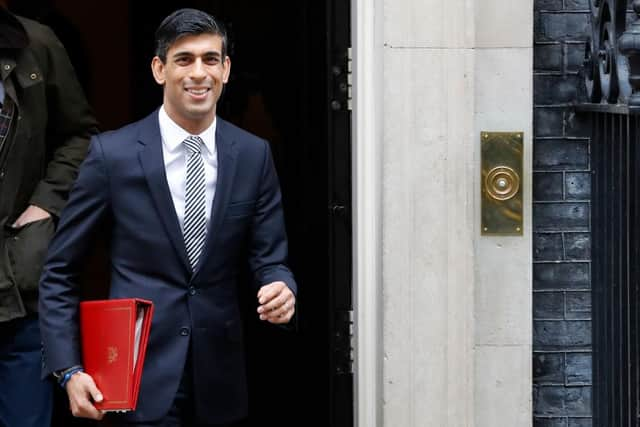 Chancellor Rishi Sunak delivered his first budget
Small businesses will have the cost of sick pay for workers self-isolation refunded, with a major business rates holiday announced for retail, hospitality and tourism businesses in England.
The Chancellor warned of a "significant" economic impact from the virus, with up to 20% of the workers expected to be off sick at any one time - and he sent a strong signal that the UK could tip into recession.
Mr Sunak said that "whatever extra resources our NHS needs" to cope with the coronavirus "it will get".
A £5 billion emergency response fund will support the NHS and other public services, with the Chancellor saying he "will go further if necessary".
Statutory sick pay will be available for "all those who are advised to self-isolate" even if they have not displayed symptoms, and businesses with fewer than 250 employees will have the cost of sick pay due to coronavirus refunded for up to 14 days per worker.
Those claiming employment and support allowance will be able to claim benefits from day one instead of day eight, and the minimum income floor for claiming Universal Credit is being temporarily removed.
Mr Sunak said a "temporary coronavirus business interruption loan scheme" will be introduced for banks to offer loans of up to £1.2 million to support small and medium-sized businesses.
The Chancellor announced that in England, he was taking the "exceptional step" of abolishing business rates for businesses with a rateable value below £51,000 for the coming year.
Further measures in the Budget will provide an additional "fiscal loosening" of £18 billion to support the economy this year, taking the total fiscal stimulus to £30 billion.
Growth forecasts from the Office for Budget Responsibility have been revised downwards - but short term estimates were drawn up before the coronavirus outbreak.
Without taking account of the virus' impact, the OBR has forecast growth of 1.1% in 2020, 1.8% in 2021 and then 1.5%, 1.3%, and 1.4% in the following years.
Mr Sunak said there was "likely to be a temporary disruption" to the economy as a result of coronavirus but insisted his plans would bring "stability and security".
"For a period, our productive capacity will shrink," he said.
Hours before the Budget, the Bank of England set the scene with an emergency interest rate cut from 0.75% to 0.25%.
Mr Sunak said: "I know how worried people are. Worried about their health, the health of their loved ones, their jobs, their income, their businesses, their financial security.
"And I know they get even more worried when they turn on their TVs and hear talk of markets collapsing and recessions coming. People want to know what's happening, and what can be done to fix it.
"What everyone needs to know is that we are doing everything we can to keep this country, and our people, healthy and financially secure."
He added: "We will get through this - together. The British people may be worried, but they are not daunted.
"We will protect our country and our people. We will rise to this challenge."