Education expert James McEnaney claimed the decision to reintroduce exams and "push down pass rates" directly disadvantaged thousands of pupils who had their education disrupted by Covid-19.
In last year's exam diet, overall pass rates were lower than in 2021 across National 5s, Higher and Advanced Highers, but higher than in 2019 when the last batch of traditional external exams were sat by pupils.
This directly correlates with exactly what the Scottish Qualifications Authority (SQA) is quoted in a briefing note to ministers as wanting to achieve, namely an "intermediary position" between 2019 and 2021.
Pupils sitting national qualification exams last summer will have been among those who faced the most disruption to their education due to the pandemic.
The Omicron wave of late 2021 and early 2022 caused significant disruption in Scotland's schools, with teachers and pupils facing long stretches of self-isolation due to high levels of Covid-19 among pupils.
Results from the exams show the attainment gap also widened in 2022 after a reversal of a trend during the Covid-affected years of no exams, which saw an increase in the number of pupils from the most disadvantaged areas gaining national qualifications.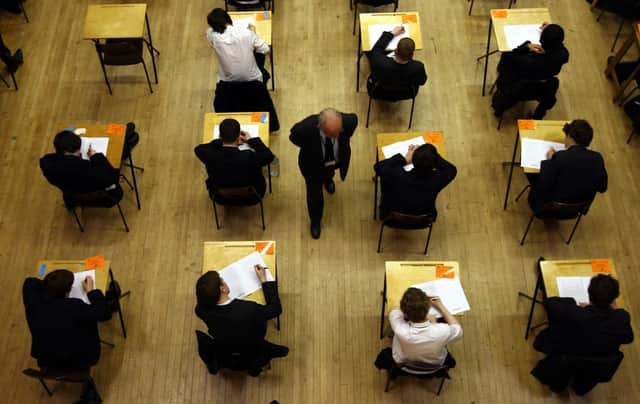 The briefing note for Ms Somerville, ahead of a meeting with SQA chief executive Fiona Robertson in July last year, sets out the authority's approach and warns of potential negative media coverage.
It states: "In line with the rest of the UK, a more generous grading approach will be adopted this year, with SQA aiming to reach an intermediary position between results in 2019 and 2021.
"This means that at a national level, we expect results for National 5, Higher, and Advanced Higher to be higher than 2019, but lower than in 2021."
The note continues this will be achieved by setting grade boundaries to ensure that aim is met. It states: "Key to achieving this intermediary position is where grade boundaries are set this year for individual subjects and grades. Grade boundaries have always been used [when exams have taken place] using rigorous and well-established procedures".
This, the note states, would form part of a "core narrative" on the approach to grading, which would "be used by SQA to brief stakeholders … and the media". There was also a warning the SQA could not "assume the same will be true here" when discussing the lack of "pick up or reaction" to the "narrative" in England and Wales.
Mr McEnaney, who is a lecturer and author of Class Rules: The Truth about Scottish Schools, said it confirmed the SQA and the Government "made a deliberate choice to push down pass rates" compared to 2021.
He said: "As I said months ago, the SQA and Scottish Government made a deliberate choice to push down pass rates in 2022, directly disadvantaging thousands and thousands of learners whose education had been disrupted by Covid for the previous two years.
"The other, inevitable and entirely foreseeable, consequence of this was to reopen an attainment gap that had been more than halved when exams were removed from the system.
"SQA officials and politicians would, as ever, prefer for this sort of information to remain secret from the public, which tells you everything you need to know about their willingness to defend their treatment of young people.
Mr McEnaney said the decision to return to exams and "restore the broken status quo" was done "at the expense of many of Scotland's most deprived young people".
He said: "A deliberate choice was made to restore the broken status quo at the expense of many of Scotland's most deprived young people, which is a shameful situation no matter how you cut it."
A spokesperson for the SQA said: "The approach to National Qualifications in 2022 was set out on February 1 last year. It included a package of support from SQA and the wider education community to help learners perform to the best of their abilities – not to arrive at a pre-determined statistical position.
"Learners achieved a strong set of results overall – and one of the strongest to date in an exam year. The data also shows a close alignment between teachers' estimates and exam grades, with 81 per cent of entries having the same grade or higher than their estimate.
"The balanced approach to supporting learners while maintaining the integrity of their qualifications was shaped and widely supported by the education community, universities and employers. Comments seeking to undermine the 2022 results do a disservice to the thousands of teachers and lecturers who marked SQA papers, and the learners who worked so hard to get their grades."
Ms Somerville said it was "wholly untrue" to suggest the Government or the SQA "set out to make more young people fail".
She said: "To rubbish the results in this way insults the young people who worked so hard and questions the integrity of the many teachers and lecturers who worked with the SQA to ensure a credible assessment process and set of results.
"It was one of the strongest ever sets of results for any exam year, which is particularly impressive given the challenges learners have faced as a result of the pandemic.
"The results showed the gap between attainment levels in the least and most deprived areas narrowed from 2019, when exams were last held. We are determined to accelerate the progress that has been made in closing the poverty-related attainment gap and we are investing a record £1 billion in the Scottish Attainment Challenge during this parliamentary term."
Want to hear more from The Scotsman's politics team? Check out the latest episode of our political podcast, The Steamie.