Brexit trade breakthrough by July is a 'goner', fishing leader warns
The UK "cannot keep negotiating forever", ministers have said as fishing industry leaders warned a breakthrough in EU trade talks by a July deadline now looks impossible.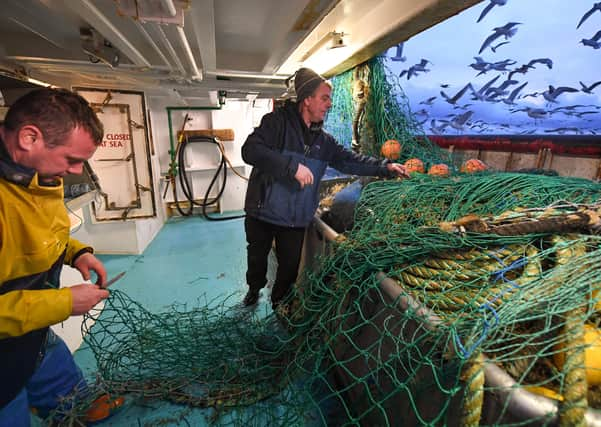 Cabinet Office minister Penny Mordaunt repeatedly ruled out extending the post-Brexit transition phase, despite continuing deadlock over fishing rights and a "level playing field" on trade regulations.
A decision on whether to extend the transition beyond the end of the year – when EU laws will cease to apply in the UK and punitive tariffs will be applied if a trade agreement isn't reached – must be made by next month.
Amid growing pessimism in London and Brussels, the chief executive of the National Federation of Fisherman's Organisations, Barrie Deas, told an event hosted by the Institute for Government think tank yesterday that "July looks like a goner for a deal".
It came as Downing Street refused to confirm the date for a "high level meeting" between Prime Minister Boris Johnson and EU leaders, despite reports over the weekend that it would take place on 15 June.
Updating MPs, Ms Mordaunt said talks with Brussels are at a "key stage" and need to be escalated in the coming weeks.
But asked by a Tory MP if an extension of the transition period would "serve no useful purpose" other than to cost the UK money, prolong uncertainty and hamper the response to the Covid-19 crisis, the minister replied: "The honourable gentleman is damn right."
Her Labour opposite number Rachel Reeves raised concerns about the supply of medicines without a deal, adding: "We're in the dark about what this new relationship looks like."
Ms Mordaunt said work was being done in government to prepare for the failure of trade talks, and to "ensure that supply chains remain strong, that we can quickly adapt, that we do have stocks of all sorts of goods – including medicines – that we need".
SNP Cabinet Office spokesman Pete Wishart mocked the government for blaming the EU, claiming: "It's going to be misery heaped on misery as Covid and Brexit appear like the twin horsemen of the economic apocalypse trampling over any prospect of a recovery."
Mr Wishart said negotiations were "like watching the Scotland B team taking on Brazil of the 1970s... them with their screeds of documents and facts, and team GB with their ill-fitting clown shoes."
Tory former cabinet minister Julian Smith warned that "many businesses haven't realised the consequences of coming out of the single market and the customs union" and said ministers should "start preparing them for that reality."
Ms Mordaunt replied: "We are already in discussions with businesses in every part of the UK."
Comments
 0 comments
Want to join the conversation? Please or to comment on this article.