Rishi Sunak is seeking an urgent resolution with the EU ahead of a looming cliff edge on new rules covering electric vehicles, which could see thousands of jobs lost.
His business and trade secretary Kemi Badenoch and UK officials have raised the issue with counterparts in Brussels after Vauxhall's parent company Stellantis told MPs it will be unable to keep a commitment to make EVs in the UK without changes to the Trade and Co-operation Agreement (TCA) with the European Union.
Under the TCA, from next year 45 per cent of an EV's value should originate in the UK or EU to qualify for tariff-free trade.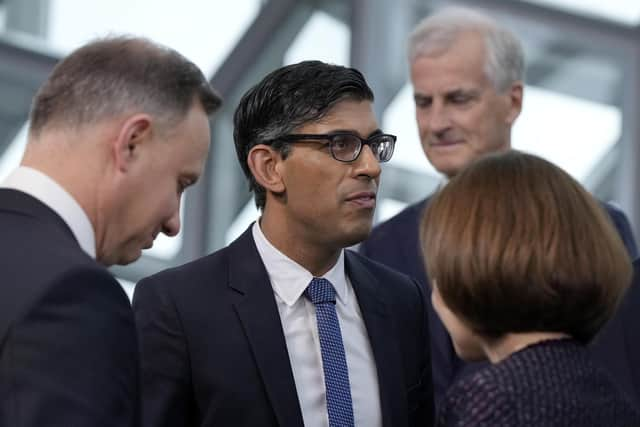 Without meeting the requirements, cars manufactured in the UK would face a 10 per cent tariff if sold in the EU – and vice versa – rendering them uncompetitive.
A Downing Street spokesman said "we hope to come to a resolution with the EU on this", but would not confirm whether talks were aimed at pushing back the deadline.
"We recognise that for a number of reasons raw material costs for manufacturers have spiked since we signed the TCA," the spokesman said. "That's a problem for manufacturers across Europe not just here in the UK.
"I believe European carmakers' body the ACEA has said themselves that the European battery industry has simply not taken off quick enough to keep in line with the more restrictive rules that are due to come into place. That's why the business secretary has raised this already with the European Commission. It's been raised at official level as well and we hope to come to a resolution with the EU on this."
It follows Professor David Bailey, from Birmingham Business School, warning without UK manufacturing of EV batteries there is an "existential threat to the UK car industry". He told BBC Radio 4's Today programme: "Car makers have been saying for some time, they can't meet those rules as they tighten up, and they're going to potentially be facing tariffs."
In its submission to the Commons business and trade committee, Stellantis said the Brexit deal was a "threat to our export business and the sustainability of our UK manufacturing operations". It comes as former Cabinet minister David Frost warned the Tories would not win the next election as the party of "the self-satisfied and entitled".
The former Brexit minister told the National Conservatism conference in London there was "real suppressed anger and frustration" among people that the party ignored "at our peril". He said: "Plenty of people have accumulated unearned wealth over the last 20 years or have established positions of privilege through government action.
"House owners have seen houses go up hugely in value, massive unearned gains due to planning restrictions and poor monetary policy totally unrelated to the productive capacity of the economy.
"Owners of financial assets have benefited in the same way. Pensioners, government employees have been protected at the expense of those who earn a living. Meanwhile, many others are locked out."
Lord Frost, a former civil servant who was ennobled by Boris Johnson and then resigned from Government at the end of 2021 over disagreements on policy, criticised a lack of housing, the inability of young people to build up savings due to high taxes, and the effect of increased energy costs on small businesses.
He said: "Maybe they don't realise it, but these are the people who would benefit from deregulation, from tax reduction, and from the massive shake-up this country so badly needs.
"These are the people who will build this country well into the 21st century. They won't be Conservatives if we only seem concerned about looking after those who have already done well.
"The Conservative Party won't win elections as the party of the self-satisfied and the entitled. We must be the party of opportunity and the party of the future."
Since leaving office, Lord Frost has been a regular critic of Government policy and has repeatedly called for tax cuts and deregulation. Elsewhere, the Prime Minister faced criticism after backtracking on a pledge made during his 2022 leadership bid to shut down 30 Chinese state-sponsored Confucius Institutes across the UK.
In his unsuccessful campaign – before he entered No 10 after winner Ms Truss's disastrous mini-Budget sank her short-lived premiership – Mr Sunak had promised to close all 30 of Beijing's institutes in Britain.
He also pledged to "kick the CCP [Chinese Communist Party] out of our universities", declaring China "the biggest-long term threat to Britain". But on becoming Prime Minister he adopted less hardline language, instead choosing to describe China in official speak as an "epoch-defining challenge" rather than a "threat".
And on Wednesday, the Government confirmed that a decision had been made that it would be "disproportionate" to ban the institutes. A spokesman said: "We recognise concerns about overseas interference in our higher education sector, including through Confucius Institutes, and regularly assess the risks facing academia.
"We are taking action to remove any Government funding from Confucius Institutes in the UK, but currently judge that it would be disproportionate to ban them.
"Like any international body operating in the UK, Confucius Institutes need to operate transparently and within the law, and with a full commitment to our values of openness and freedom of expression."
Former Conservative leader Iain Duncan Smith branded the Government's stance on Beijing "fundamentally wrong". Meanwhile Ms Truss, who was widely expected to adopt more hardline language on China during her short-lived premiership, used a speech in Taiwan to call on Mr Sunak to "urgently" enact the policies he pledged during their leadership contest.