Brexit: Rishi Sunak brands Windsor Framework "a huge step forward" that addresses concerns for people in Northern Ireland
Rishi Sunak acknowledged that the Windsor Framework meant there was still a "small and limited role" for European Union law in Northern Ireland as he branded the latest move " a huge step forward."
The Prime Minister also acknowledged there were border checks for goods crossing the Irish Sea, but stressed they were mainly in the "red lane" for items heading to Ireland and the EU's single market.
Asked about the extent of EU law and the role of the European Court of Justice, he told BBC Radio 4's Today programme: "This is ultimately about balance. At the heart of the Belfast/Good Friday Agreement is the delicate balance that needs to exist in Northern Ireland, and that's about respect for the aspirations and identities of all communities.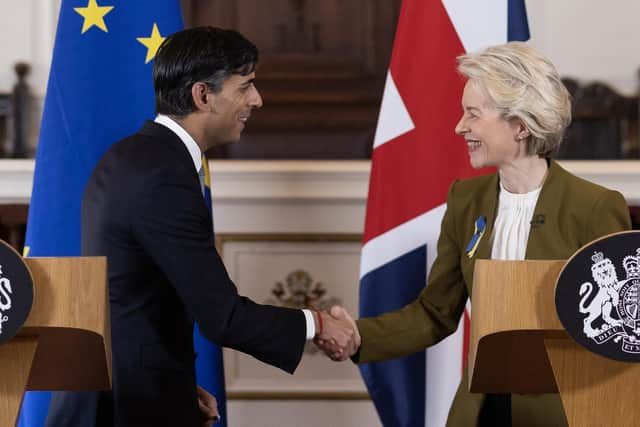 "As long as the people of Northern Ireland consent to that arrangement, then that's why there is a small and limited role for EU law in Northern Ireland – what we are talking about is less than 3% of EU laws that apply in Northern Ireland and they apply very specifically for the purpose that I just mentioned."
He added that the role of European Union law in Northern Ireland "only persists for as long as the people are happy with it".
"What we have done yesterday is introduce a new measure – the Stormont brake – which gives power to the institution in Northern Ireland, Stormont, to say that if there's a new law that's going to significantly impact people's lives coming from the EU, they will be able to block it.
He defended the framework against DUP MP Ian Paisley's claim it did not "cut the mustard".
Mr Sunak said: "I have spent a lot of time listening to unionist communities from Northern Ireland and indeed all parties that I've engaged with, because this is about everybody, and I have taken the time to understand their concerns.
"I am confident that the Windsor Framework addresses those concerns but I also respect that everybody, including unionist representatives of all parties, will need the time and the space to consider the detail."
He added that the framework was a "huge step forward".
Asked about border posts at Irish Sea crossings, the Prime Minister added: "One of the key achievements of the Windsor Framework is it removes any sense of an Irish Sea border, so that when goods move from Great Britain to Northern Ireland, they will now move without customs bureaucracy, they will move without routine checks."
He said: "The border posts are there very specifically for the red lane. Because as part of having a green lane, where goods flow freely within our UK internal market, if goods are actually going to the Republic of Ireland, i.e. going into the EU, well, that's not our country and it's entirely reasonable, that we have checks for those types of goods.
"And we also check when we suspect criminality or smuggling. And that's something that the Government's always said that it would do and has been long-standing practice, actually."
In the green channel "there won't be routine checks" but "there will be checks where we suspect criminality or smuggling".
The Prime Minister appeared to indicate that he has spoken to Boris Johnson about his new deal with Brussels but insisted it was not a matter of "personalities".
The former prime minister has yet to express any view publicly on the "Windsor Framework" for post-Brexit trading arrangements in Northern Ireland.
Asked if he had briefed Mr Johnson regarding the deal, Mr Sunak said: "Of course I speak to the former prime minister.
"But this is not about any of us, it is not about personalities, it is not about Westminster. This is about the people of Northern Ireland and what is best for them.
"This agreement, the Windsor Framework, means that issues that have been raised, the challenges that people faced, those can and will be addressed and that's what I hope people will focus on rather than focusing on the personalities."
Comments
 0 comments
Want to join the conversation? Please or to comment on this article.