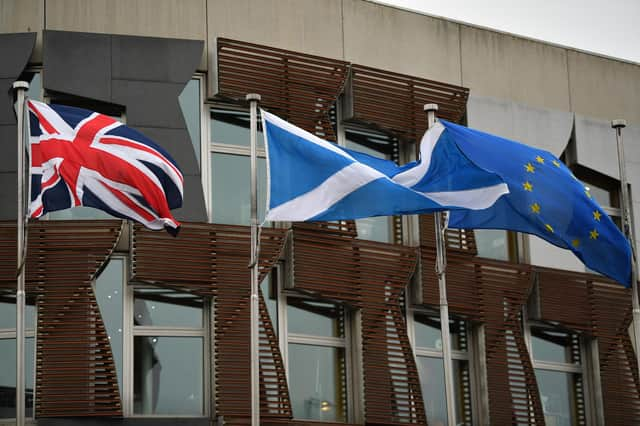 The UK Government's pursuit of Brexit is driving people to support Scottish Independence
Polling guru Professor Sir John Curtice and Ian Montagu at the Scottish Centre for Social Research found that pre-pandemic, all of those who shifted towards a pro-independence viewpoint had positive opinions on the EU.
The study also found most Scots are pessimistic about the consequences of Brexit and analysed data from Scottish Social Attitudes surveys conducted over the past several years.
The results of the 2019 survey were released at the end of September this year, covering the period between April 2019 and March 2020.
Of Remain voters if there was another EU referendum, support for independence has risen from 44 per cent in 2016 to 57 per cent.
However, Yes support from those who would still vote Leave has dropped from 45 per cent to 39 per cent.
The survey also found 18 per cent believe the UK's economy would be better off in the wake of Brexit, while 43 per cent feel Scotland's economy would improve under independence.
Some 51 per cent listed their "constitutional preference" as independence, while 36 per cent backed devolution and 7 per cent backed having no Scottish Parliament.
University of Strathclyde professor Sir John said: "For a significant body of people in Scotland, independence inside the EU has now come to look more attractive than being part of a UK that is outside the EU.
"That may not have been either the wish or the intention of those who have advocated leaving the EU but that does not mean that they can afford to ignore the apparent consequences."
Constitution Secretary Michael Russell said the survey showed a "fundamental shift" in Scotland's opinion on independence caused by Brexit and Boris Johnson.
He said: "The people of Scotland overwhelmingly reject Brexit and the narrow, isolationist stance of Boris Johnson's government, and believe Scotland will prosper as an independent country.
"The Tories have removed Scotland from the EU against our will and are now, unbelievably, threatening to impose a disastrous hard Brexit in the middle of a pandemic and economic recession."
Douglas Ross, the Scottish Tory leader, said in a speech to the Policy Exchange think-tank that Brexit has undermined the union.
He said: "There is no getting away from the fact that Brexit and how it has been delivered has undermined the perception that there are common shared values that unite us.
"Make restating our shared union values of openness and inclusion a part of everything the government does, and if we do that then I believe that we will see support for independence fall."
Scottish Labour's Brexit and constitution spokesperson Alex Rowley said: "Scottish Labour's focus at this time of acute crisis is on the public health and economic challenges that Scotland faces and that is why we will continue to urge the UK government, even at this stage, to extend the Brexit deadline.
"Scottish Labour believes that further devolution, along with major reform of the UK constitution, remains the best way forward for Scotland and that is the case will make in the lead up to the 2021 election."
A message from the Editor:
Thank you for reading this article. We're more reliant on your support than ever as the shift in consumer habits brought about by coronavirus impacts our advertisers.
If you haven't already, please consider supporting our trusted, fact-checked journalism by taking out a digital subscription.