Brexit hold-ups over 'which colour of ink' should be used on forms
Scottish firms have been "thrown to the wolves" over the post-Brexit trade chaos at cross-channel ports and the situation may worsen, MSPs have been warned.
Hold-ups over which colour of pen should be used in official forms and where stamps appear in documents, as well as failing IT systems, are among the "dozens of problems" which has devastated the country export sector in recent weeks, industry experts told Holyrood's Europe committee.
A free trade deal was struck between the UK and EU just before Brexit came into the effect at the start of the year, which initially allayed fears of costly tariffs on exports to the continent for businesses.
But the introduction of complex and lengthy checks at ports like Boulogne and Dunkirk has left many export businesses struggling to cope.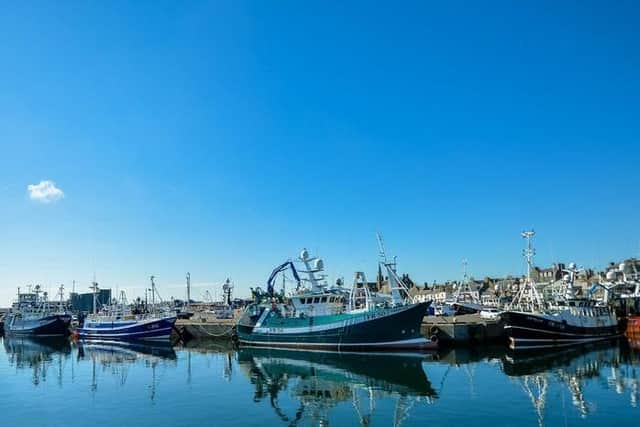 James Withers, chief executive of Scotland Food and Drink, described that first five weeks of trading under the new regime as "absolutely dreadful".
Exporters must "negotiate" 18 different steps to send products to Europe, while importers face another eight steps, he told MSPs
"That is a real nightmare, particularly for products that have got limited shelf life and need to get from the north of Scotland to France and Spain between 12 and 24 hours," he said.
"What that has meant is that given we're basically testing a multi-billion pound new trading system in real time, things are going wrong. And it only takes one of those steps to go wrong and you can lose the value of that product altogether and have huge financial damage as a result."
There have been "dozens and dozens and dozens" of problems, according to the industry chief, from companies struggling to get the right certificates to French and UK Government IT systems "falling down".
He added: "We have loads held up because stamps are only put on the front page of the document and not on every single page and still an ongoing debate about whether forms should be filled out in red ink or blue ink."
This is because exporters are being told that signatures on forms should be a different colour from letterheads, MSPs were told.
"Part of the challenge here, particularly on the other side of the channel, is that you got a lot of young, inexperienced, customs agents," Mr Withers said.
"So you can get a view on ink colour on one particular day, but then the shift changes at Boulogne-sur-mer or Dunkirk and you get a different kind of interpretation.
"So it's extremely difficult for businesses to plan and that's why this hasn't just been an issue for small businesses, but even for big multinational companies who have got export departments, who have export paperwork in their DNA because they are exporting to North America and China and have found these systems falling down."
He added: "This is what happens when you have no time to tests systems and you throw businesses to the wolves."
And although there may an improvement with paperwork turn-around times, Mr Withers questioned whether the system was sustainable for food and drink exporters.
"There are a number of reasons why things will get worse before they get better," he warned.
New sanitary checks will come into force at the start of April on products coming into the UK from the EU, which are currently "waved through", which could result in a new layer of hold-ups.
There could also be an expansion from April 21 on official controls on to a broader range of products which have animal origins as part of their ingredients such as butter or shortbread.
"So in April we start seeing a whole ream of checks which could make things a lot worse," he said.
Charlie Adam, vice-president at NFU Scotland, echoed the concerns.
"It's important to emphasise in all of this that whereas we may be told that these are teething troubles or that they are down to Covid, it is simply not the case that it's as simple as that," he said.
"This is about various structural issues and problems that need to be addressed. I would also say that it's about urgency. The UK Government are saying these things will be addressed and there are changes due to come in April.
"But that's too late and if people have lost that business in the meantime, they may not get it back. People will go to other suppliers. Once you lose that business, it's very hard to get it back."
Scotland's seafood sector has lost about £1 million a day since the start of the new trading regime in lost sales, as a result of the customs chaos.
Mr Withers called for more action from UK ministers to tackle the problems.
He separately told the Scottish affairs committee at Westminster: "I don't think it's just the sheer weight of paperwork, I don't think it's IT systems crashing in the UK and France, I don't think it's the missing commodity codes or HMRC systems failing.
"I don't even think it's been the roads held up due to forms being filled in the wrong colour ink. I think the single biggest challenge we face right now is denial."
Fishing firms descended on roads near 10 Downing Street last month to stage a protest in response to the bureaucratic hold-ups they have faced in exporting seafood to the EU.
The UK Government has since announced a £23 million compensation package to deal with the impact of the post-Brexit checks on the industry.
The post-Brexit trade hold-up experienced by hauliers has been described by First Minister Nicola Sturgeon as "shameful and disgraceful".
A UK Government spokesman said: "We recognise the temporary issues the fishing industry is facing, and know businesses involved in the export of highly perishable goods, such as fish, will be more affected by delays at the border. That's why we are working to set up a new Taskforce to understand the key issues facing the Scottish seafood sector, in particular. This Taskforce will complement our existing Seafood Exports Working Group which is also troubleshooting export issues for the sector.
"We have also announced a £23 million scheme which will provide crucial support for fishermen and seafood exporters, who have experienced delays and a lack of demand for fish from the restaurant industry in the UK and Europe. This is in addition to the £100 million fund announced by the Prime Minister in December."
A message from the Editor:Thank you for reading this article. We're more reliant on your support than ever as the shift in consumer habits brought about by Coronavirus impacts our advertisers.
If you haven't already, please consider supporting our trusted, fact-checked journalism by taking out a digital subscription.
Comments
 0 comments
Want to join the conversation? Please or to comment on this article.