The Prime Minister warned the "evidence is pretty clear" that Russia was planning an invasion that could take place within 48 hours as he called for Mr Putin to think again.
And Mr Johnson called for a united western sanctions response, saying Europe needed to cuts its reliance on Russian gas supplies, including the Nord Stream pipelines to Germany.
It came as foreign secretary Liz Truss, who chaired a meeting of the UK Government's Cobra emergency committee, urged Britons to leave Ukraine by commercial routes while they still could because of the risk of an "imminent Russian invasion".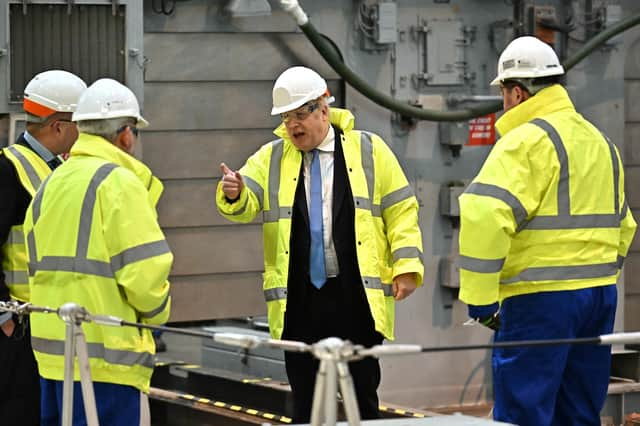 Russia has accused the UK and US of a propaganda campaign and insisted it was ready to continue talks.
Speaking to reporters at the Rosyth naval dockyard during his visit to Scotland on Monday, Mr Johnson urged the Russian leader to consider the economic and political consequences if he launched an invasion of Ukraine.
The Prime Minister said "the world needs to learn the lesson of 2014" when not enough was done to move away from Russian gas and oil following the annexation of Crimea.
He said: "This is a very, very dangerous, difficult situation. We are on the edge of a precipice, but there is still time for president Putin to step back.
"What I think all European countries need to do now is get Nord Stream out of the bloodstream – yank out that that hypodermic drip feed of Russian hydrocarbons that is keeping so many European economies going.
"We need to find alternative sources of energy … and get ready to impose some very, very severe economic consequences on Russia."
The Prime Minister was receiving a briefing on the latest intelligence from the UK's spy chiefs and has cut short a planned visit to northern England to lead a Cobra meeting on Tuesday.
He said his defence secretary Ben Wallace was "right to say" the West must be united against Russian aggression.
Asked if he agreed with Mr Wallace's claims there was a "whiff of Munich" and appeasement in actions against Mr Putin so far, Mr Johnson said: "I think the defence secretary is absolutely right to say it's very important that we've got to be strong, and we've got to be resolute and we've got to be united.
"I think it is very important that we all stand together and that we show a united front, particularly when it comes to economic sanctions.
"The UK, as you know, has been in the lead in bringing our allies together so that there's a tough package of sanctions.
"It's very, very important that the West should stand united, particularly that Nato has done it. It's been pretty encouraging to see the way countries have pulled together."
The pipelines are a source of tension among Western allies drawing up sanctions against Russia, with US president Joe Biden insisting Nord Stream 2 would be blocked if Mr Putin invaded Ukraine. Germany has so far been reluctant to spell out exactly what measures it would take.
Asked if he would would be travelling to Moscow to negotiate with Mr Putin, Mr Johnson said he would be "doing everything I can to the diplomatic process".
"I think it's very important that we have a conversation, but what we can't do is trade away the sovereign rights of the Ukrainians who aspire to Nato membership," he said.
Ms Truss defended her decision to hold talks in Moscow with counterpart Sergei Lavrov, insisting she had to deliver a clear message to Russia.
The talks between the foreign secretary and Mr Lavrov last week were tense and culminated in an awkward press conference in which the Russian minister appeared to question her understanding of the crisis.
Ms Truss said: "I went to Russia to deliver a very clear message, which is that it's Russia who is the aggressor. They have 100,000 troops on the Ukrainian border and if they stage an incursion into Ukraine, that would have a damaging effect on the Russian people and the Russian government.
"Of course, the Russians didn't like what I had to say, but I say it nevertheless.
"And I want them to desist and I want them to be aware that there will be severe costs of an invasion."
Mr Lavrov characterised the meeting as a "conversation between deaf and dumb", claiming Ms Truss did not listen to Russia's position and the UK was unprepared for the talks.
Armed forces minister James Heappey said Britons in Ukraine should not wait for tensions to escalate further before fleeing.
"This is a warning because minutes after Putin gives the order, missiles and bombs could be landing on Ukrainian cities, and that means British citizens should leave now whilst they have the opportunities to do so," he told Sky News.
However, Downing Street insisted British nationals should not expect a "military airlift" from Ukraine.
The PM's official spokesman said: "British nationals should leave the Ukraine via commercial means and there are still flights available."
Labour leader Sir Keir Starmer said Parliament, which is not sitting this week, should be recalled if Russia invades Ukraine.
He also called for tougher sanctions in response to the "Russian aggression".
"I will say this – Russia wants to see our allies divided, it wants to see division in the United Kingdom, and we are not going to divide and, therefore, we support the Government in what it's doing," he said.
"We support our allies and the sovereignty of Ukraine but, yes, those sanctions should go further."