Boris Johnson to launch 'union taskforce' to help battle Scottish independence
Boris Johnson is to launch a "union task force" to help battle Scottish independence.
The Prime Minister is putting together a team to make the social and cultural case for the UK following a series of recent high-profile gaffes.
Expected to be launched in coming weeks, the taskforce would consist of Conservative MPs from England, Wales and Scotland.
Reporting to Downing Street, it would then help create policy ideas and plans to make a positive case for Scotland remaining part of the UK.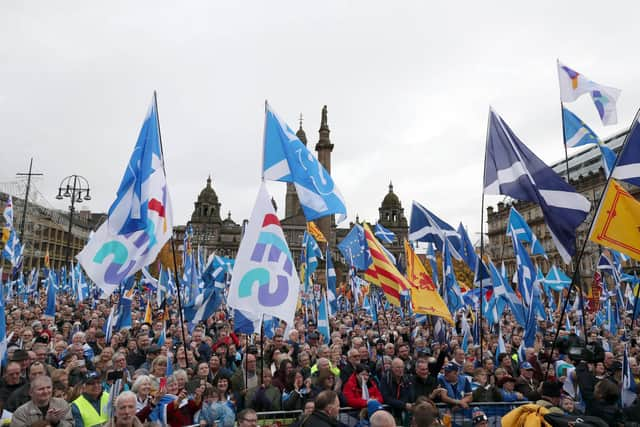 Mr Johnson, who last year added "minister for the Union" to his title, is said to be well aware that losing Scotland would define him as a PM.
Previous attempts to defend the Union have focused on finance or "project fear", but along with Scottish Tories, the PM is keen to make the emotional case for staying as well.
This will also not just be made in Scotland, but also to those in England and Wales.
One senior Scottish Tory MP said: "We have to make sure the Union is at the heart of everything we do. Every policy needs to have a Union Jack emblazoned on it."
According to the Financial Times, the plans will also see some of Downing Street's new televised press briefings with press secretary Allegra Stratton broadcast from the devolved nations.
Members of the team have not been decided, but it is expected to be linked to the new Conservative party policy board led by MP Neil O'Brien.
It follows the exit of No.10 advisers Lee Cain and Dominic Cummings, with the latter said to have no interest in the UK.
An insider said: "He never cared about the Union. Tonally he's an English nationalist."
Yesterday Downing Street claimed Mr Johnson "speaks for the majority of Scots" less than 24 hours after he said devolution was a "disaster".
The PM's spokesman insisted: "The PM has been clear that he thinks the four corners of the UK are stronger together and he will be the voice of the majority of Scottish people who voted decisively to keep the UK together, and he will always stand against those trying to separate the United Kingdom."
If you haven't already, please consider supporting our trusted, fact-checked journalism by taking out a digital subscription.
Comments
 0 comments
Want to join the conversation? Please or to comment on this article.