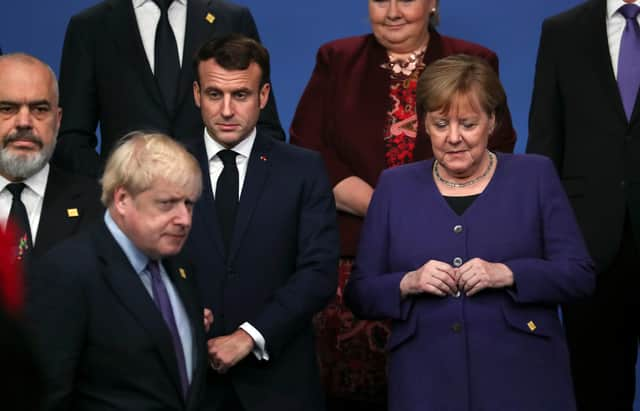 The Prime Minister requested a three-way call for Monday, only to be rejected because all negotiations should go through the European Commission.
His attempts to bypass the normal channels prompted a bemused response from the bloc, with even sometimes allies such as Dutch Prime Minister Mark Rutte suggesting he follow protocol.
He said: "I would like to invite him to stay in London and work hard. Capitals don't negotiate, Barnier does, and he has our full support."
Today the PM's official spokesman refused to deny the claim, despite being asked about it three times by journalists during today's regular Westminster briefing.
The spokesman insisted: "I would refer you back to my previous answer.
"The PM has a clear willingness to talk to other leaders."
Mr Johnson had previously promised to go to Paris and Berlin and to "get this home and get a deal".
The snub sparked a furious reaction among Brexiteers, with one Tory MP labelling it "contemptuous treatment".
Imran Ahmad Khan tweeted: "I stand with millions of Britons that are deeply insulted at the shocking news that the German Chancellor has refused the British Prime Minister's request for a telephone call.
"This is an insult to every Briton, whether they support our PM or not.
"Have our EU 'friends' no regard or respect for the UK and our nations' sacrifices that permit them to live in freedom and prosperity today, safely away from the shadow of totalitarianism?"
The spat came on a day that saw Mr Johnson warn that it was "very, very likely" that the UK would leave the single market without a trade agreement at the end of the year.
Speaking to reporters on a visit to Blyth in Northumberland, Mr Johnson admitted the talks were not progressing.
He said: "I've got to tell that from where I stand now, here in Blyth, it is looking very, very likely that we will have to go for a solution that I think would be wonderful for the UK, and we'd be able to do exactly what we want from January.
"It obviously would be different from what we'd set out to achieve but I have no doubt this country can get ready and, as I say, come out on World Trade terms."
Mr Johnson met European Commission President Ursula von der Leyen on Wednesday, but the pair failed to make a breakthrough.
Today Ms von der Leyen brief EU leaders that there was a "higher probability for no deal than a deal".
Speaking at a post-summit news conference, Ms von der Leyen said that "positions remain apart on fundamental issues".
The continuing deadlock came on the same day the chair of the EU goods sub-committee warned Britain's customs system is not ready for the end of the post-Brexit transition.
Baroness Sandip Verma wrote to Michael Gove saying the committee is "not confident that all the necessary technological, physical and welfare arrangements will be in place in time to avoid or mitigate significant disruption following the end of the transition period".
If you haven't already, please consider supporting our trusted, fact-checked journalism by taking out a digital subscription.