Boris Johnson sets Sunday deadline for Brexit talks as 'very large gaps remain'
Boris Johnson's face-to-face Brexit talks have been labelled "the last supper" by an SNP MP.
It comes after an extended deadlock in the talks, with the UK Government missing its own self-imposed deadlines of summer, October 15 and last week.
Mr Johnson left the dinner shortly after 10pm.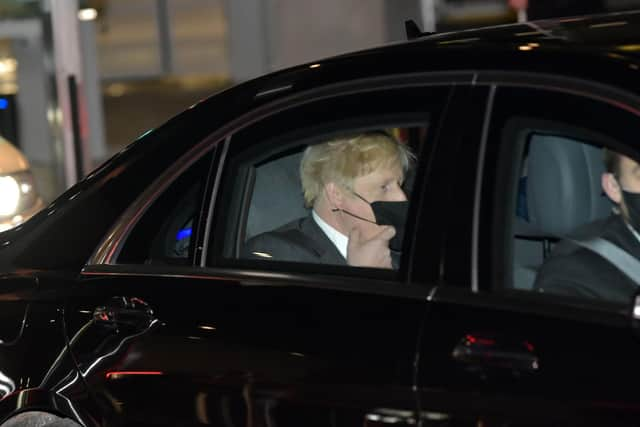 In a statement issued on behalf of the Prime Minister, a senior No.10 source: "The PM and VDL had a frank discussion about the significant obstacles which remain in the negotiations.
"Very large gaps remain between the two sides and it is still unclear whether these can be bridged.
"The PM and VDL agreed to further discussions over the next few days between their negotiating teams. The PM does not want to leave any route to a possible deal untested.
"The PM and VDL agreed that by Sunday a firm decision should be taken about the future of the talks. '
After Tory Minister Michael Gove earlier updated the Commons on the talks and Northern Ireland, the SNP Cabinet Office spokesman Pete Wishart accused him of taking Britain to "the brink".
He said: "We're now at the stage where the chaotic Brexit that we have a sort of Schrodinger's deal, one that is there, but also not.
"I don't know if he's actually come here today looking for some sort of congratulations or well done for all this.
"I think it's a well done for all of us he's taken to the very brink with the very worst of negotiations in what was supposed to be the easiest deal in the world.
"A well done for the emerging chaos ports and businesses will see.
"Or maybe a well done for in a few weeks denying our young people the right to live, work and love freely across a continent.
"Tonight we're going to have the last supper, but we know it will be the British people who will be crucified.
"Can he explain to the Scottish people exactly why Scotland is the only part of the UK that will not get any part of what they voted for in Brexit?"
Mr Gove responded by dismissing the comments, suggesting they were more soundbites than actual questions.
He said: "I'm very grateful to the honourable gentleman for his questions.
"They're masterpieces. He managed to bring in both Schrodinger's cat and the Easter narrative before he eventually got to his question.
"I thought it was a masterpiece of lyrical concision that we expect from Runrig's principal star."
The clash comes ahead of tonight's meeting, which starts at 7pm and will see the PM fly back to the UK straight after.
His official spokeswoman Allegra Stratton insisted the meeting was not a negotiation.
She said: "It's a dinner, a conversation between two political leaders.
"The Prime Minister is going to be clear this evening that he can't accept anything that undermines our ability to control our laws or to control our waters.
"He's going to put that clearly to Ursula von der Leyen to see what her response is."
They will be joined by David Frost and Michel Barnier, in the hopes of injecting life into the stalling talks.
Despite the series of missed deadlines, his spokeswoman insisted this was not one last move, nor would there be further talks next year.
She explained: "The Prime Minister is focused on this evening's incredibly important deal and the here and now of the debate he's having with Europe on these three critical issues - governance, level playing field and fisheries.
"He's not thinking days or weeks ahead."
If you haven't already, please consider supporting our trusted, fact-checked journalism by taking out a digital subscription.
Comments
 0 comments
Want to join the conversation? Please or to comment on this article.