Boris Johnson says misleading Parliament would be 'utterly insane' and insists Partygate events were 'essential'
Boris Johnson has claimed misleading Parliament would be "utterly insane" and insisted the 'Partygate' events held by Downing Street during Covid lockdowns were essential.
Appearing before a Privileges Committee hearing to assess whether he lied to MPs, the former prime minister suggested he had been "misremembering" when claiming rules had been followed at all times.
In a televised and heated evidence session, Mr Johnson repeatedly insisted his innocence. He refused to state the committee was not a "kangaroo court" – a reference used by his own supporters just days earlier – despite being asked directly.
Mr Johnson claimed he could not recall civil servants advising him against the parties, insisted he had to attend drinks to boost "morale", and that anyone who said there was "partying in lockdown" in No 10 "simply do not know what they are talking about".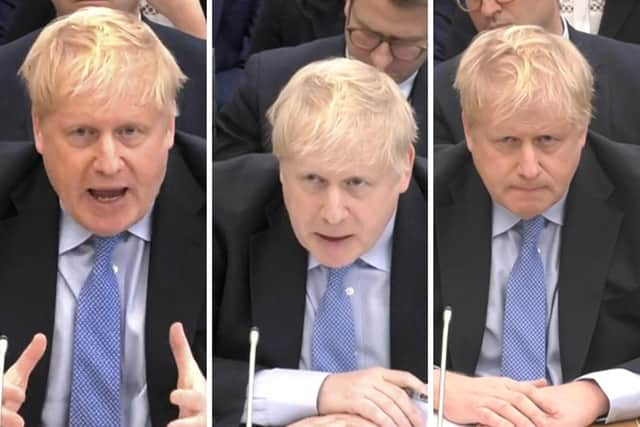 At the beginning of the session, Mr Johnson swore on the Bible to tell the truth before issuing an apology. He said: "I'm here to say to you hand on heart that I did not lie to the House.
"When those statements were made, they were made in good faith and on the basis on what I honestly knew and believed at the time.
"I think if this committee were to find me in contempt of Parliament – having come and done something so utterly insane and contrary to my beliefs and my principles as to come here, to come to Parliament and wittingly lie – I think that would be not only unfair, I think it would be wrong."
He said if it was so "obvious" that rule-breaking was going on in No 10, as the committee argues, then it would also have been "obvious" to others, including Prime Minister Rishi Sunak.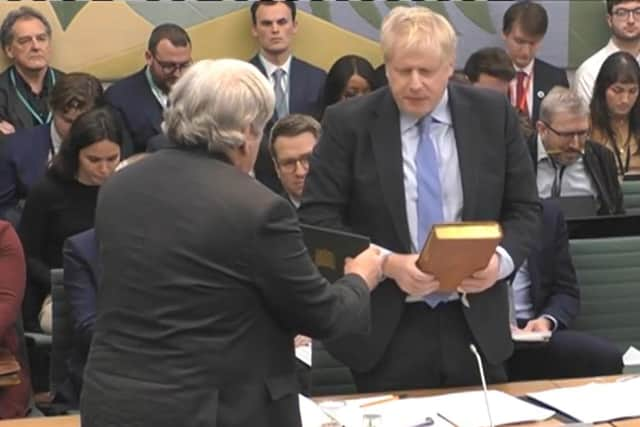 Mr Johnson, supported in the room by arch-loyalist Jacob Rees-Mogg, accused the chair Harriet Harman of having said in the past things that were "prejudicial" to his case.
The Uxbridge and South Ruislip MP suggested the process to decide whether he was in contempt of Parliament was "manifestly unfair".
Mr Johnson said: "You have found nothing to show that I was warned in advance that events in No 10 were illegal, in fact nothing to show that anyone raised anxieties with me about any event, whether before or after it had taken place.
"If there had been such anxiety about a rule-breaking event at No 10, it would unquestionably have been escalated to me."
Ms Harman, the Labour grandee chairing the Tory-majority committee, made a comparison of his witnessing gatherings and seeing a speedometer at 100mph, but then denying speeding because someone assured him he was within the limit.
"Do you actually think we would be entitled to be a bit dismayed about the flimsy nature of this assurance?" she asked. Ms Harman said it appeared his assurances "did not amount to much at all".
Mr Johnson also sought to undermine the evidence given, saying claims by his former aide Dominic Cummings that he warned the prime minister about the events were "unsupported by any documentary evidence" and "plainly cannot be relied on".
With the pair having had a very public falling out, Mr Johnson added: "He has every motive to lie."
The former prime minister also defended the pictures of him holding a glass at leaving do for his former director of communications Lee Cain because it could have been a "potentially acrimonious" moment if he'd not gone.
He said: "This meeting happened on an impromptu basis, it had to happen. It happened because on November 13 two senior members … people will ask why was this happening, why was it necessary?
"It was necessary because two senior members of staff, the effective chief of staff and director of communications, had both left the building, or were about to leave the building in pretty acrimonious circumstances — or what were potentially acrimonious circumstances. It was important for me to be there and to give reassurance."
Mr Johnson could be suspended as an MP and face a possible by-election if he is found to have committed a contempt of Parliament by insisting rules were followed "at all times".
He told the committee: "When I said the guidance had been followed completely [at] No 10, which is actually what I said, I was misremembering the line that had already been put out to the media about this event, which was 'Covid rules were followed at all times'."
Mr Johnson has insisted he made his denials to Parliament "in good faith" on the advice of his officials, which he now concedes turned out to be wrong.
Tory MP Alberto Costa said: "Some might see your reliances on the reported assurances you received as, and forgive me, as a deflection mechanism to prevent having to answer questions about your knowledge of these gatherings."
Mr Johnson replied: "No, that would be a completely ridiculous assessment."
In a worrying sign for Mr Johnson, after a series of feisty exchanges with Tory MP Bernard Jenkin over whether leaving drinks were "necessary for work purposes", the Conservative Party questioner told the former PM: "I don't think we agree with your interpretation of guidance." It is this interpretation that is the key issue being decided.
Mr Johnson highlighted he was not fined by the Metropolitan Police for attending the event in No 10 and the force "agreed it was a work-related event". "I believe it was absolutely essential for work purposes," he added.
Asked whether he thought social distancing was being followed in the image of the gathering, Mr Johnson replied: "I believe that the guidance is being complied with."
In apparent efforts to make the hearing about more than him, Mr Johnson told the inquiry that if it is accusing him of lying, then it is also levelling the same charge at civil servants, advisers and MPs. He said: "I don't think you seriously mean to accuse those individuals of lying and I don't think you can seriously mean to accuse me of lying".
The former prime minister is battling to avoid a suspension and a possible by-election that could follow if he is found to have committed a contempt of Parliament. In evidence earlier published by the committee, officials denied telling him that no guidance was broken at mid-pandemic parties before he went on to insist all rules were followed.
Cabinet secretary Simon Case has told the inquiry he was not aware of any officials giving Mr Johnson that assurance. Jack Doyle, who was Mr Johnson's communications chief when the Partygate story broke, said he did not tell Mr Johnson that all coronavirus guidance was followed.
And former principal private secretary Martin Reynolds said he warned against claiming all rules had been followed before Mr Johnson issued a denial to Parliament. Mr Reynolds wrote to the committee saying he recalled asking Mr Johnson about a proposed line to say during Prime Minister's Questions "suggesting that all rules and guidance had been followed".
"I accepted this, but questioned whether it was realistic to argue that all guidance had been followed at all times, given the nature of the working environment in No 10," Mr Reynolds said. "He agreed to delete the reference to guidance."
But, on December 8, 2021, Mr Johnson went on to tell the Commons "the guidance was followed and the rules were followed at all times". Mr Case replied to the inquiry's questionnaire asking whether he assured Mr Johnson that Covid rules were "followed at all times" by saying "no".
The former prime minister accepted his denials turned out not to be accurate, but stressed he corrected the record at the "earliest opportunity". If Mr Johnson fails to convince the committee that he did not deliberately mislead the Commons, he could be found to have committed a contempt of Parliament.
A suspension of 10 days or more could result in a high-profile by-election in his Uxbridge and South Ruislip seat.
The full House of Commons would vote on any recommendations and Mr Sunak has agreed to give Tory MPs a free vote on their conscience over Mr Johnson's fate.
Comments
 0 comments
Want to join the conversation? Please or to comment on this article.