Boris Johnson quits: Nadine Dorries doesn't go quietly, but reaction shows she and former prime minister are spent force
There has been little sympathy over the former culture secretary not getting a peerage.
Ms Dorries believed she was going to get one after being included on Mr Johnson's list, only to miss out along with Stanley Johnson, the Uxbridge and South Ruislip MPs father.
After it emerged she hadn't got one, the Mid Bedfordshire MP resigned and accused Rishi Sunak of "duplicitously and cruelly" blocking her from joining the House of Lords.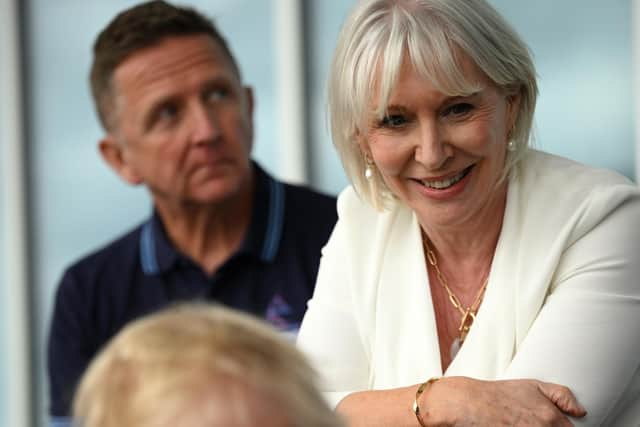 Labelling it "bullying", she then claimed Mr Sunak used "weasel words and "sophistry" in a meeting with Mr Johnson last week that left the outgoing MP believing she would be included. She added it was not just an attack on her, but everyone from a poorer background like hers.
Sympathy on both social media, and more importantly among her own colleagues, was not forthcoming. This should perhaps not be a surprise, given she was removed from the Tory MP WhatsApp group before she'd even officially left Parliament.
Many of her former colleagues are angry, with an array of complaints over how the Johnson loyalist has behaved. Firstly, they resent her going in this manner, seeing it as an attempt to "knife" Mr Sunak and undermine him.
The by-elections have the potential to create huge issues for the Tories at a time they trail Labour by an average of 15 points in national polls. Downing Street does not want to fight battles it may lose, and both the resignations are forcing them to do so.
Secondly, some Tory MPs view the affair as a fundamental misunderstanding of how honours work. The former culture secretary said she had been vetted for the peerage, but because six months had passed, her checks had expired. Mr Sunak didn't block anything, he simply accepted the findings of the House of Lords Appointments Commission committee, which blocked eight of the suggestions in total.
On Monday, Mr Sunak accused his former boss of asking him to "overrule" the vetting advice, which Mr Johnson responded to by saying he was "talking rubbish". While Ms Dorries may cry conspiracy, in reality they misunderstood procedure, and in responding this way have only strengthened Mr Sunak's hand.
The Prime Minister can portray the MPs forcing by-elections as working against the Government, and also point to it being over nothing important like policy, but instead consequences for their own actions or not getting peerages, hardly issues the public will rally behind them over.
That Mr Sunak felt confident enough to accuse Mr Johnson of asking for special treatment shows just how far the former leader's star has fallen. He has quit Parliament, but only with the Privileges Committee about to say he misled Parliament. What's more, why would MPs support Mr Johnson now he's left?
The former leader is being increasingly viewed by many within Tory circles as a stain on the party's past, who quit when things got tough. His behaviour now has only emboldened Mr Sunak, and reminded Tories why they booted him out in the first place.
Comments
 0 comments
Want to join the conversation? Please or to comment on this article.