Boris Johnson quits: calls for general election as Johnson branded a 'coward'
Former prime minister Boris Johnson has been accused of being a "coward" by resigning before a Commons Partygate investigation into his comments is published and one party leader has called for a General Election.
Mr Johnson's announcement last night will trigger a second tricky by election for the Government, coming hours after after Nadine Dorries stood down earlier in the day.
Mr Johnson was branded a "coward" by Angela Rayner MP, Deputy Labour leader. Speaking on BBC Radio 5 Live, she added: "He could have defended himself, he could have gone to his constituents and fought the suspension, and he has decided he is not going to do that because he knows he is in the wrong – and he has never apologised to what he has done to the British people. He has basically been gaslighting the nation. I think he is a disgrace."
She added it was "tosh" for Mr Johnson to argue that the Commons' Privileges Committee's partygate inquiry had not been fairly conducted - she pointed to it having a Conservative majority.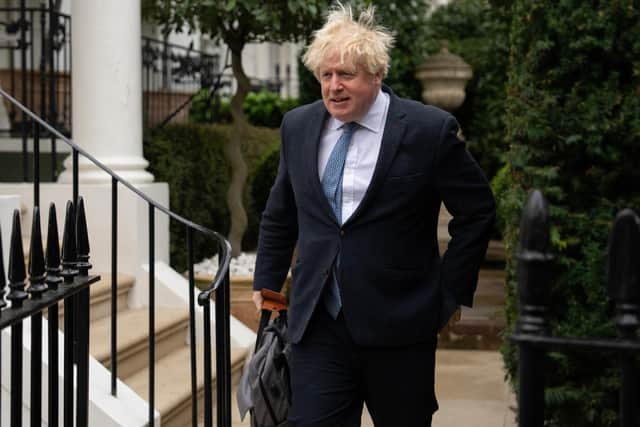 "It is absolute rubbish and tosh, as he would say. It is just another way of Boris Johnson not accepting responsibility for his actions," she said. "He thinks he can run fast and loose, and this time it has caught up with him. He is trying to play the victim when the real victims in this is the people that he tried to gaslight, those that couldn't see their relatives during Covid, who sadly passed away while they were in Downing Street having parties."
Sir Ed Davey, leader of said Johnson's announcement should lead to a general election.
Speaking to the BBC Radio 4's Today programme, he said: "The chaos and division in the Conservative Party, the fact that they're so out of touch on the cost of living, on the NHS, it means we've got to put the country out of its misery with these Conservatives.I doubt they'll do it, because I don't think they've got the courage to do it."
The chairman of the committee, Sir Chris Bryant, said Johnson appears to have "effectively leaked" that report he he lied to Parliament.
Sir Chris said Mr Johnson had been "very relaxed" about the inquiry being set up and did not raise complaints about its process at the time.
He told BBC Radio 4's Today programme: "I presume that what the committee's report says, since this is what Boris seems to have effectively leaked, is that he lied to Parliament, that that was a culpable offence, and that he should be suspended from the House."
The Labour MP said Conservative MPs on the committee, which hold a majority on the seven-person panel, could take exception to Mr Johnson claiming the inquiry was acting in a bid to potentially reverse Brexit.
"How he can possibly believe that Sir Bernard Jenkin, an arch Brexiteer with whom I've rowed about Brexit many times, how he could possibly conceive of him in that light, I think is difficult to understand. He had a kind of narcissistic rant and that is fine, but I think in all the breathlessness of this, it is easy to forget quite how significant this moment is."
Former House of Lords speaker, Baron Fowler of Sutton Coldfield - who was awarded a knighthood by Margaret Thatcher in 1990- said the way Mr Johnson's honours list unfolded was an "extraordinary mess" and "brings into question" whether the process should be reformed.
He told BBC Radio 4's Today programme that, upon hearing that Mr Johnson's honours roll was to be published, he assumed there had been "no problem" with the committee investigation when the "exact opposite" was the case.
"I think it just brings into question the whole business of prime ministers' honours," the former Tory Party chairman said. "It has been a farce really from beginning to end. There has been leak after leak of the whole thing. It's no way of running a Government."
The Tory-turned-cross-bencher said the practice of Prime Ministers giving honours was "perfectly sensible" but added the timing was important.
"There is a specific issue here, and that is the issue of honours being given at the end of a prime minister's period of office," said Lord Fowler, who was speaker in the Lords between 2016 and 2021. I think it brings into the whole question of whether that is necessary and whether that is an appropriate thing to do. I just don't see what the argument now is for it."