Boris Johnson nominating father Stanley for knighthood 'absolutely outrageous', says Keir Starmer
​It would be "outrageous" for Stanley Johnson to be given a knighthood as part of Boris Johnson's resignation honours list, Labour leader Sir Keir Starmer said.
The former prime minister, who was forced out of Downing Street in September last year following a series of scandals, reportedly included his father as one of as many as 100 names put forward for honours.
Sir Keir said: "The idea of an ex-prime minister bestowing honours on his dad – for services to what?"
He told LBC Radio: "The idea that Boris Johnson is nominating his dad for a knighthood – you only need to say it to realise just how ridiculous it is.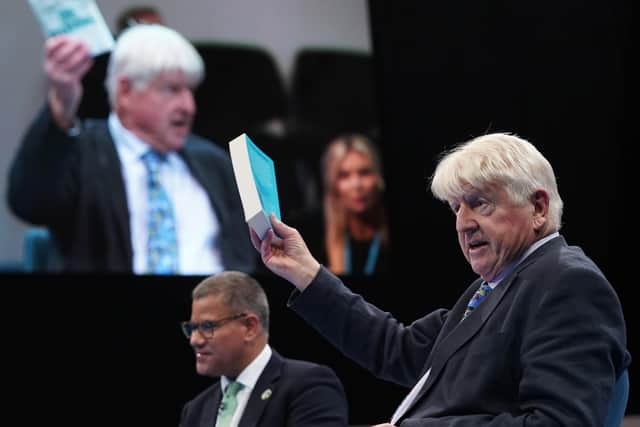 "It's classic of a man like Johnson. I mean, I think the public will just think this is absolutely outrageous."
Liberal Democrats chief whip Wendy Chamberlain urged Rishi Sunak to veto Mr Johnson's honours list if future ones "are to have any shred of credibility".
She said: "Honours should be reserved for those who've gone above and beyond to contribute to our country. Boris Johnson's attempt to bestow that recognition on his father makes a mockery of the whole thing."
But Mr Sunak has no plans to change the honours system, Downing Street indicated.
The Prime Minister's official spokesman said: "There are long-standing rules that guard the honours process.
"There's no plans to change those that I'm aware of. It is a matter of fact that outgoing prime ministers are able to nominate people in this way."
Cabinet minister Michelle Donelan said there were "bigger fish to fry" as she played down the row.
The science secretary told LBC: "I think at this stage it is just speculation. Obviously, it's the ex-prime minister's prerogative to be able to make those types of appointments, but we'll see if this story is true or not."
The Times newspaper reported the former prime minister has nominated his father for the honour. A spokesperson for the former premier said: "We don't comment on honours."
Stanley Johnson has been contacted for comment.
Scottish Greens constitutional spokesperson Ross Greer described the potential nomination as "beyond parody".
"There's cronyism and then there's whatever sad joke this is," he said.
"The only person who could conceivably believe that Stanley Johnson deserves an honour is his dishonest and incompetent Tory court jester of a son. It's the sort of thing that would be dropped from the Thick of It for not being believable."
Any honour for Stanley Johnson would raise questions for the former Conservative leader. The former prime minister faced accusations of cronyism in 2020, after he nominated his brother Jo Johnson for a peerage.
In 2021, senior Tory MP Caroline Nokes and a journalist publicly accused Stanley Johnson, a former MEP, of touching them at Conservative party conferences.
Ms Nokes, chairwoman of the Commons women and equalities committee, accused Stanley Johnson of forcefully smacking her on the backside and making a vulgar comment at the Conservative Party conference in 2003.
Stanley Johnson said after that he had "no recollection" of either incident.
Comments
 0 comments
Want to join the conversation? Please or to comment on this article.