Boris Johnson inquiry: Michael Gove says he believes former prime minister told truth on 'Partygate'
​Michael Gove said he believed Boris Johnson was telling the truth when he told the Privileges Committee he "did not think he was breaking" Covid rules when attending leaving dos in No 10.
The levelling-up secretary said he accepted Mr Johnson's evidence that he saw thanking departing staff during the pandemic as "part of" the job of leading the country through the crisis.
The former prime minister endured more than three hours of questioning on Wednesday at the hands of MPs as they investigate whether he misled Parliament with his assurances over so-called 'Partygate'.
Mr Johnson attended a number of leavings dos in Downing Street, having been pictured toasting employees and giving speeches when households were banned from mixing.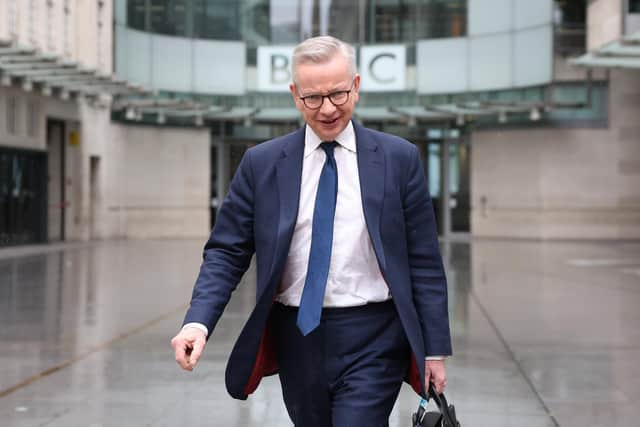 The former Conservative Party leader told the panel of MPs he "honestly believed that these events were lawful work gatherings" and that he regarded it as "essential" for him to thank departing staff who had worked on the UK Government's handling of coronavirus.
Mr Johnson, who assured MPs while he was prime minister that "all guidance was followed in completely in No 10", could face suspension from the House of Commons or even a by-election if the committee finds him in contempt of Parliament.
Mr Gove, asked on BBC's Sunday With Laura Kuenssberg programme whether he believed the former prime minister's evidence, said: "Yes, I did."
It came after he was shown a clip from the broadcaster's Question Time programme, which aired on Thursday evening.
Presenter Fiona Bruce asked the audience who out of them believed Mr Johnson's rationale for attending farewell events for staff while strict social distancing rules were in place, but not one person raised their hand. Mr Gove said "all of us" had at some point "told a white lie or an untruth", but stressed he accepted the former British leader's explanations.
"What was Boris' argument? He was working incredibly hard, every hour that the Lord sent in order to try and do the right thing," said Mr Gove.
"He believed that saying thank you to people who were leaving in the cramped and confined circumstances of 10 Downing Street was part of that job.
"Did he attend those events in a spirit of self-indulgence? No, he did so in order to show his gratitude to those who were working with him.
"It will be for the Privileges Committee to decide, for Members of Parliament to decide.
"But I worked with Boris during that period and I am inclined to give him not just the benefit of the doubt but to believe that when he places his hand on his heart and he said he did not think he was breaking the rules, I do believe him."
Mr Gove served in Mr Johnson's Cabinet and came to be seen as a key figure despite having helped torpedo his Conservative leadership ambitions in 2016 by quitting as his campaign manager and standing for leader himself.
The Privileges Committee is set to publish its findings after the Easter break on whether Mr Johnson committed a contempt of Parliament.
The panel of MPs, chaired by Labour's Harriet Harman but which has a Tory majority, can make a recommendation on any punishment, but the ultimate decision will lie with the full House of Commons.
Comments
 0 comments
Want to join the conversation? Please or to comment on this article.