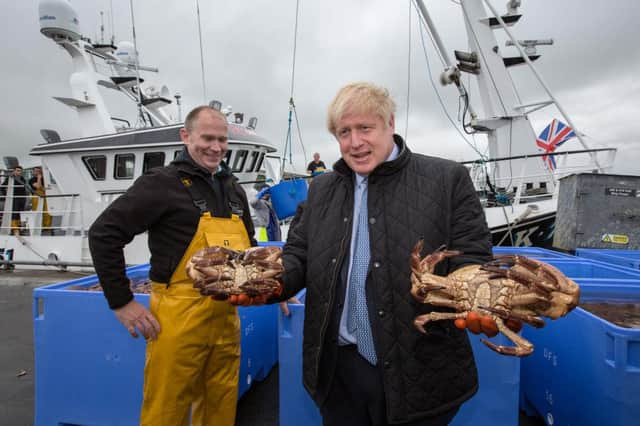 The UK leader is sidestepping meetings with Nicola Sturgeon and Scotland's major cities, instead visiting Stromness, the second most populous town on Orkney.
The Prime Minister's visit comes against the backdrop of growing support for Scottish independence, with many critical of the UK leadership's handling of the coronavirus pandemic.
Why is Boris Johnson visiting Scotland?
Support for Scottish independence has surged in recent weeks with many believing that the Scottish Government has been more effective in dealing with the coronavirus pandemic
A May poll by Ipsos Mori showed that 30% of Scots said that Boris Johnson had handled the coronavirus crisis well, compared to 82% for First Minister Nicola Sturgeon.
The two most recent polls on Scottish independence, conducted by the Sunday Times and Business For Scotland show a 7% lead for the Yes movement over the UK Government supported No movement. Just one poll has shown support this high since the independence referendum in 2014.
Of course, it's not just the pandemic which is driving more and more supporters to the Yes movement.
The drawn out Brexit process, a move which Scots overwhelmingly voted against, is also seeing once no voters and fence sitters support Scottish independence.
Scottish elections are also on the horizon, with recent polling suggesting that the SNP could be set to sweep to a majority.
Then-prime minister David Cameron agreed to stage the independence vote in 2014 after the SNP won a majority at Holyrood in the 2011 election, but Mr Johnson has repeatedly ruled out another referendum.
The visit is seen as an attempt by the Westminster leadership to remind Scots of the support shown by the UK treasury during the coronavirus pandemic and to promise that Scotland won't be left behind in Mr Johnson's plans of "levelling up" forgotten areas of the United Kingdom
Speaking to the BBC Mr Johnson said: "What you have seen throughout this crisis is the union working together with money for supporting people through furlough, the Army working on the testing, moving people around.
"But now what you want to do is build back better together with a green recovery and here in Orkney they are streets ahead on hydrogen technology, on green technology."
Before his visit he stated: "Whether you are from East Kilbride or Dumfries, Motherwell or Paisley, I promised to level up across Britain and close the opportunity gap.
"The last six months have shown exactly why the historic and heartfelt bond that ties the four nations of our country together is so important and the sheer might of our Union has been proven once again."
First Minister Nicola Sturgeon has said that a visit by Boris Johnson to Scotland highlighted the country's need for independence.
She said: "I welcome the PM to Scotland today. One of the key arguments for independence is the ability of Scotland to take our own decisions, rather than having our future decided by politicians we didn't vote for, taking us down a path we haven't chosen. His presence highlights that."
The First Minister had previously said on her 50th birthday that news of Johnson's visit was the best present she could hope for.
She said that suggestions Scotland would not have coped during the coronavirus pandemic without the help of Westminster will be met with scorn by the SNP who are sick of being told that Scotland is "too wee, too poor and too stupid" to support itself.
Scottish Labour leader Richard Leonard urged the Prime Minister to "use his visit to Scotland to listen and not to lecture", adding Mr Johnson should "concentrate on jobs, the economy, public health, rather than getting involved in constitutional jibes".
Mr Leonard said: "Now more than ever, Scotland needs both governments to co-operate to tackle the crises which we face.
"We need a massive fiscal stimulus at a UK level and we need an extension of the job retention scheme."
Scottish Liberal Democrat leader Willie Rennie criticised both the First Minister and the Prime Minister.
Mr Rennie said: "It is a disgrace that instead of co-operation they are using this week as an excuse to bang the drums for their supporters on the constitution.
"We need a common strategy on economic recovery, on preparing for a second wave, on supporting our social care sector, on finding a vaccine and treatments, and so much more.
"Yet instead of getting round the table to find those solutions we get insults. They both need to grow up."