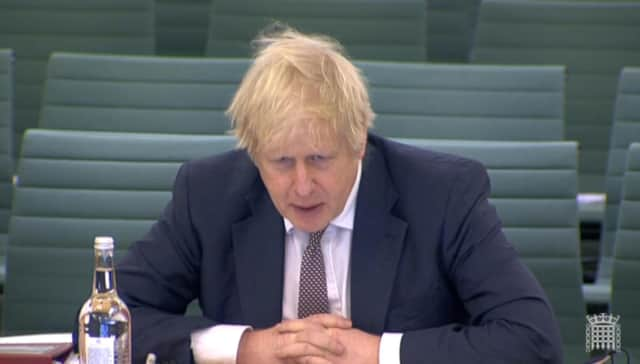 Speaking during the Liaison Committee, the Prime Minister insisted the public instead want the UK to focus on tackling coronavirus instead.
In a heated exchange with SNP MP Pete Wishart, he was accused of speaking "an utter load of rubbish".
He said: "We had a referendum in 2014 which senior members of your party, perhaps not you said was a once generation event, it was on that basis that people vote the way they did, very substantially to keep our country together.
"One of the weirdest things I've heard in the past couple of days is the Scottish Nationalist Party is so averse to anything that comes from England I'm told you won't even use the word Oxford vaccine.
"You need to ask yourself whether you are seriously saying that right now, in the middle of a pandemic, whether the people of Scotland or of the UK or anywhere think it is sensible to have a referendum on a constitutional issue when we are trying to get the pandemic down, to generate millions of jobs that we are going to need over the next few years to allow this whole country to bounce back together."
The PM went on to accuse the Scottish Affairs Select Committee chair of wanting to "scrap the bomb, scrap the Queen, scrap the pound", and claimed Mr Wishart could not say what the "prospectus is for the destruction of the United Kingdom" – such as keeping the pound or Army.
He added: "I think the people of this country want to focus on fighting Covid and getting on with building back better together."
Mr Wishart accused him of refusing to listen to Scotland.
He said: "What the Scottish people want is a say in their future, and you're not prepared to do that."I don't even know why you are bothering standing in the next Scottish elections, surely you know continuing to say no to Scotland is unsustainable and there will be another election.
The spat came during a meeting that also saw the PM announce new measures were in place to prevent the Brazilian coronavirus coming into Britain, only to admit they were just looking at "steps" a minute later.
If you haven't already, please consider supporting our trusted, fact-checked journalism by taking out a digital subscription.