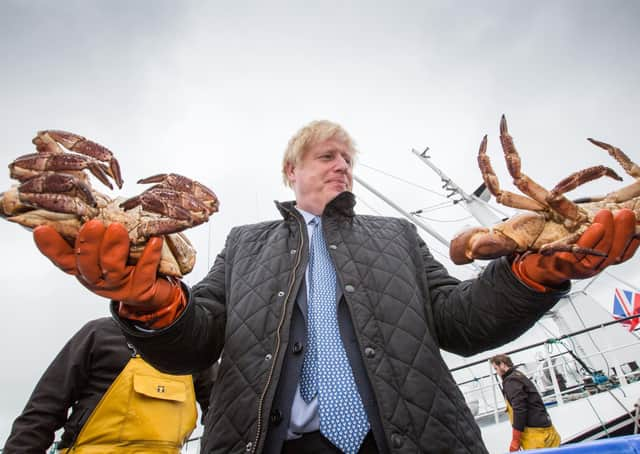 The Prime Minister marked a year in office with a visit to the north of Scotland yesterday and insisted that the response to the pandemic has shown the "key strengths" of the union.
The visit came as the Treasury unveiled that Scotland is to receive an additional £1.9 billion of emergency funding to help battle the virus on top of the £4.6bn that has already been handed out.
But the Tory leader's comments came under fire from First Minister Nicola Sturgeon who accused him of playing politics with the pandemic on his first visit to Scotland since his general election victory in December. Mr Johnson went on the offensive over the constitution after support for Scottish independence reached a record high of 54 per cent in an opinion poll earlier this month.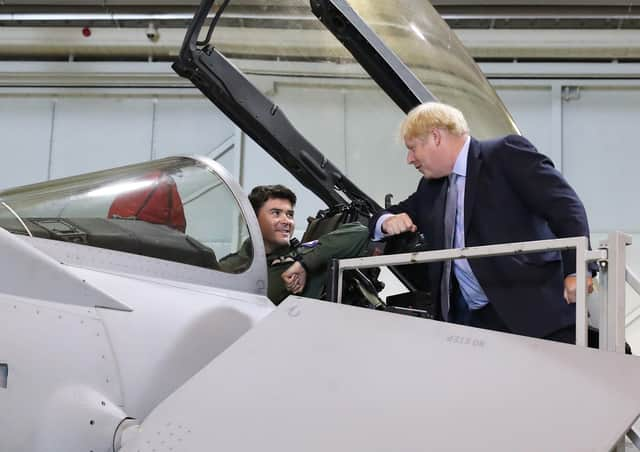 On the UK government's response to the coronavirus crisis, he said: "You have seen ways in which the union of the United Kingdom has been exemplified – some of its key strengths.
"The speed with which the Treasury and HMRC was able to employ the furlough scheme and about £160bn worth of support for incomes, for peoples' livelihoods, for firms, with incredible speed.
"I thought that was a fantastic demonstration of the way we work together as one country.
"What came home to me today was how we, as one country, can bounce back stronger together, through growth deals and through ensuring that we get through a crisis that is not only medical, but also I'm afraid economic, together."
Asked to respond to Ms Sturgeon's suggestion that he was politicising the issue, Mr Johnson added: "Of course not, no.
"It's very, very important to look at the ways in which the whole of the UK can bounce back stronger together and when I look at the ways in which we're going to ensure that we're going to have hundreds of thousands of new green jobs, it seems to me that it's relevant to look at the impact of growth deals that are going to be fantastic for the islands of Scotland."
Mr Johnson met crab fishermen in Orkney, and visited the Baxter's food factory in Fochabers, Moray, and RAF Lossiemouth near Elgin.
Polls suggest that most Scots believe Ms Sturgeon has handled the coronavirus crisis better than the Tory leader. Scotland has taken a different, often stricter, approach to restrictions being implemented to suppress the virus and the speed at which the lockdown has been eased. But Mr Johnson suggested this was down to "superficial political differences" and "differences in presentation".
He added: "I think when you strip away some of the rhetoric, then beneath it the UK is dealing with this crisis in a way that is very, very uniform across the whole of the country. And we're going to get through it together.
"When you look at what is really happening with the steps that the country has taken, I think that the unity, the shared approach is much, much more significant than the differences."
The Prime Minister again argued there should not be another independence referendum – even if the SNP win a majority of seats at next May's Holyrood elections, as polls indicate they could do.
Mr Johnson said: "We had a referendum on breaking up the union a few years ago, I think only six years ago, that is not a generation by any computation and I think what people really want to do is see our whole country coming back strongly together and that's what we're going to do."
But Ms Sturgeon accused the Tory leader of playing politics with the pandemic as she addressed her daily coronavirus briefing yesterday.
"I don't think any of us should be championing and celebrating a pandemic that has taken thousands of lives as some example of the pre-existing political case we want to make," she said.
"This has been a heartbreaking crisis we're not out of yet. Too many people have died and all of us have a really solemn response to focus and get our countries through it, and that's what I'm going to continue to do. Campaigning right now is not my priority. Boris Johnson has every right to do a campaign visit to Scotland. In his shoes it's not how I would be spending my time given what we're facing right now.
"People can make up their own minds about these things and where they think the decisions are best taken. None of us should be crowing about this pandemic in a political sense."
The Prime Minister later hailed the work of the armed forces in testing and moving people around the country during the pandemic and met military families on a trip to RAF Lossiemouth. He added that another £250 million will go into the NHS in Scotland from UK Government coffers in preparation for winter.
"We've got to be clear that this thing has not gone away," he added. "Throughout the UK we've done very well in getting coronavirus under control, but it is not the end of the story and we've got to be very, very vigilant as we go forward into the colder months and that's why we're supporting the NHS with extra cash.
"I think that the merits of the union are very, very strong – they've been proved throughout this crisis. What we want to do now – and this is why I'm here in Orkney – is to show how we can, not just deal with the health crisis, but work to deal with the economic consequences together."
During his first stop at Copland Dock, Stromness, Orkney, Mr Johnson heard from crab fishermen about the challenges the fishing industry faces and cited the role of the UK Government's efforts to protecting jobs during the coronavirus pandemic.
Karl Adamson, the Orkney Fishermen's Society's live shellfish manager, said he spoke to the Prime Minister about reopening access to the lucrative Chinese market – an issue Mr Johnson said he would take up on his return to Westminster.