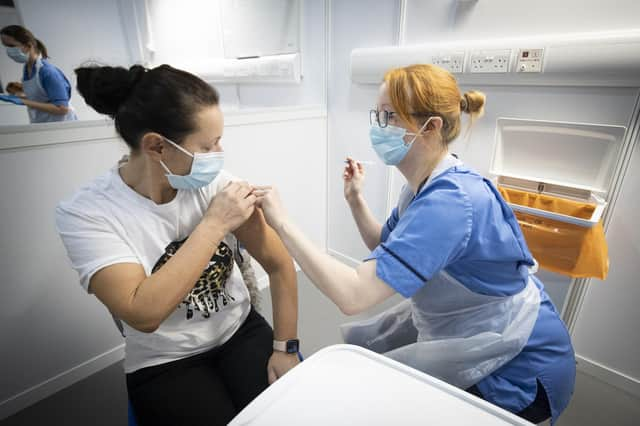 Getting an easy booster vaccine appointment can be a matter of luck.
Increasing evidence shows that a booster vaccine is needed to protect against the Omicron variant, meaning that a concerted effort is needed to get needles into arms.
Yet people have told us that they have been turned away from busy vaccination clinics, despite having booked appointments.
Others have complained of confusion around where and when (and if) booster drop in clinics are located. Many simply cannot find appointments at local centres.
A friend has not been able to get an appointment until after Christmas, despite being classed as clinically vulnerable – and already six months past her second vaccination.
Whether or not it is easy to get a booster is a lottery. While in some council areas, drop-in clinics are widely available for boosters, others are limiting drop-ins to first or second doses - except when they're not.
Last week, I popped into an almost deserted clinic at Edinburgh's Ocean Terminal shopping centre, having been unable to clarify on the NHS Lothian website if boosters were available on a drop in basis there. When I arrived, signs proclaimed that drop ins were for first and second doses only, while boosters were by appointment. The next appointment at that site was in January.
Undeterred, I joined a short queue and was quickly seated in front of a vaccinator. I told her that I had no appointment but needed a booster.
"No problem," she said and quickly popped a needle in my arm, no questions asked. When my husband tried his luck a few hours later, he was told that it was not a drop in clinic – but they would do his vaccination that day anyway.
Confused? I am and I write about the Covid crisis every day. Compared to the average person, I am well up on where to look for NHS information, on the latest government advice. Yet, I couldn't easily figure out how best to get my booster vaccine – the fact I got one was down to fortune and a little bit of bare faced cheek.
We are doing well with the booster roll out, there's no doubt. But it seems like some of it may be more by good luck than good management.
A message from the Editor:
Thank you for reading this article. We're more reliant on your support than ever as the shift in consumer habits brought about by Coronavirus impacts our advertisers.
If you haven't already, please consider supporting our trusted, fact-checked journalism by taking out a digital subscription.