Big interview: Nicola Sturgeon on resilience, party unity, and turning 50
Anyone who has ever interviewed the First Minister will know the process is a bit like that scene in Gregory's Girl where John Gordon Sinclair first hooks up with Clare Grogan. You arrive at the venue – in this case St Andrew's House – and are passed from one person to another, until, finally, there you are: face to face with your actual date.
The consequence of this series of hand-overs is that – by the time I reach Nicola Sturgeon's office on the sixth floor – I have been told several times that I am the first "outsider" to be allowed in since lockdown. She tells me again, as I enter. "I trust you don't have coronavirus," she says. I contemplate the prospective headlines.
It's a good ploy. It means that, as we talk, I feel a weight of responsibility for the health of the First Minister and, by extension, the health of the nation. Which is how Sturgeon must have felt every hour of every day since early March. This afternoon, Sturgeon has good reason to be upbeat. There have been no Covid deaths for six days, and pubs, restaurants and hairdressers are about to reopen. But still she bears that weight of responsibility. While her UK counterparts metaphorically jigged their way out of lockdown, she worries about the consequences of every single liberty restored.
"I want people to responsibly enjoy the greater freedom they have because the last four months have been grim for everybody," she tells me, "but if we enjoy it in a way that throws caution to the wind, the real danger is we will be back in lockdown again."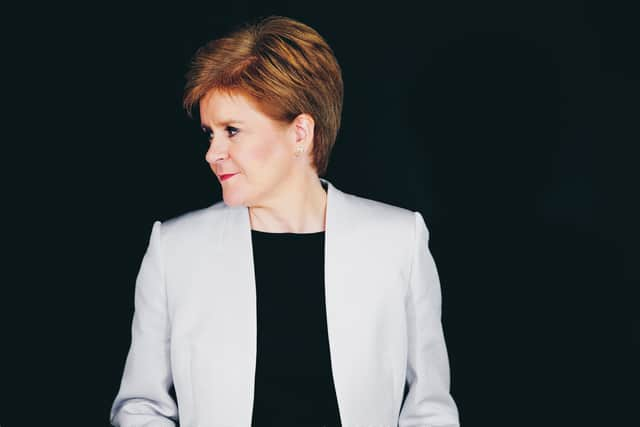 Throwing caution to the wind is antithetical to Sturgeon. Her critics often use this against her, claiming she is so risk averse she has squandered the SNP's Mandate for a second independence referendum. But it turns out "caution" is the right mood music for a pandemic. Juxtaposed with Boris Johnson's recklessness, her Eeyore-ish outlook comes across less like pessimism and more like common sense. "I do sometimes feel like I am the voice of doom, but I have a duty to be realistic," she says.
Sturgeon is speaking to me a few days before her 50th birthday. It is in fact a week of landmarks: her niece's birthday and her 10th wedding anniversary to the party's chief executive, Peter Murrell, as well as her half-century. Though the pandemic has shifted her perspective, encouraging her to count her blessings and taking the edge off her dread of ageing, she is still asking that perennial mid-life question: how did I get here?
"I am a bit perplexed as to how, suddenly, I'm 50," she says. "I think, with politicians, there must be something about living in four or five-year election cycles – suddenly four of them have gone past and that's 20 years of your life."
The First Minister is smartly dressed as always; black trousers, a black and white blouse, white high-heeled shoes. Her lockdown hair – the subject of much Twitter chit-chat – is trim; and despite a long day – we meet at 4pm – there is no sign of her energy flagging.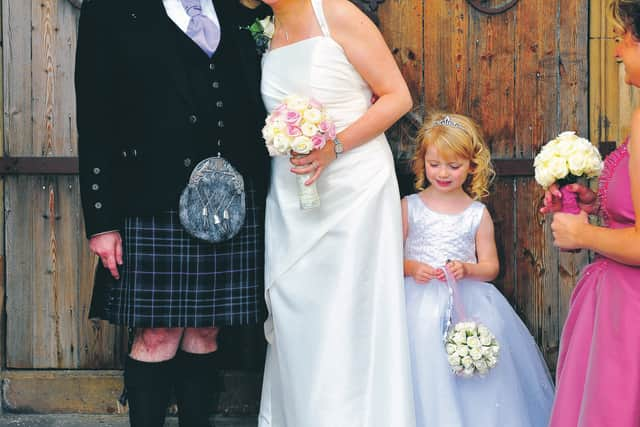 She has often described her teenage self as introverted. What would that girl have thought, if she could have seen herself at 50, sitting perjink in her wood-panelled office, or upbraiding journalists at her daily press briefing? "I don't think it would have been completely alien to me as a concept that I would have been doing something that would have involved being in the public eye, " she says. "And that's strange because I was quite a shy child, but it was coupled with a sense of resolve and determination. I would never have foreseen going on to be a politician, but probably had a desire to do something that made a mark in some way."
Though she appears to outsiders to be a people person, she has always found it easier to deliver a speech than work a room. Her shyness, along with a youthful tendency to take herself too seriously, saw her characterised as dour. "Also, I was surrounded by middle-aged men," she says. "I did a lot of subconsciously thinking the way to get on was to fit in, and so I found myself emulating the behaviour of the men around me, which, in a young woman, presents itself as being quite hard and humourless and a bit too adversarial."
Having eclipsed those men, she no longer feels the need. Asked to give advice to young women, she tells them to be themselves. "It doesn't happen to anybody automatically, you have to do your growing up and making mistakes, but it is important to find a way of being comfortable in your own skin."
Sturgeon does appear to be as comfortable in her own skin. She says the pandemic has brought out previously untapped qualities. "Does anyone know how resilient they are [until they are tested]?" I am lucky – touch wood – in that I have not had to overcome real personal adversity or tragedy. But I guess over the last four months I have discovered I have a deep reserve of both physical and mental resilience."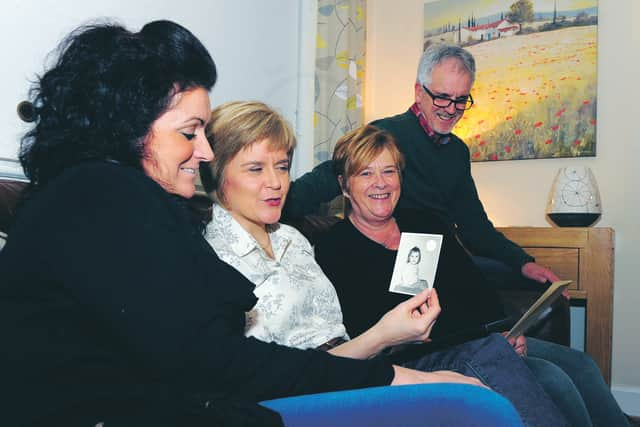 Nor is she someone who dwells on regrets. "I suppose what people would say about me is that not having kids is a sacrifice, but I don't really see it like that," says Sturgeon, who suffered a miscarriage in 2011. "It was my choice at different times of my life and at the point of my life where it wasn't my choice, it was basically just how life works out."
Fifty, however, is a difficult age even for women who are at ease with themselves. She sees the menopause hoving into view and worries about what it will bring. "I am not quite there yet," she says, telling a male SpAd, who is sitting in on the interview, to cover his ears.
Is the menopause the last taboo? "Yes, because I felt the need to say that to him, but I'm pulling myself up short here."
As with most gender-related matters, Sturgeon says she feels a responsibility to be open about her concerns. "Unlike the whole thing of having kids or not having kids, periods, and other aspects of womanhood, I think there is still an inhibition when it comes to the menopause."
Does she worry – as First Minister – that any admission of symptoms could be perceived as a weakness? "Yes, I think that's part of the stigma. For me, there's still a sense that I'm not sure what it's going to be like over the next few years. It shouldn't be as big a mystery to those of us about to go through it, but it is. You read so much about women feeling as if they are losing their mind and you think: 'God, I am in a really responsible job; how am I going to cope if I get hot flushes in the middle of FMQs?'."
Sturgeon stands at a political as well as personal crossroads. She hates it being said, but she has had a "good pandemic". Though mistakes have been made around PPE and testing, just as they were in England, her more sober approach has made her seem trustworthy and credible, and bolstered her approval ratings. The crisis has boosted the Yes movement too. The latest polls put support for independence at 54 per cent, a record high.
Arriving at the same time as the Alex Salmond trial, the pandemic created a hiatus, allowing Sturgeon to push the pause button on other problems besetting the party: deep divisions over the Gender Recognition Act, the forthcoming parliamentary inquiry into the Scottish Government's handling of the assault allegations, arguments over a Plan B, the setting up of alternative pro-independence parties, all looking to snaffle the SNP's list votes. But while Sturgeon is – quite rightly – focused on tackling the virus, these problems cannot be ignored out of existence. When the pandemic subsides they will rise up out of the settling dust.
Or perhaps they won't be contained that long. Less than 48 hours after we meet, veteran Yes campaigner Robin McAlpine will post a scathing article in which he paints the Scottish Government as a centralised, right-of-centre administration with a "terrible" domestic record. "For three years, the First Minister hid behind her self-image (don't talk about independence, just trust me)," he will write. "For the next three years, she hid behind Brexit (don't talk about independence, Brexit first). For the next five, it appears she plans to hide behind Covid (don't talk about independence at all)." The parliamentary inquiry – at which the First Minister is to give evidence – is scheduled to begin in mid-August. Some pundits believe, despite her popularity, Sturgeon's leadership is in peril.
For the moment, the First Minister is holding firm. She will talk unreservedly about the pandemic: how it has changed her perspective on life, made everything else pale into insignificance. But move on to other issues – the toxic discourse within the party, for example – and you find yourself stonewalled. "I just haven't had the head room to think about this," she will say. Or "Honestly, I am not trying to dodge your questions, but I have been fully immersed in dealing with the virus."
Luckily, she has interesting things to say about the pandemic, such as how it has reduced her tolerance for political knock-about. "I have tried in a way that I have never had to do with other issues, to strip the traditional rules of politics out of my decision-making," she tells me.
"I have not weighed up decisions over coronavirus in terms of: What does this mean for my party? What does it mean for opinion poll ratings? What does it mean for the next election? What does it mean for what the opposition are going to say about me tomorrow or next month? I have tried to do everything with a very straight bat; to listen to the expert advice and apply best judgement.
"Though this is a horrible thing to have to deal with, there has been a sort of liberating effect because you are not worrying about things you would normally be worrying about. And I think those who have tried to apply the same rules of politics to this have looked a bit small.
"So it is fine to say: 'Did we do enough about care homes? Should we have gone into lockdown earlier?' These are legitimate questions, and, in the fullness of time, I will want to take a long hard look at that, but if you find yourself saying: 'Care homes deaths were because the big bad SNP just didn't care enough,' then I just think there's something in that the public don't like because it is inappropriate."
Sturgeon believes the reason the pandemic has bolstered support for independence is that it has allowed the Scottish Government to "show not tell" the benefit of separate powers. "I haven't at any point during the coronavirus weighed up decisions on the basis of: 'Does this make independence more or less likely?'" she says.
"But the Yes movement possibly has something to learn about the fact that – as we have stopped shouting about independence, and shouting to ourselves about how we go about getting independence, and just focused on [dealing with the crisis] – it has allowed people to take a step back and say: 'Well, actually that's the benefit of autonomous decision-making' and also 'perhaps things would be better if we had a bit more autonomous decision-making,' and to come to their own conclusions."
This is interesting firstly because, as a slogan, 'Show Not Tell' is not a million miles away from Ruth Davidson's 'Get Back to the Day Job'. But more than that, it sets up a paradox. Support for independence has grown, Sturgeon suggests, precisely because she is not talking about it. But, by refusing to talk about it, she is alienating some key figures in the Yes movement, who are undermining her.
Surely this must be a source of frustration to her: that, just as the party and the Yes movement is enjoying unparalleled popularity, it is being attacked from within. Doesn't she want the warring factions to pull together in advance of next year's Holyrood elections?
"Of course I want my party united," she finally concedes. "History is littered with examples of political parties that start talking to each other as opposed to the public. I don't think that's where the SNP is generally. I haven't had the head room to think about it, but now you are making me think about it, there does seem something odd about a political party that is sitting after 13 years in power, with record opinion poll ratings and the biggest ever support for independence, agonising over what's gone wrong."
Similarly, she bats off questions about alternative pro-independence parties and the list vote before conceding: "You can take it as read that, come the election, I will be saying to people: 'Vote SNP with your first vote, and vote SNP with your regional vote as well,' and I will be pointing to the fact that the one time we did win a majority was when we maximised the constituency and the regional vote."
Always, however, she brings the conversation back to the matter in hand. It's been difficult, she agrees, ensuring Scots #Keep the Heid when other politicians are encouraging people to go out to the pubs. "I have tried to impose self-discipline about not criticising other leaders elsewhere because we are all dealing with a difficult situation and I am pretty sure everybody is trying to do their best," she says, "but I think mixed messaging has been an issue from the UK government, both in not being clear enough about the decisions they are taking where they apply to England only, so there is the potential for confusion, but also just mixed messaging in saying: 'Get back to work', but also 'the virus is still a threat'."
If Sturgeon is irritated by the UK government's messaging, she is furious over what she sees as the politicising of the potential quarantining of English visitors to Scotland. This has fuelled some independence supporters to take provocative "stay away" banners to the border. Their actions forced her to proclaim, "I don't have an anti-English bone in my body." But it has also fed into a wider unionist backlash, with Johnson quibbling over the very existence of the border, and allegedly plotting an "emasculation" of the devolution settlement.
"There are public health experts worldwide right now looking at the UK debate about borders between Scotland and England and thinking: 'What is that all about?' They just see it as, if you have a virus that's spreading, and you can stop it by putting a border control in, then you do that. The idea it should be a big political or constitutional controversy is alien to them."
But – if the UK is fixated on the constitution – surely the SNP is partly to blame? " I am a politician to my fingertips. I am a passionate believer in Scotland being independent. I know [the border] has all sorts of issues and debates around it but that's not what this is about," Sturgeon says.
"This is about a public health crisis and how you best tackle it. I think people who can't see that or possibly, even worse, who refuse to see it because they would rather play the politics of the situation do need to take a step back and take a look at themselves."
This is why, she insists, she won't get involved in discussions about party rifts or the GRA or parliamentary inquiries. "At some point these will have to be dealt with, but it's not just where I'm at," she says. "I think for the vast majority of people, it's not where they are at. We can talk about [the current situation] being odd, but I think what the Scottish people would find oddest of all would be if they heard me popping up talking about next year's Scottish Parliament election."
While she waits for the right moment, Sturgeon tries to strike a balance between being impervious to criticism – which would be "self-defeating" – and being derailed by it. "I can, if I choose to, on any given day, read a dozen or more pieces in the media telling me what I am getting wrong and how much better everything would be if only I listened to them, and usually it's completely contradictory," she says. "Also, and I hope readers don't take this the wrong way, but 99 per cent of it is from men, and a similar proportion is from people who don't have the experience in politics that I have. I wouldn't want to be immune to criticism, but you have to find a way to put it in its proper place."
In line with her softly, softly approach to the easing of lockdown, Sturgeon's birthday celebrations will be muted. Before the pandemic started, she and Murrell had talked about spending some time away together, but today will probably involve a small family gathering in line with the social distancing guidelines.
"The only thing I have said to Peter I really want to do is go a walk along the beach in Dunure. I spent a lot of my childhood there because it's where my dad grew up and where my grandparents lived until they died."
As the interview draws to a close, I ask Sturgeon if she thinks there will be any positive legacies from the pandemic. "No," she says immediately. Then she pauses.
"I find myself torn because part of me just wants to see everyone get back to normal as soon as possible. But in this horrible situation, we have been reminded of what actually matters in life and some of what doesn't. What matters is your health, your family, your friends, your community. If we can hold on to that, and apply some of that learning, as we go back to normal, then maybe that's as close to a positive legacy as we can get," she says.
A message from the Editor:
Thank you for reading this story on our website. While I have your attention, I also have an important request to make of you.
The dramatic events of 2020 are having a major impact on many of our advertisers - and consequently the revenue we receive. We are now more reliant than ever on you taking out a digital subscription to support our journalism.
By supporting us, we are able to support you in providing trusted, fact-checked content for this website.
Comments
 0 comments
Want to join the conversation? Please or to comment on this article.