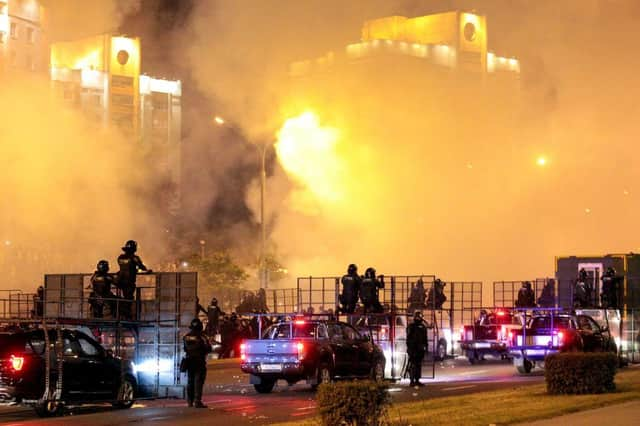 Riots broke out in Minsk as protesters and police clashed in Belarus's capital and across the country, following the announcement of the results of Alexander Lukashenko landslide re-election on 9 August.
Police used stun grenades, rubber bullets and water cannons to quash demonstrations.
The dissidence erupted following claims by state TV that long-time President Alexander Lukashenko has been re-elected, with exit polls reporting he had received 80% of the vote.
Here's everything you need to know.
Why was the result controversial?
65-year-old Lukashenko has been in power since 1994, and the former Soviet farm boss' reign has been controversial throughout.
His authoritarian style is reminiscent of the Soviet era, and Lukashenko was the only deputy of the Belarusian parliament to vote against the dissolution of the Union in 1991.
His administration controls the country's main media channels and regularly jails political opponents.
Lukashenko was seeking his sixth term in office, but had faced unprecedented opposition in the lead-up to the election.
Opinions on Lukashenko had worsened in recent weeks due to his approach to coronavirus, a similar, bolshy approach shared by other right-wing leaders like Donald Trump.
Early in the pandemic, Lukashenko claimed that citizens "just have to work" to combat the virus, saying "the tractor will heal everyone... the fields heal everyone."
He has also claimed that "sport, especially on ice, is better than any antiviral medication" because "it is the real thing", and once suggested that "poisoning" the coronavirus with vodka was an effective treatment against Covid-19.
Who was Lukashenko running against?
His main opposition leader is Svetlana Tikhanovskaya, a 37-year-old former teacher and stay-at-home mother who took on the challenge of Lukashenko when her blogger husband Sergei Tikhanovsky was banned from running and sent to jail.
Tikhanovskaya refuses to recognise the results, saying early reports of her only securing 9.9% of the vote do not reflect the 70-80% approval ratings she had been getting in some areas ahead of the vote.
"We have already won, because we have overcome our fear, our apathy and our indifference," Svetlana Tikhanovskaya said.
Ahead of the election, Tikhanovskaya said she hoped the president would "understand that his time is over... People don't want him any more."
Tikhanovskaya has now fled to Lithuania, which is now in a diplomatic row with Belarus.
It wasn't just Sergei Tikhanovsky who was denied the opportunity to run against Lukashenko: two other leading contenders were also barred - Valery Tsepkalo and Viktor Babaryko.
Leading election monitoring body the Organisation for Security and Co-operation in Europe (OSCE) have judged none of the previous presidential elections held during Lukashenko's reign to be free and fair.
And it looks as if this vote was shrouded in just as much suspicion and foul play.
Protests in Belarus have been taking place regularly in recent weeks, defiant in the face of an ongoing crackdown on opposition voices.
According to Human Rights Centre Viasna, more than 2,000 people have been detained since May, when campaigning began; the day before polls opened, Tikhanovskaya's team said her campaign manager had been arrested.
More than 40% of votes were cast ahead of election day, observers were not invited to monitor the election, and internet service across Belarus was disrupted on election day - opposition supporters say this makes it harder for evidence of election fraud to be collected and shared.
What protests are taking place?
"It was a peaceful protest, we weren't using force," said 23-year-old protester Pavel Konoplyanik
"No one will believe in the official results of the vote, they have stolen our victory."
After the vote, thousands of protesters gathered in Minsk where police used truncheons to beat them and flash-bang grenades in an effort to get them to leave.
There were also demonstrations in the Belurusian cities of Brest, Gomel, Grodno and Vitebsk.
Protests continue more than a fortnight after the election, with police in Belarus detaining two senior opposition figures a day after more than 100,000 people rallied against the President on 23 August.
Olga Kovalkova and Sergei Dylevsky were leading a co-ordination council set up by Tikhanovskaya when they were picked up outside the Minsk Tractor Factory, where staff are involved in an anti-Lukashenko strike.