Richard Sharp was hauled in front of MPs after it was revealed he assisted his friend Sam Blyth, a Canadian businessman who is also a distant cousin of Mr Johnson, who wanted to financially help the prime minister.
In a bruising grilling by the Commons digital, culture, media and sport (DCMS) committee, Mr Sharp insisted he "didn't arrange the loan" despite admitting that he introduced his friend Mr Blyth, shortly before taking on the BBC role.
The former Goldman Sachs banker claimed he regretted causing "embarrassment for the BBC", but refused to apologise or explain why he withheld information about the matter when he was in the running for the BBC post.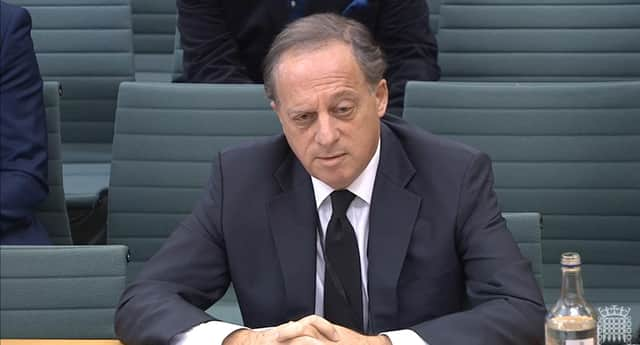 He explained: "As a go-between, I was not between Mr Blyth and Mr Johnson, but I was actually seeking to ensure that due process was followed by ensuring that Mr Blyth had contact with the Cabinet Office before he would do anything to help his cousin."
Mr Sharp said he then raised with Cabinet secretary Simon Case "the fact that I'd submitted my application to be the chair of the BBC and that therefore to avoid a conflict, or perception of conflict, I could have – and we agreed – no further participation in whatever transpired whatsoever, and I didn't".
Mr Sharp admitted he went to see Mr Johnson to discuss the BBC chairmanship before he applied, but insisted their relationship was "broadly professional".
He told the then-prime minister in their meeting that Mr Blyth wanted to meet Mr Case to see whether he could assist Mr Johnson with his finances.
But Mr Sharp said: "I did not provide and have not provided the former prime minister personal financial advice, I know nothing about his [financial] affairs, I never have done.
"I didn't facilitate a loan. I've nothing to do with it whatsoever, I'm not party to anything that then happened or didn't happen. I've no knowledge of a bank, I've no knowledge of the actual loan."