BBC chair Richard Sharp faces fresh scrutiny amid Gary Lineker impartiality row
BBC chairman Richard Sharp is facing growing pressure to resign as the corporation's policy on impartiality has been challenged after Gary Lineker was told to stand down from presenting Match Of The Day.
Mr Sharp, who was appointed chairman in February 2021, has been embroiled in a cronyism row over helping former prime minister Boris Johnson secure an £800,000 loan facility in recent months.
An investigation is being undertaken into his appointment but he now faces renewed scrutiny as his position has been brought into question amid the backlash against the BBC's decision to take Lineker off air for comparing language used to launch a new Government asylum seeker policy with 1930s Germany in a tweet.
Shadow chancellor Rachel Reeves and shadow culture secretary Lucy Powell both questioned Mr Sharp's position in light of the Lineker row.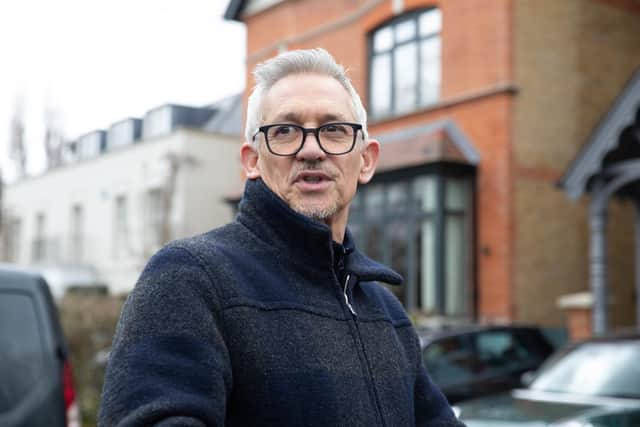 Ms Reeves said on the BBC's Sunday With Laura Kuenssberg programme: "He is still in his job. Gary Lineker isn't able to present the football commentary?"
She added: "The Tories obviously put a huge amount of pressure on the Government to get rid of Gary Lineker, I don't remember those same Tory MPs crying about impartiality when those revelations about Richard Sharp came out."
Ms Powell wrote to Culture Secretary Lucy Frazer to demand that Mr Sharp's position is "urgently clarified", saying his involvement in arranging an £800,000 loan facility for Mr Johnson has "profoundly damaged the perception of the BBC's impartiality and independence from government".
She added in her letter: "As the ultimate arbiter of these matters, Richard Sharp's position, which was already increasingly untenable, needs to be urgently clarified.
"He is the one who should be giving staff, viewers and complainants the confidence that the organisation has acted proportionately and fairly. He is totally unable to perform this function."
She also asked the minister to clarify when the investigation into Mr Sharp's appointment would be completed.
Liberal Democrat leader Sir Ed Davey also called on Mr Sharp to resign, saying his position is "totally untenable".
He said in a statement: "This saga has shown failure at the very top of the BBC and the dire need to urgently protect their independence.
"We need leadership at the BBC that upholds our proud British values and can withstand today's consistently turbulent politics and Conservative bullying tactics.
"Sadly, under Richard Sharp's leadership, this has not been the case: his appointment and position are now totally untenable and he must resign."
He said the broadcaster must "overhaul their current rules and judgment on impartiality" and that it cannot "play by rules that are so one-sided".
Asked whether Mr Sharp should stay in place, Prime Minister Rishi Sunak told reporters: "Richard Sharp went through an independent appointments process at the time that I had nothing to do with – he was appointed before I was Prime Minister, but also the chair of public appointments has asked a leading KC to review – to re-review – that appointments process so there is not much I can say more.
"That's ongoing, but it's right in that process concludes. It gives people the confidence that they need."