The constitution secretary confirmed he would not be a candidate to replace Nicola Sturgeon in a statement on social media on Monday morning, citing his young family.
Humza Yousaf, the health secretary, and Ash Regan, the gender rebel and former community safety minister were the only two candidates to formally announce their campaign until today.
Kate Forbes, the finance secretary, announced her bid and her return from maternity leave on Monday, bringing the number of potential successors to three.
Mr Robertson, who was previously the SNP's leader in Westminster and depute leader of the party, was considered to be a potential choice given his relatively high profile compared to other frontrunners.
However, he said that due to having "two very young children, the time is not right for me and my family to take on such a huge commitment".
He said: Nicola Sturgeon has been a tremendous First Minister, SNP leader, public servant and advocate on Scottish independence.
"It has been an honour to serve as her Depute Leader and as Scottish Government cabinet secretary for the constitution, external affairs and culture. I am hugely grateful to her for all she has contributed and warmly wish her well.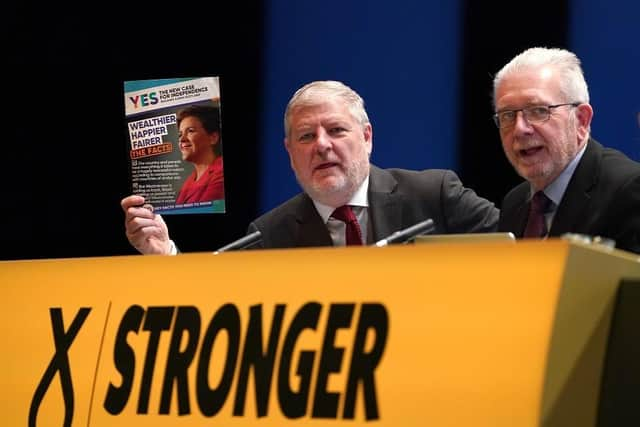 "Since Nicola Sturgeon announced she is stepping down, I have been encouraged by many to consider running for the SNP leadership and to become First Minister.
"It is a real privilege and honour for people to wish me to stand and I am very thankful for their trust."
He added: "However, as a father of two very young children the time is not right for me and my family to take on such a huge commitment.
"I look forward to working with the next SNP leader and First Minister to deliver progressive policies and economic success for Scotland, and help secure Scottish independence within the European Union."
Speaking later to Forth One, the Edinburgh Central MSP said he wanted to be "First Dad" rather than first minister.
He said: "It's a huge balancing act and I know that being a cabinet secretary, whilst also trying to be a good Dad.
"If we want to get young mothers into politics, if you want to get dads who are hands-on dads to remain in politics or to run for different office,we do need to think about how we're doing it.
"I think being realistic, the job of first minister or prime minister or president of anywhere is always going to be massively time consuming.
"I'm not getting carried away with the with the scale of the challenge in in any circumstance, I just know for me, I know for my kids and my wife and for my family that it's important for me to be around given how young they are and giving how I want to grow up with them and not literally leave the house before they get up, come home after they've gone to bed, and maybe only catch a couple of hours at the weekend, I'm sorry, I'm not prepared to do that."
Want to hear more from The Scotsman's politics team? Check out the latest episode of our political podcast, The Steamie.