Anger as UK allows arms sales to Saudi Arabia to restart
The UK government was accused of having "disgracefully put profits before peace" as it was announced that arms sales to Saudi Arabia would resume in spite of allegations of war crimes in Yemen.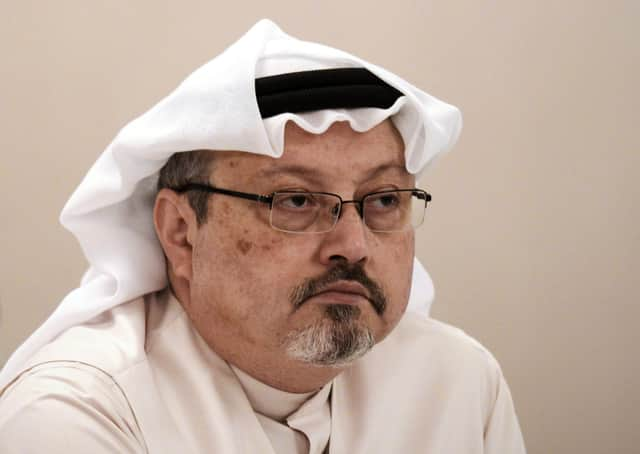 Saudi journalist Jamal Khashoggi attends a press conference in the Bahraini capital Manama. Picture: Mohammed Al-Shaikh//AFP/Getty Images
International Trade Secretary Liz Truss said analysis of alleged violations of international humanitarian law involving Saudi air strikes found no pattern of deliberate breaches involving UK-made weaponry, with only "isolated incidents" identified.
She told the Commons the Saudis had a "genuine intent" to comply with international law and that military exports could resume. The decision was condemned as "morally bankrupt" by campaigners whose legal action forced the government to halt arms sales to the Saudis in June 2019.
It followed claims that Saudi warplanes fighting in the coalition against Iranian-backed Houthi rebels had repeatedly targeted civilian gatherings including weddings, funerals and markets.
Ms Truss said an analysis had now been carried out of "all credible incidents of concern". While some had been assessed as "possible" violations, the analysis had not revealed any "patterns, trends or systemic weaknesses".
The decision – coming the day after the UK imposed sanctions on 20 Saudi nationals linked to the killing of the journalist Jamal Khashoggi – was condemned as "rank hypocrisy" by the Campaign Against Arms Trade (CAAT), which brought the original case.
CAAT's Andrew Smith said lawyers would now be looking at "all options" for a challenge.
"The Saudi-led bombardment of Yemen has created the world's worst humanitarian crisis, and the government itself admits that UK-made arms have played a central role in the bombing," he said.
"Only yesterday, the government was talking about the need to sanction human rights abusers, but now it has shown that it will do everything it can to continue arming and supporting one of the most brutal dictatorships in the world."
Ms Truss said the government would now begin clearing the backlog of licence applications for Saudi Arabia and its coalition partners that had built up since last year.
The SNP's foreign affairs spokesman Alyn Smith said: "Roughly 14 million people in Yemen are on the brink of famine and 22 million desperately need aid and protection, and the UN holds Saudi air strikes for responsible for at least 10,852 civilian deaths. Rather than resuming arms sales to the aggressors, the UK government should step up efforts to end this devastating conflict."
Want to join the conversation? Please or to comment on this article.