Angela Rayner: Gender recognition reforms not at odds with women's rights overall
Considering gender recognition reforms is not at odds with women's rights overall, deputy Labour leader Angela Rayner has said.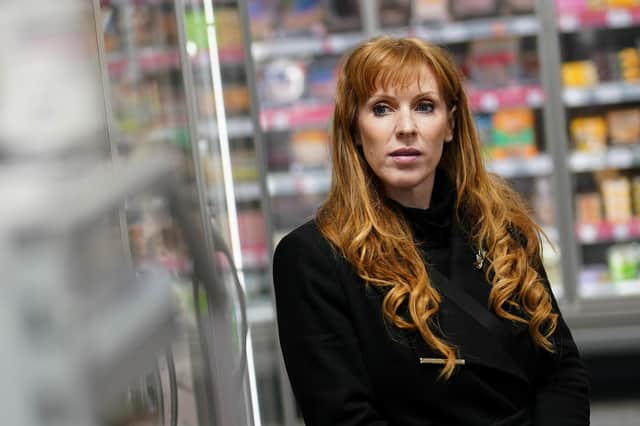 She argued that protecting women-only spaces does not need to come at the expense of supporting transgender people.
It comes amid a row within the party over its position on trans rights, with backbench opposition to leader Sir Keir Starmer's assertion that "99.9 per cent of women" do not have penis.
There is renewed controversy surrounding the issue following the Scottish Government's decision to seek a judicial review after UK ministers intervened to prevent the Gender Recognition Reform (Scotland) Bill, passed by MSPs in December, from gaining royal assent.
Speaking to broadcasters during a visit to a food store in Derby on Thursday, Ms Rayner said: "I understand people's concerns on both sides of the argument but I think we were the party of equality. We brought in the equality legislation. We are the best party for LGBT rights – we've got a history of doing that.
"We can protect women-only spaces and we can be absolutely fair to transgender people, who are the most vulnerable people in society, in supporting them for their rights and fairness, and I think we can take the public with us on this.
"We need safe spaces for women and we need to protect those safe places, but we also need to make sure that we move forward on transgender rights because they are some of the most marginalised and vulnerable groups in society.
"It's absolutely right that we look at gender reforms so that we can treat them fairly, but that is not at odds with women's rights overall and protecting women-only spaces.
"We can do both, and the Equalities Act that we brought in had exemptions in it for exactly making sure we can do that."
Speaking about the Scottish Bill, which proposes self-identification for those wishing to change their legal gender, Sir Keir Starmer told the Sunday Times earlier this month: "The lesson from Scotland is that if you can't take the public with you on a journey of reform, then you're probably not on the right journey. And that's why I think that collectively there ought to be a reset in Scotland."
His assertion in the same interview that "99.9 per cent of women" do not have a penis was criticised by Rosie Duffield MP, a prominent gender critical voice on Labour's backbenches, who said it had left thousands "livid".
Ms Duffield tweeted: "There's no 'somehow' or 'could' about the rolling back of women's rights. It's already a reality, one that huge numbers of women are frightened and furious about. Sir Keir could take a look at the 2,500 livid comments under his Sunday Times piece."
On Wednesday, Scottish Labour leader Anas Sarwar was urged to confirm where Labour stands on support for gender recognition reforms.
Mr Sarwar whipped his MSPs to support the Gender Recognition Reform (GRR) Bill, which passed in Holyrood in December – however Carol Mochan and Claire Baker both resigned from the frontbench in protest.
Comments
 0 comments
Want to join the conversation? Please or to comment on this article.